RRISD Future Readiness Parent Seminar: Study Skills – Organization and Notetaking | November 14, 2018
Round Rock ISD is hosting a Future Readiness Parent Seminar entitled "Study Skills: Organization and Notetaking" for parents with their 8th – 12th graders on Wednesday, November 14, 2018 from 6:00 pm – 8:00 pm at the RRISD Tool Box at Round Rock High School at 700 N. Lake Creek Drive.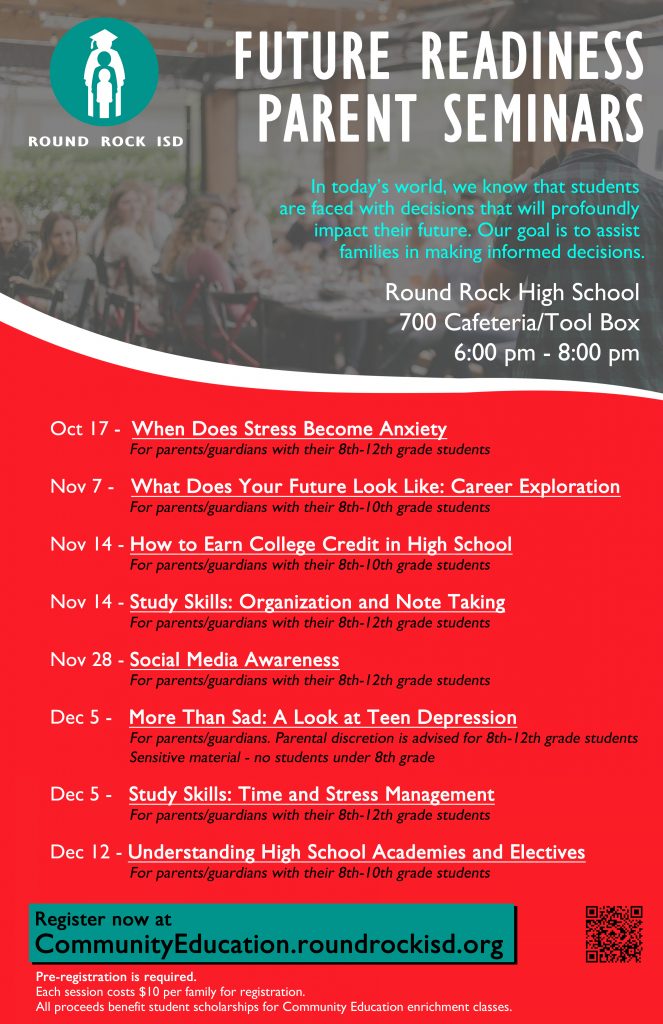 Pre-registration is required. Seminar fee: $10.00 per family, per seminar. Fees collected are donated to student scholarships.
Discover the key to effective note-taking. Effective note-taking goes beyond the actual act of taking notes. Developing note-taking skills can aid retention, decrease frustration, improve time management and academic success.
At this workshop, students and parents learn together. Students gain proficiency in the essential skills of organization and note-taking while parents/guardians learn how to support their students in the practice of applying these newly acquired skills.
Fee: $10 per family. REGISTER
Audience: Parents/Guardians with their student(s) grades 8-12
Presenter(s):  Samuel Groom, AVID teacher, Round Rock ISD  Early College High School