Sam Bass Theatre presents "The Odd Couple" | May 11 – June 2, 2018
Sam Bass Theatre presents The Odd Couple by Neil Simon from May 11 – June 2, 2018.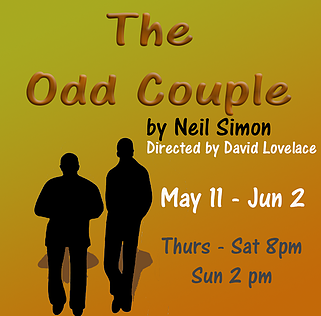 The Odd Couple will play the Sam Bass Theatre Old Depot Stage, located at 600 N. Lee Street in Round Rock, from Friday, May 11 thru Saturday June 2. Performances are Thursdays, Fridays and Saturdays at 8:00 pm and Sundays at 2:00 pm. Tickets are available now for $15 for General Admission and $12 for Students and Seniors. Please visit www.sambasstheatre.org or call 512-763-7228 to reserve seats.
This classic comedy opens with a group of poker-playing buddies assembled in the apartment of the slovenly, recently divorced sportswriter Oscar Madison. If the mess is any indication, it's no wonder his wife left him. Late to arrive is Felix Ungar, who has just been separated from his wife. Fastidious, depressed and none too tense, Felix seems suicidal. but as the action unfolds, Oscar becomes the one with murder on his mind when the clean-freak and the slob ultimately decide to room together with hilarious results as The Odd Couple is born.
The Odd Couple will be directed by David Lovelace, who has been involved in theater for the past 11 years.  He has acted with AcTAG in Sun City, the Palace, Southwestern U. and the Agape Theater.  He attributes his directing skills to his mentor, the late Linda Day.  He is pleased to be a Guest Director at Sam Bass Theater and delighted to work with one of Neil Simon's gems, The Odd Couple.  He would like to thank his lovely wife Georgia, a great cast and the support of Sam Bass staff for making this a show he knows you will enjoy.
The cast of The Odd Couple will feature Dana Barnes* as Oscar Madison and Kerry Coward (Harvey, A Streetcar Named Desire) as Felix Ungar. Poker players: Bill Craig* as Murray; James Lindsey (A Streetcar Named Desire) as Roy; Andrew MacDonald* as Speed; and Russ Jernigan* as Vinnie. The Pigeon sisters will be played by Jennifer Kahn* as Cecily and Samantha Martin Marasa* as Gwendolyn. *Denotes Sam Bass Theatre Debut
Stage Manager: John-Paul Guerra