When you walk into the newly opened Rock Sports Bar, it looks slightly familiar as the former Star Coffee location (which, if you haven't heard yet, is now open catty-corner from this location). But, the interior is revamped, and so where there was a coffee counter, there is now a full bar. The walls are a cool grey, and there are flat screen tv's everywhere. However, the good news for those who "aren't into sports," is this isn't a completely typical sports bar. The plateware and flatware is stylish and covetable, the menu includes numerous lighter fare options, and their attention to partnering with local brewers, businesses, and causes is commendable.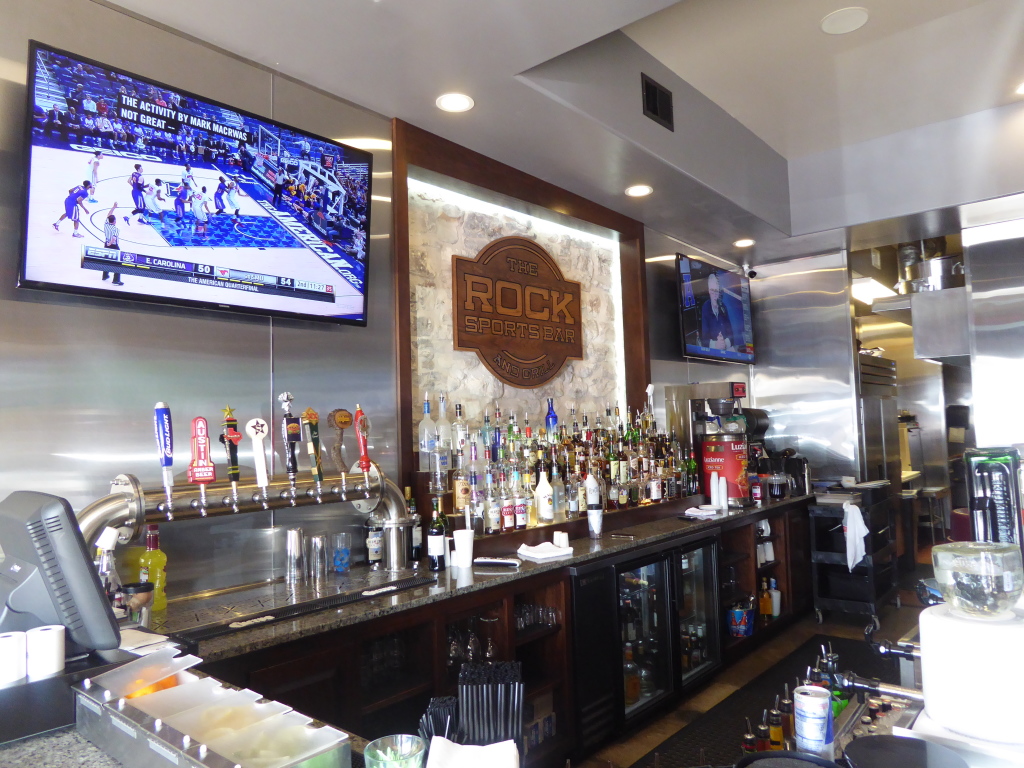 The Rock's daily soup specials – including chicken tortilla soup, creamy poblano, a delicious chili, among others – can be ordered not only by the soup or bowl, but can also be paired up with a sandwich or a salad. The soups are served in asymmetrical bowls, and with the heavy flatware, you can devour quite a hefty meal just with the order of a bowl of soup. Their salads are large, chopped, and fresh, and come with delicious choices of dressings on the side. A highlight is the chunky Southwest Salad topped with crumbly, salty cotija cheese and crispy tortilla strips.
If you're looking for an appetizer to preface your meal, or just on its own with a drink, the Loaded Baked Potato Fries are decadent and delicious comprising of sour cream, onions, chives, bacon, and cheese. Simpler French fry plates come with seasoning or chili cheese.

With a nod to local professional and student teams, you may want to order a Round Rock Express or Dragon burger. And, continuing the local pride, the beer and spirits menu includes many Texas-made beers and spirits. In fact, if you want to buy local and get a great deal, "Texas Beers and Spirits" specials are featured every Tuesday.
On weekends, The Rock offers a proper brunch menu of: Migas, Benedict, Omelettes, Classic (a dependable plate of eggs, bacon, sausage, potatoes and a biscuit), and Chicken and Waffle (Belgian waffle, to be exact). The weekend drink specials are fittingly their $2 mimosas and $4 blood marys, making it a great spot to while away the afternoon before wandering the shops, salons, restaurants, outdoor sculptures, art gallery, bars, library, and historic buildings in downtown Round Rock.
Recently, the Rock has partnered with area businesses like Art by the Glass to offer a social painting class (and a free mimosa on top of everything. Aren't you sad you missed it?), craft beer promotional nights with area brewers like Solid Rock from Dripping Springs. Upcoming is an Independence Brewing promotional, and later this month, they're sponsoring the Austin Walk for Children at the State Capitol. To stay on top of their upcoming events and promotionals, go here.
If you're heading to the Rock with your sights set for food, please note that the kitchen closes at 10pm, even if the bar is open later than that each day.
While there are many flat screen tv's for you or yours to enjoy a few games, this is also a great spot to go separate of any sports events, for a business lunch or a relaxed afternoon drink. A welcome addition to downtown Round Rock! 
This great review of The Rock Sports Bar was written by contributing writer to Round the Rock, Christina Rudofsky.