Tween LEGO Robotics at the Library (ages 8-12) | April 10, 2019
Join us at 4:30 pm on April 10, 2019 in Meeting Room B to build and explore with LEGO® WeDo robotic kits. Participants will build a Smart Spinner, a spinner mechanism that is motorized to spin a top and release it, while using a motion sensor to turn the motor on and off. Who has the longest spinning spinner? Preregister for this program to find out!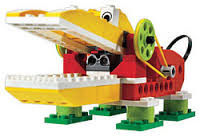 Please Note:
This program is for children ages 8-12 only. Limited seating for caregivers and younger siblings who wish to observe will be available in the back of the room. Only attending participants must preregister. Online registration is required and starts Thursday February 7, 2019 at 9 am. Those who arrive more than five minutes late may forfeit their space(s). If you cannot attend, please cancel your reservation via Eventbrite or call 512-218-3275. LEGO® is a trademark of the LEGO Group of companies which does not sponsor, authorize or endorse this activity.
For more information:
Contact Amy German, (512) 218-7034