10 Unique Glamping Spots in the Texas Hill Country
"Glamping" is the new term for sophisticated camping and it's so much fun. We found 10 unique glamping spots in the Texas Hill Country for you to try it!
Think camping under the stars in the big open sky of the Texas Hill Country in a fancy tent, yurt, tipi or even covered wagon! We have found some pretty unique spots to try!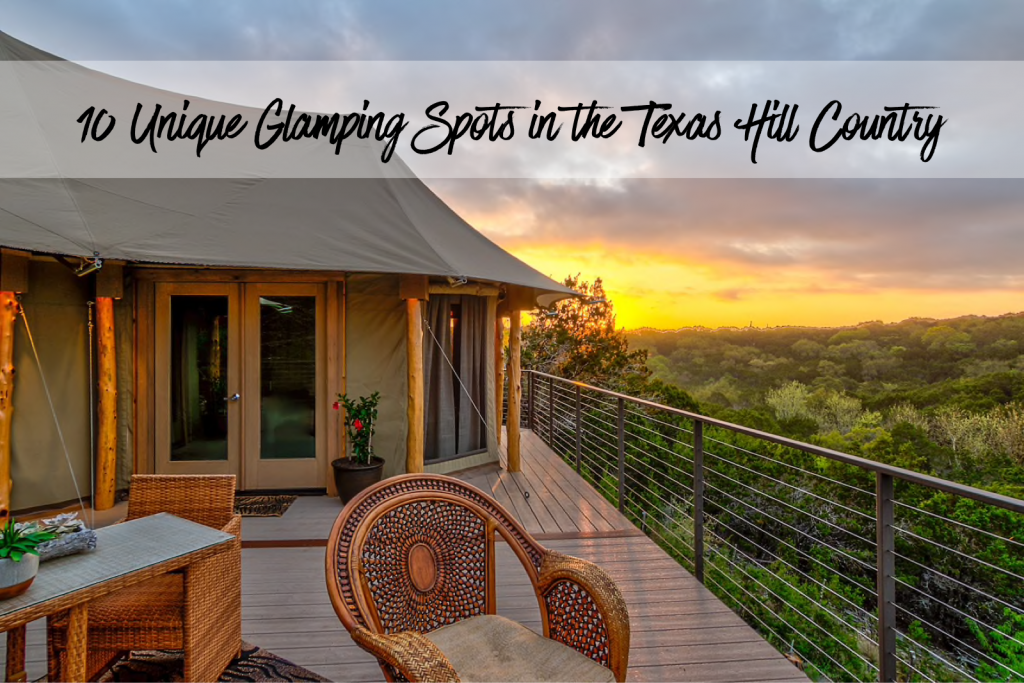 10 Unique Glamping Spots in the Texas Hill Country
Safari for the Soul – Spicewood Springs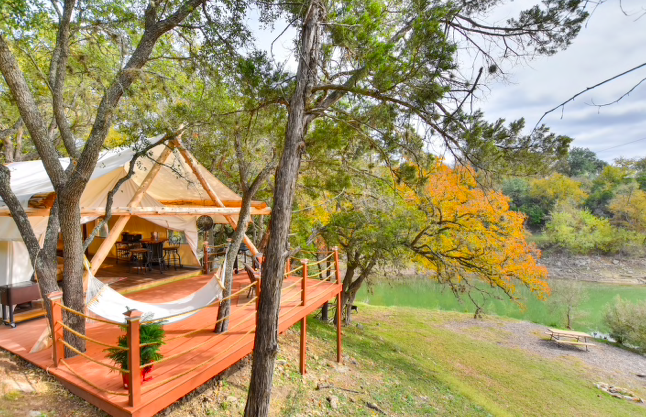 From the Owner:
Riverfront Glamping at its finest and only 19 miles from downtown Austin! "Safari for the Soul" at KickBack Cove River Retreat is over 4.5 acres tucked away for your exclusive, one of a kind, romantic bucket list retreat directly! 
Couples come here to make memories…celebrate anniversaries, honeymoons, birthdays or just escape from the rut.  

This is a fully air conditioned/heated 400 sq. ft heavy glamping tent directly on the Pedernales River on a beautiful cove with direct dock access. Imagine waking up in the morning to the deer walking by, having coffee on your patio, and being one with nature in our one-of a-kind outdoor warm shower as you watch the fish in the cove jumping in the water . Enjoy your Keurig coffee or happy hour on a large patio followed by some lake activities, kayaking, fishing, sunbathing, or your outdoor hot tub. Safari for the Soul is to recharge and reconnect.
Firefly Room – Safari Tent – Spicewood Springs
From the owner:
Our luxury safari tent for two – includes air conditioning, king size bed, wifi, refrigerator, microwave, coffee maker, phone chargers, peace, tranquility and relaxation!
Sit on the cedar deck at night as you watch the sun set over the lake! The sounds of nature put you to sleep at night, and wake you in the morning. Wake up, have a cup of coffee, and stroll down to our boat dock and decompress!
Kindness Cabin – Dripping Springs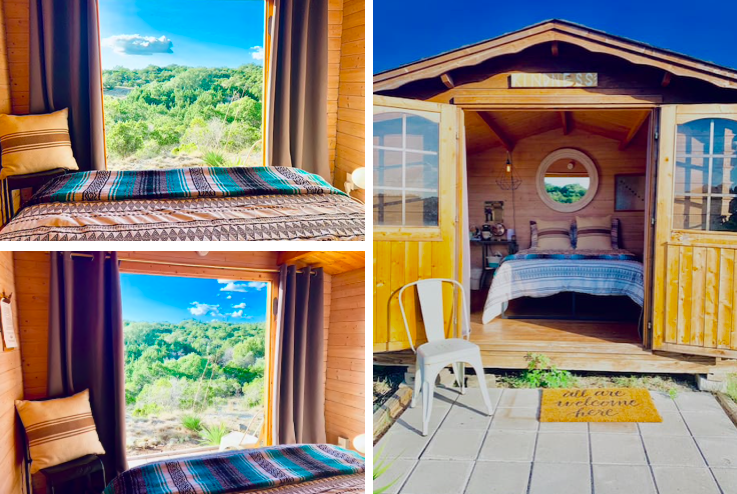 From the owner:
13 Acres is an off-the-beaten-path space inviting those seeking peace, relaxation & luxury glamping for their next adventure. Yoga is offered Sundays at 9AM ($20/guest.) Our retreat has 7 single-room glamping cabins, outdoor shower, portable restrooms, charcoal grills, picnic tables, butterfly gardens, fire pit and hiking.
The KINDNESS CABIN features one full size bed, standing fan AC, heater, desk, coffee maker & essentials, drink cooler, hanging lamp and blackout curtains. Reliable AT&T wifi is available retreat-wide.
Ndotto – Spicewood Springs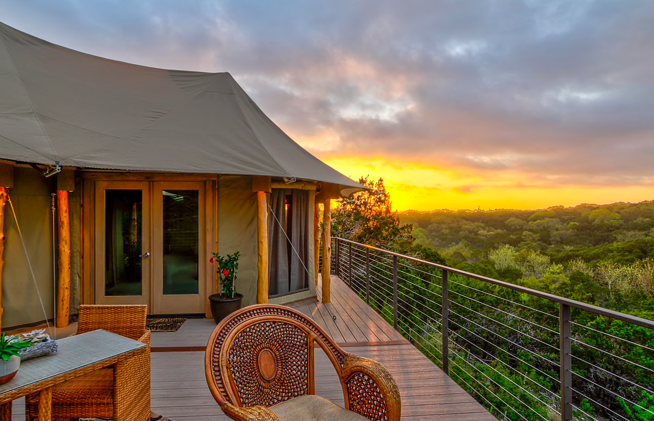 From the owner:
Rustic Luxury in the Heart of Texas Hill Country.
Glamping at its finest! Our hidden jewel, NDotto, is magically tucked away for your exclusive, one of a kind, romantic bucket list retreat! Within the confines of NDotto you will find yourself & your relationship infused with tranquility and luxurious comfort. Every attention to detail will spoil you as you bring the outdoor in, for a once in a lifetime recharge with nature at it's finest.
My Tiny Cabin in the Hill Country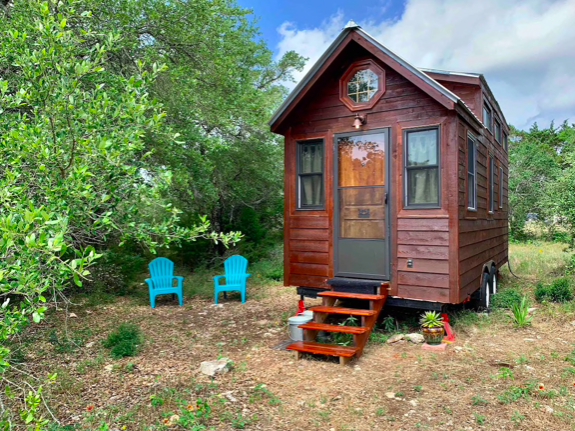 From the owner:
As seen on HGTV! "My Tiny Cabin" is a complete house in 288 square feet, built as an experiment in simplification by CJ "Ceige" Taylor, situated under oak trees on 1.5 private acres. Stay in a real Tiny House on Wheels while you visit nearby Driftwood or Dripping Springs, drive into Austin or San Marcos, or enjoy the Texas Whiskey Trail.
More Unique Glamping Spots in the Texas Hill Country
Glamping Lotus Yurt – Boerne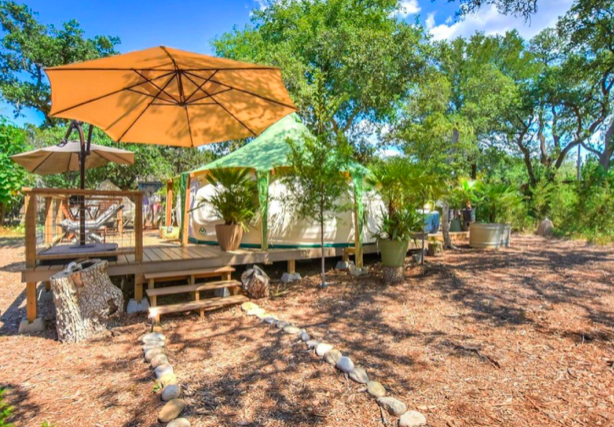 From the owner:
Sleep under the stars in a queen size bed with luxury linens. Our tent has electricity and is air conditioned and heated. Walk to a gorgeous bath house with shower, luxury towels, and amenities.
We offer Glamping for adventurers and sojourners, couples and girlfriend getaways in the Texas Hill Country. Surround yourself with beautiful scenery, long-distant views, star-studded skies, outdoor living space, hammock, chimenea, and charcoal grill.
The Baron's Wagon – Fredericksburg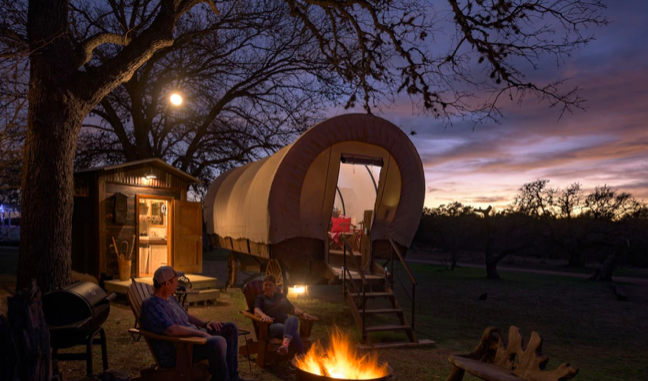 From the owner:
The Barons Wagon: The Ultimate Texas Hill Country Glamping Adventure: Barons CreekSide's newest – totally cool – place to stay! The 220 square foot Barons WAGON is a replica of the real Conestoga settler's wagon that made it to Fredericksburg 150 years ago.
A king size bed and 2 bunk beds if you want your kids to come along for the experience. Directly next to it – just 10 steps – is the comfortable gypsy wagon with your own private shower/ vanity/ commode and it has full AC and heat. The Barons Wagon – covered by beautiful large trees – has its own private fire pit with chairs and a picnic table.
Pedernales River Tipi – Stonewall
From the owner:
This large tipi, 1 of 4 unique shelters at Pedernales River Habitat/non-smoking property, is perfect for families/sleeps 4. River access by way of a floating dock. Reasonably priced canoe and kayak rentals available. 
Shared outdoor kitchen and 3,000 sq. ft. patio/deck overlooking the river is available 7a-10p & the hot tub, is set to be a 'cool tub' in summer.
The Cardinal's Keep at Wild Currant Farm – Johnson City
From the owner:
The Wren's Retreat now has a little brother! Room for two, although a third person could sleep on the couch. The Cabins at Wild Currant Farm are located just off the HW 290 Wine Road that runs between Johnson City and Fredericksburg, and just a couple of miles west of Johnson City. Near great wineries, several state parks, shopping, markets, and good dining. We don't permit pets in this cabin.
Butterfly Creek – Fredericksburg
From the owner:
Butterfly Creek brings a bit of rustic glam to the rugged Texas hill country through glamping in one of our tents! Located on 15+ acres, we have horses, mini donkeys, a sheep, and a longhorn you can visit and pet. We have a private, stock tank pool, picnic tables, a spring fed creek, trails for a quiet walk, plus a fire pit for s'mores when the sun goes down, plus a quiet deck right out your front door where you can enjoy your morning coffee or sip a glass of wine while you watch the sunset.
Our three-season glamping tents are furnished with a plush, queen-sized bed and furnishings like you'd find in a nice hotel room. Each tent has a private, ensuite bath with a flushing toilet, ceramic sink, and a spa-like outdoor (but fully enclosed) shower with hot and cold running water. 
Other Articles You May Enjoy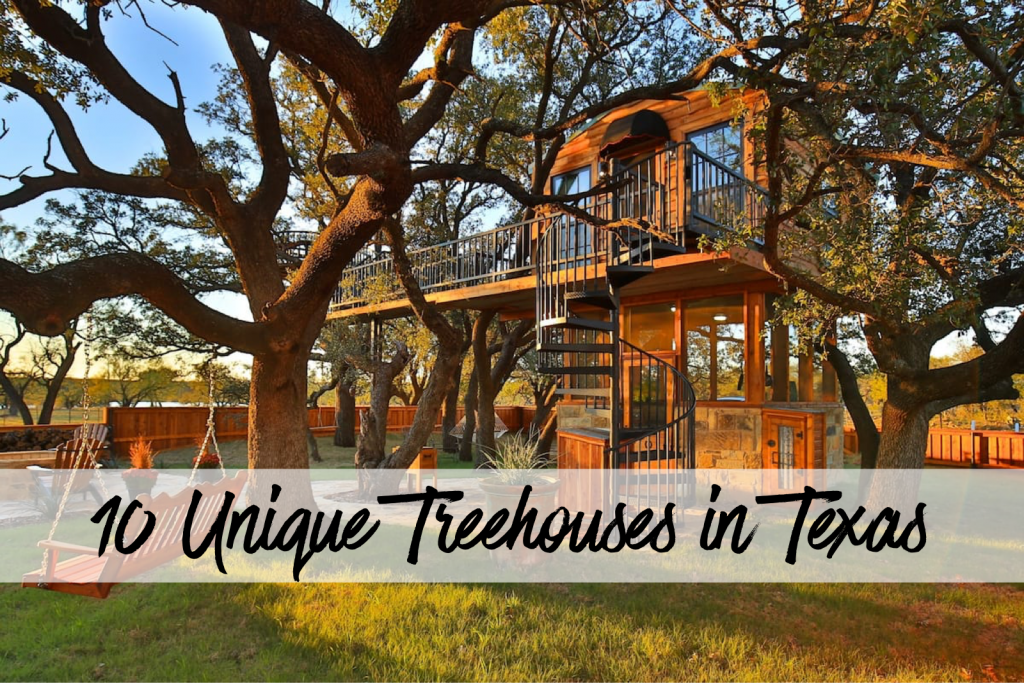 10 Fall Getaways from Round Rock