Fall Events in Round Rock
Happy Fall Y'all! We love all the Fall Events in Round Rock. We have found pumpkin patches, fall festivals, and tons of fun Halloween events happening in Round Rock!
Check out these fun Fall events in Round Rock – Fall Festivals, Pumpkin Patches, & Halloween Events!
Fall Events in Round Rock:
FALL FESTIVALS
---

Oktoberfest at Bluebonnet Beer Co.
October 6, 2019 from 12-6 pm
1700 Bryant Dr., Ste. 107
This is a family friendly event with Live Music, Bounce Houses, games, face painting, vendor booths, Traditional German food and Beers. Tickets include a .5L beer mug and 2 beverage tickets and entry into the Oktoberfest. More details here.
---
Palm Valley Lutheran Fall Fair
September 28, 2019
2500 E. Palm Valley Blvd.
Event features live music, a classic car show, bingo, crafts-baked goods-plant sales, games, pony rides, concessions, "magic with a twist" from The Great American Side Show and much more! In lieu of admission, donations of non-perishable food items for the Round Rock Serving Center will be accepted. For additional info, please contact [email protected] More details here.
---
Taptoberfest at The Brass Tap
September 21, 2019
Downtown Round Rock
Don your lederhosen and ready your stein-lifting arm, Taptoberfest 2018 is upon us! Enjoy freshly tapped Oktoberfest brews and the hum of live traditional Polka music at this year's Taptoberfest. More details here.
---
Round Rock Chalk Walk
October 4 & 5, 2019
Dell Diamond
This free festival features chalk drawings, food, music, vendors, and more. Watch amazing artist create gorgeous chalk art and have the opportunity to make your own! Here are 9 reasons you need to go!!
---
Round Rock Market Days
October 5, 2019
Centennial Plaza
Round Rock Market Days is coming up on Saturday, October 5, 2019. The Round Rock Market Days is a vendor & small business fair that is on every first Saturday of the month. Each month they has a new theme, making it a fun event to attend. More details here.
---
Hairy Man Festival
October 19, 2019
Cat Hollow Park

There will be food, arts and crafts fair, children's activities, special performances, and live music! Participate in our costume contest, trick or treating park scavenger hunt, pumpkin decorating, train rides, Halloween themed crafts, scary snacks station, and a Haunted House! And the Annual Hairiest Man Contest! Free event.More details here
---
Touch A Truck Event
October 19, 2019
Old Settlers Park
The City of Round Rock's Parks and Recreation Department will hold a FREE Touch a Truck event from 9 a.m. to 12 p.m., Saturday, October 19, 2019 at Old Settlers Park for kids of all ages! Find out more.
---
Fall Fun Festival
October 31, 2019
Old Settler's Park
Join Round Rock Parks and Recreation for a Fall Fun Festival. Just for preschoolers, this fun festival is an annual tradition put on by the City of Round Rock! It includes Carnival games, Hayrides, Cookies and Punch, Storytime and much more! More details here.
Fall Events in Round Rock:
PUMPKIN PATCHES
---
St. Richards Episcopal Church
Open October 1st – 31st
1420 E. Palm Valley Blvd
Benefiting St. Richards Episcopal Church and their charities
Sunday-Friday (12-dark); Saturdays (9am-dark)
Fall Events in Round Rock:
HALLOWEEN EVENTS

---
Family Halloween Film
October 15, 2019
Round Rock Public Library
The Round Rock Public Library will show free Halloween film during the RRISD holiday break. Bring the whole family and join us in the library meeting rooms. Feel free to bring pillows, blankets and snacks. Find Out More
---
Stranger Things Event
October 18, 2019
Monster Mini Golf & Laser Tag
Do you have any STRANGER THINGS fans in the house? Check out this fun event at Monster Mini Golf & Laser Tag.  80's Music, Stranger Things trivia, DIY Eggo Waffle Bar, Joyce's Light Wall and more!!  More details.
---
Halloween at the YMCA
October 19, 2019
Twin Lakes Family YMCA
Take your Halloween celebration beyond ordinary at the Annual YMCA of Greater Williamson County at the Twin Lakes Family YMCA on Saturday, October 19th. This festival, which is one of the largest Halloween events throughout Central Texas, features everything from carnival games to inflatables and rides to climbing walls, FREE Halloween candy, music, prizes, concessions and more. Find out more
---
Trunk or Treat for Special Needs Kids
October 19, 2019
Join Round Rock Parks and Recreation Department and Dell Children's Ascension for this FREE trick-or-treating event on Saturday, October 19, 2019 from 5:30 to 7:30pm in the parking lot of Seton Medical Center Williamson located at 201 Seton Parkway. This is a rain or shine event. Find out more.
---
Annual Kids Haunted House
October 19, 2019
Seven Star Martial Arts
This Annual Kids haunted house brings hundreds of children and parents together for a great time and to support great causes. The Haunted house is put together by kids and is made for children! All proceeds go to support the Williamson County Childrens Advocacy Center! $2 per person, and be ready to enjoy the bake sale! More details here.
---
Trunk or Treat Movie Night
October 19, 2019
Another great "Movies in the Park-ing lot" event…but with a twist. Constable Pct 1 will be hosting our first "Trunk -or- Treat" event, local offices and business will decorate their vehicles around the parking lot. While everyone enjoys "The Great Pumpkin Charlie Brown" the kiddos will be able to go trunk to trunk and fill their candy bag! More details here.
---
Free Halloween Events at Bass Pro Shops
October 19-20 & 25-31, 2019
Bass Pro Shops
Bass Pro Shops is hosting FREE, family-friendly Halloween events October 19-31 featuring the classic Peanuts® characters, Charlie Brown, Snoopy, Linus, Sally and Lucy. The free event features activities including crafts for kids, a Halloween costume parade, trick-or-treating, FREE 4×6 photo with the Peanuts gang and much more at Bass Pro Shops. Find out more
---
Halloween Parties at the Library
October 25-30, 2019
Round Rock Public LibraryHop into your costumes and bring treats to share – the Round Rock Public Library is throwing a Halloween bash! There will be 3 parties for children ages 18 months and older and one party for babies younger than 18 months. More details here
---
Book Character Pumpkin Decorating Contest at the LibraryOctober 24-31, 2019Round Rock Public LibraryDecorate a pumpkin (or gourd) as a book character or with a literary theme and drop it off at the Round Rock Public Library children's desk for display from October 24 – October 31. Library staff will vote for the best literary pumpkins on Thursday, October 31, 2019. The winners will receive a Barnes and Noble gift card! More details here
---
Play for Fall Fundraising Event
October 25, 2019
Play for All Park
The Play for All Park will be BOOfully decorated with special Halloween FX and fall attractions for all ages. Experience a Spooky Stroll on the Brushy Creek Trail after Trick or Treating through the Village Pod and speeding down the Screamin' Speedway. Creep through the Cobweb Castle, enjoy a Moonlight Movie, be entertained by our talking Pumpkins and more. The entire park will be decked out with surprise attractions at every turn! More details here.
---
RRISD PIE Foundation and Round Rock Police Trunk or Treat
October 26, 2019
The Round Rock ISD Partners in Education (PIE) Foundation has partnered with the Round Rock Police Department (RRPD) will host their annual Round Rock Operation Blue Santa Trunk or Treat event. Visitors will have the opportunity to participate in a variety of activities, including face painting, a bounce house, carnival games, concessions and music. Find out more
---
Dia de los Muertos Procession and Festival
November 2, 2019
Centennial Plaza
Williamson County Hispanic Heritage Committee, Round Rock Ballet Folklorico, City of Round Rock, Round Rock Arts and Univision will be sponsoring a Dia de los Muertos procession and festival at Centennial Plaza at 301 West Bagdad. Find out more
---
Scary Faced Pancakes at IHOP
October 1-31, 2019
IHOP
October marks the return of an IHOP® favorite that makes everyone smile, but now with even more fun: Scary Face Pancakes are back! Bring the kids to create their own legend—scary or silly—with strawberries, whipped topping, Mini Oreo® cookies and candy corn. More details here.
---
Terror on Two Jacks Haunted House
Various dates October 4-Nov 2
7410 Two Jacks Trail Round Rock, TXCome visit a house that is haunted as it was built on top of the grave of the Hairy Man of Brushy Creek. Admission is free but they are requesting a donation of either $1 or 1 can of food per person. More details here
---
Hometown Halloween
October 31, 2019 Downtown Round RockDowntown Round Rock knows how to put on an event and Halloween is no exception, the Hometown Halloween celebration is a great way to connect with your community, have fun with your family and best of all a stress, scare-free environment. Downtown retail businesses & restaurants will be open to trick-or-treaters. More details here.
This 2019 Fall Festivals, Halloween Events & Pumpkin Patches in Round Rock article was sponsored by Bluebonnet Beer Company.
Are you New to Round the Rock?
We feature all events happening in Round Rock via our CALENDAR and our FACEBOOK page & FACEBOOK GROUP (make sure to join the group to not miss out on any exciting events.
And check out out 2018 Best of Round Rock list. Each year we poll YOU to find our the Best of Everything in Round Rock – restaurants, shops, physicians, and more. See the results of the 2018 Best of Round Rock here. And stay tuned for the Best of Round Rock 2019 coming very soon!
More Fall Fun in Round Rock:
Don't miss any of the FALL FUN happening in Round Rock over the next few months! We have so many fun things happening.
From Spooky, Scary fun for big kids to family fun for littles, check out this list for all the Halloween Events happening in Round Rock.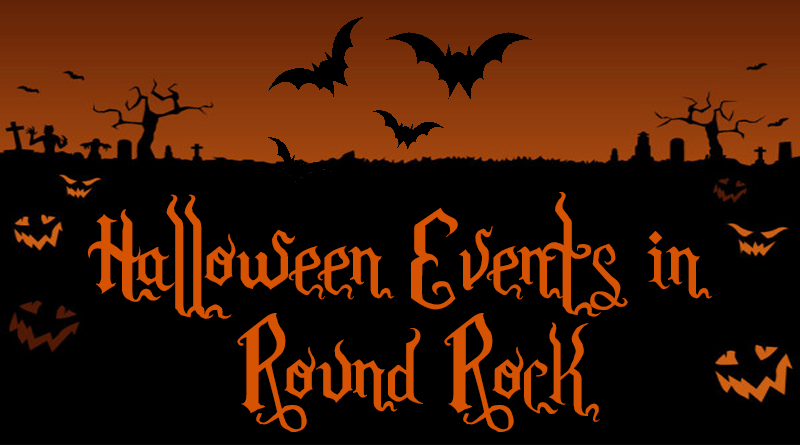 Halloween Events in Round Rock
And it's not just limited to Halloween fun either! Now that the weather has cooled down a bit, check out all the different things we suggest to do in Round Rock – without having to go south of Highway 45!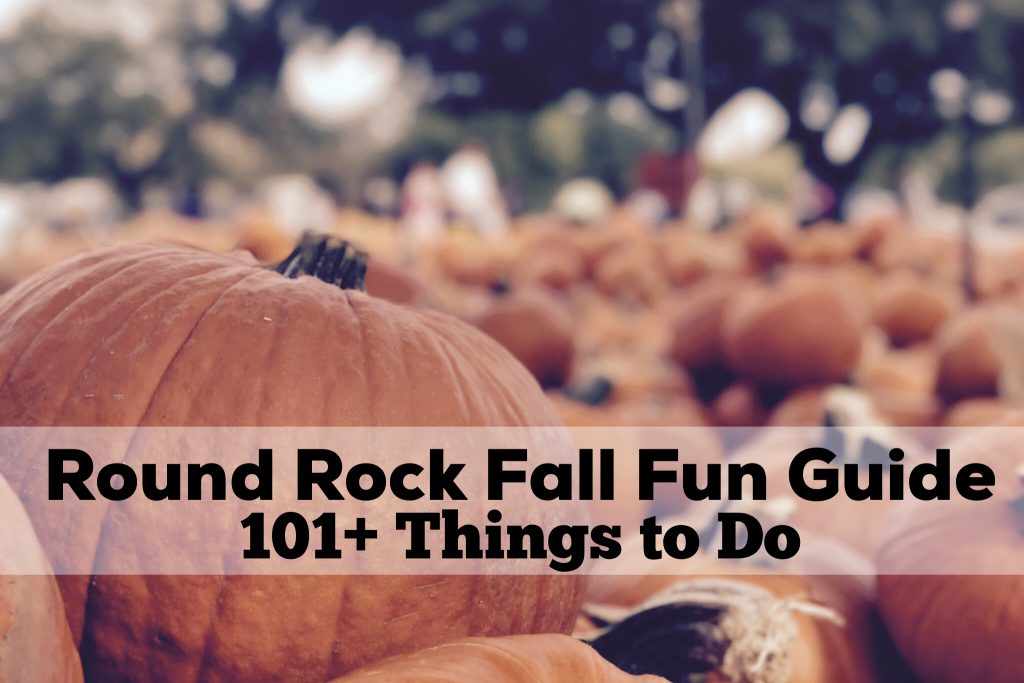 Beyond Halloween, check out all the Fall Festivals, Pumpkin Patches and events happening throughout the months of September and October.