Halloween Candy BuyBack Programs: November 1-6, 2016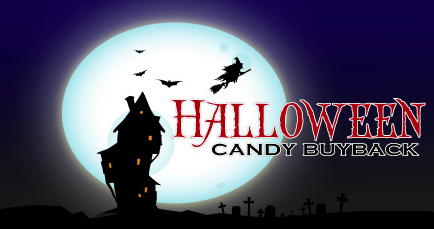 Several businesses in Round Rock are offering to buy your children's candy back this week – November 1 -6, 2016 – and send it to troops over seas.  Take a look at the ones we found in Round Rock:
Kaleidoscope Toys
November 1 – November 6, 2016
Kaleidsocope Toys is collecting your excess Halloween Candy to send to the Troops over seas.
How it works:
Children bring us their excess Halloween candy that they collect on Halloween Night
We will pay the children $1.00 in KaleidoBucks for every lb. of candy donated up 1o 10 pounds
KaleidoBucks are worth $1.00 each on any purchase in the store
All candy is then sent to Operation Gratitute to distribute to the Troops
All candy must be:
Newly collected from Trick or Treat 2016 (No older candy from past Holidays)
Wrapped & unopened
Please! DO NOT buy candy at the 1/2 price sales as this candy is usually old. We don't want to risk sending old candy to our troops.
We especially encourage the children to write cards and letters to the troops that can be included with your candy in the packages
Paramount Dental 
Paramount Dental is hosting a Halloween Candy Raffle at their office on November 1-4, 2016 during office hours. For every pound of unopened candy you bring into their office, you will receive a raffle ticket. This will enter you in their drawing for 1 of 3 BIG prizes.
Paramount Dental
2201 Double Creek Drive
Suite 2001
Round Rock, TX 78664
www.paramountdentaltexas.com