10 Things to Do at the July Fourth Frontier Days
Round Rock goes ALL OUT for the Fourth of July.  In addition to a great, Hometown 4th of July Parade, the city of Round Rock throws a big festival in Old Settlers Park.  We have spent the entire day at Frontier Days the past few years and had a blast. It's a ton of fun but it's HOT, so here's what not to miss and a few tips for you: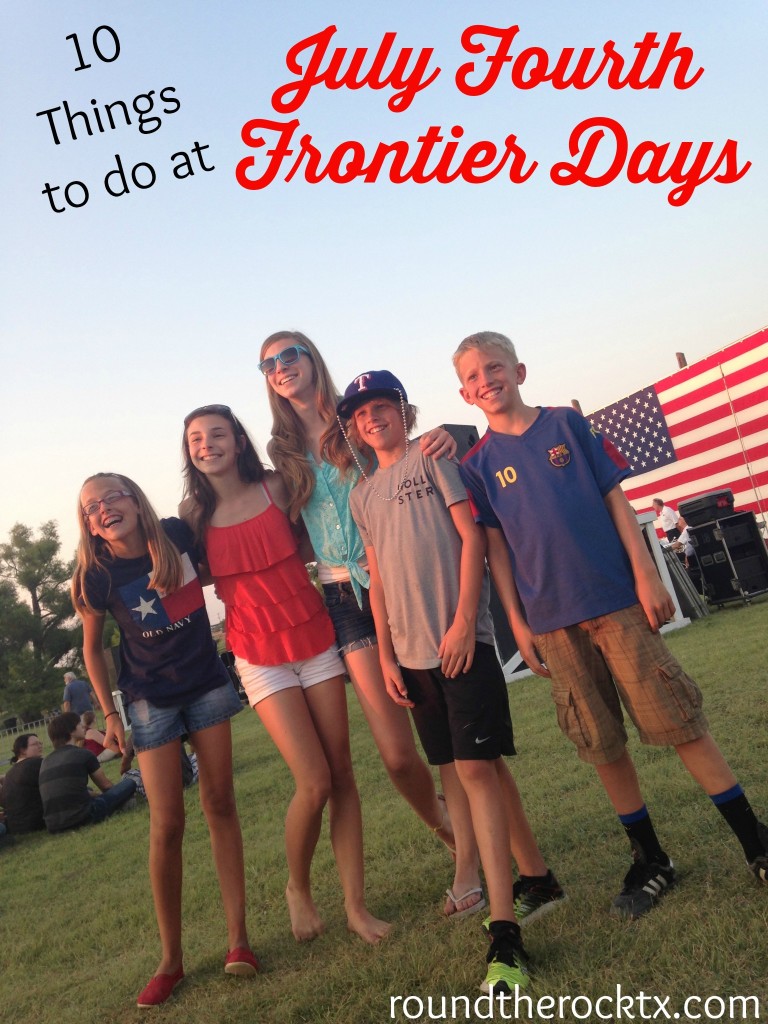 10 Things to do at the July Fourth Frontier Days:
1. Sam Bass Shootout: If you have not seen the stunt men re-enact the Sam Bass Shootout, this is a must! It's a fun way to see the legendary story that happened years ago here in Round Rock.  And even if you have seen it before, you should see it again.
2. Swifty Swine Pig Races (1:45 p.m., 2:45 p.m., 3:45 p.m., 4:45 p.m., 5:45 p.m., 6:45 p.m.): The Swifty Swine Pig Races are so fun! We have seen them out at the Austin Rodeo and my kids love to watch them.  With 6 different shows, you should find a time to cheer on these pigs!
3. Carnival Rides: So fun that there will be carnival rides this year – makes it more like a hometown festival, doesn't it?
4. Have lunch or dinner – there are always a lot of unique vendors with yummy food like roasted corn, BBQ, root beer and more!
5. FREE Parks & Recreation ACTIVITY ZONE (3 p.m.): World of Disney Combo, Rainbow Dbl Slip-n-Slide, 22′ Blue Crush Water Slide, The Redneck Games, Jr. Survivor Obstacle Course, Tropical Fiesta Wet/Dry Combo
6. Pepper Eating Contest (3 p.m.): I have a very wimpy palate, so I will not be participating.  But it will be fun to watch!
7. Skydivers, Pledge of Allegiance, and Mayor's Address (8:00 p.m.): There were some very talented skydivers last year and my kids loved it!!
8.  Watch some great performances: Tons of talent here in the Rock!
Cowboy Sing-a-long with the Camp Cookie Trio (1 p.m., 2 p.m. )
Ballet Forklorico performance (4:30 p.m.)
Austin Symphonic Band (8:30 p.m.)
9.  FREE ice cream (7:00 p.m.): Served by your Round Rock City Council Members.
10. Live music concert right after the fireworks with Uptown Drive.
***And of course, stay for the Fireworks show, starting at dusk!  ***
View the complete schedule here.
Best Tips for a Full Day:
* It's HOT! In other words, bring a cooler with waters & drinks.
* Pack a picnic lunch/dinner – There will be vendors with all sorts of food if you would like that too.
* Set up camp – we put a few blanks, chairs, and a tent up and hung out all day.  The kids brought a football and ladder ball out to play, but there is always something going on to keep you busy.
* Be prepared for a wait to get out of the park after the fireworks.  It took us an hour to get out of the park last year – my best advice for you – stay for the movie and then leave.
Here are 5 Tips to Watch the Setoma July 4th Parade 
You might also enjoy: