Mi Mundo Coffeehouse Gives Back Globally & Locally
This article was originally published in our 2020 Holiday Issue of Round the Rock – our print magazine which is available at all local H-E-Bs, local businesses and restaurants and Round Rock Community facilities. You can see the entire issue here.
Mi Mundo Coffeehouse & Roastery was barely open a few weeks before it had to shut down because of the pandemic.  Imagine starting your dream business only to be told a few weeks later you're not able to serve customers.  Most people would give up after that.  But not Mi Mundo's founder, Sabin Shrestha.  He preserved and came up with new ways to serve his delicious coffee.  And his perseverance paid off.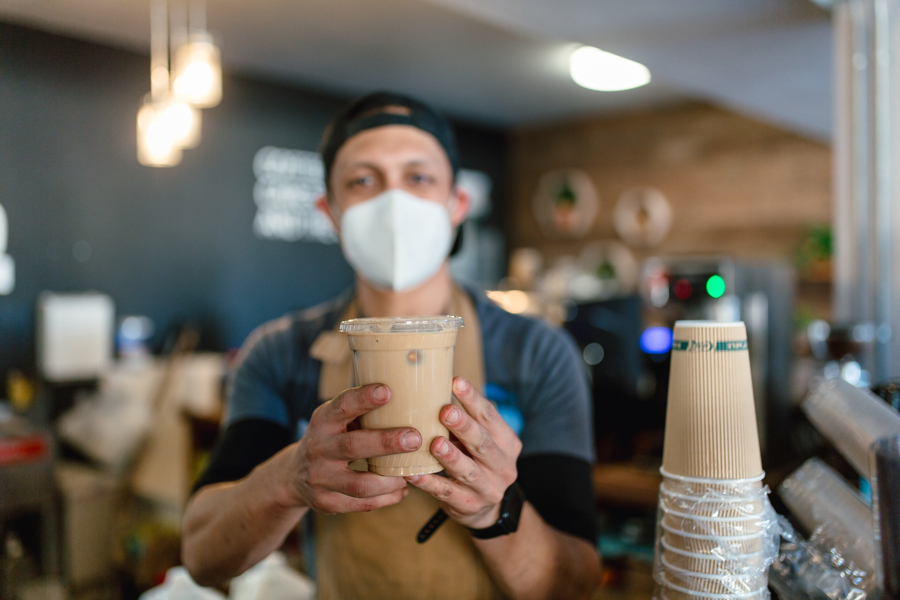 Shrestha, otherwise known as "Mr. Mi Mundo", is a coffee enthusiast, though his background is in engineering and marketing.  He was in the corporate world for about 10 years, but he has always had a passion to be a 'social entrepreneur'. A self-proclaimed coffee-addict, Shrestha started Mi Mundo as a way to own his own business while giving back as much as he could. One of his key premises of his coffeehouse is to give back globally and locally. 
"Because coffee is such a big commodity, people don't really understand where it comes from and the impact it has to the countries who produce it." Shrestha explains.  The idea of Mi Mundo Coffeehouse & Roastery was to bring amazing tasting coffee that is sustainably sourced, that's fair trade, that gives a decent fair pay to the farmers, and make it fun for the consumer who loves coffee.  That sounds great, but what does that really mean?
Giving Back Globally
All of the coffee beans used at Mi Mundo are harvested from Columbia, Honduras, Mexico, & Peru. Shrestha only buys coffee beans from farmers who pay their workers a fair salary (fair trade). Because coffee generally comes from third world countries, coffee farmers can be easily taken advantage of by large corporations. And it is important to Shrestha that he buys beans that have been harvested under fair conditions and livable wages.  
It's just as important that he buys sustainably-sourced coffee beans, meaning that it is grown in a way that conserves nature and provides better livelihoods for the people who grow and process it.  And organic coffee beans are better as they have not been touched by pesticides or chemically-processed fertilizers, which can potentially affect us as the end-consumer. Organically-grown coffee may not grow as fast or yield as much, but a better cup of coffee is made. 
Next time you are in Mi Mundo, notice the coffee tree that is next to the counter.  The impact of the tree being there is for the customer to recognize where the coffee bean came from and appreciate the full cycle of their cup of coffee. Shrestha explains the importance of educating his customers about the coffee he roasts and invites them to see the whole process from the green beans in his roasting room to the barista making your cup. 
Mi Mundo Coffeehouse: The History
Coffee roasting started as a hobby for Shrestha when he was working in California.  He would roast beans in his kitchen and take it to work to experiment.  Once he came up with a roast he liked, he was ready to start his passion.  He and his wife moved to Texas and Shrestha fully credits his wife for continuing to work while he chased his dream.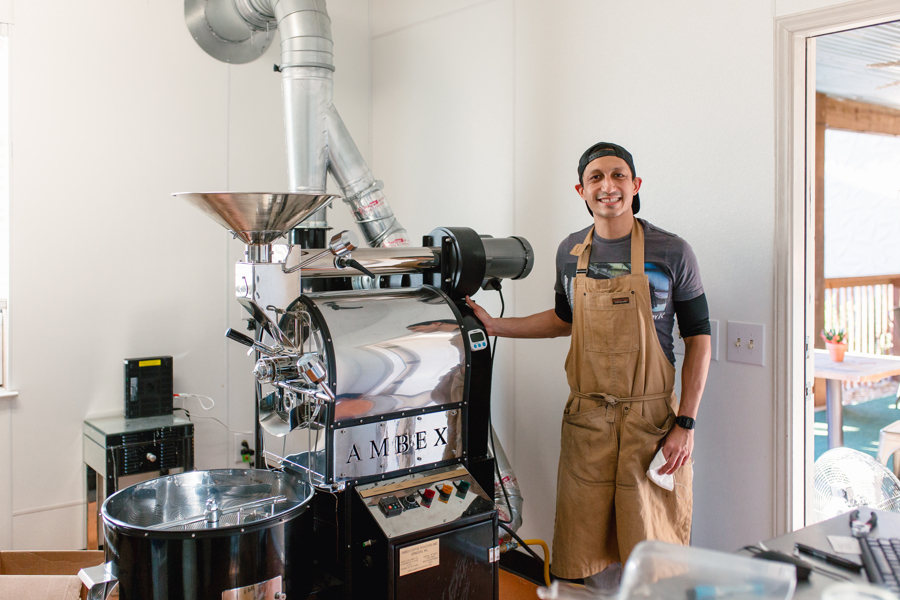 Starting with a 400-lb coffee roaster in his garage, they sold at local farmers markets in the area in June 2019.   He was able to talk to the customers and educate them on why his coffee was better and it was a success, selling more than 1000 bags of coffee beans in just 5 months. And less than a year later, he found available space to open up a brick & mortar.  Mi Mundo Coffeehouse & Roastery opened in Downtown Round Rock in February 2020.
Being in the heart of Round Rock was where Shrestha wanted to be.  He knew the support of the community would help his coffeehouse grow.  But he could never have foreseen how vital that support was going to be in the coming months.  Six weeks after opening, Shrestha was forced to close his indoor space because of the pandemic. 
"We felt like we were losing our heart when we had to close.  A coffeehouse is for the community and where people meet.  And it was a place to teach everyone the importance of sustainable, fair-trade coffee." Shrestha says,  "We were lucky that we already had a strong community that supported us."
Luckily they had experience at the farmers markets and very easily set up an "outdoor coffee shop" and offered curbside service.  Not a lot of businesses could open up to customers in their parking lots.  They were able to innovate during this stressful time that kept everyone safe and socially-distant and still sell great tasting coffee.
In May, Mi Mundo opened their back patio to customers and recently, the indoors opened to limited seating.  Shrestha credits the support of the community over the last 6 months that allowed them to stay open. 
Mi Mundo Coffeehouse is the perfect space with lots of nooks & crannies to sit at to catch up with a friend over a great cup of coffee or be productive with work.  Next time you are in, try one of the best sellers and my personal favorite, the lavender honey latte. 
Not only does Mi Mundo give back to the environment by making better choices in the coffee they purchase and roast, they also give back to the community. One of the premises they opened with was to give 25% of their profits each month back to a local charity.  In the past, they have donated to Pets Alive and Children International.  "Even if we don't make a profit this year, we will still give something back to the community." Shrestha promises. 
And the giving doesn't stop there.  Mi Mundo also gives a free drip coffee to any health care workers and first responders, and gives discounts to various community groups. 
The next time you enjoy a cup of coffee at Mi Mundo Coffeehouse, remember where the beans came from and remember they were roasted here in Round Rock. And then take satisfaction that you are supporting a local business that gives back both globally and locally.  Don't we all aspire to be like that? 
Mi Mundo Coffeehouse & Roastery
106 S. Mays Street
Round Rock, TX 78664
https://www.mimundocoffee.com
***all photos taken by Kelly Colson, of Kelly Colson Photography