Organized Joy LLC – Professional Organizing & Bookkeeping
Does the thought of organizing your kid's playroom make you shudder?  Do you have various stacks of papers that you will "eventually get around to" sitting on your desk?  Do you have "that closet" in your guest room that is a catch-all for everything?
This and more describes me & my house.
You see, I actually like to be organized.  I would like everything to be neat & tidy, so when I go to find my dog's shot records or my daughter's contacts prescription, they are all exactly in the file I made for them.  The problem is, I don't make the time to get my house organized to begin with, thus begins the problem.
Last week, I had the pleasure of meeting Olinda & Kate, owners of Organized Joy LLC.  Organized Joy is a Professional Organizing & Bookkeeping company that can solve your organizing problems…..or motivation, whichever it may be for you.  Olinda & Kate were friends in the DFW area before both moving down here and realizing they have a passion for helping others with organization. And they decided to share their talents with everyone by forming their company.
They both have various titles – Olinda has a bookkeeping & accounting degree while Kate is a Certified Professional Organizer (only 350 of them in the world!) and they bring their ideas and motivation to your home to help.  Most people have a desire to get organized but they don't know where to start.  A fresh set of eyes often will see ways to not only organize, but streamline the house, so that time management can be improved as well.  Organized Joy is about making your home (and life) more functional, not just making a neat & pretty home (although that's a bonus!).
The Organized Joy Process
At the beginning of our session, Olinda & Kate spent a few minutes asking me what I would like to see organized in my home.  They asked where I struggled the most in the house, and got an idea of what type of a person I was.  We then took a tour of my house, room by room, finding areas that could use some de-cluttering and clean-up.  We'll just call those my "problem areas".
They took notes as we walked thru the house – office to garage and more – and made suggestions of little changes I could make that would not only help with the clutter but, streamline daily activities, saving me time. (YAY!)
After the walk-thru, we had time to tackle one area of my house, so I choose my office.  Y'all, my desk is insanely cluttered and full of stacks of paper that I will eventually "get to".  You know how that goes.  It helped so much to have someone who doesn't have any emotional attachment to my stuff talk me through the de-cluttering process.  We found a desk organizer that I wasn't using and they labeled it for me —> PRIORITY, NEEDS ACTION – MUST LEAVE MY DESK – and we went piece by piece in my office until it was beautifully clean & neat.  It looks AWESOME!!!
Part of their services includes one car load of donations taken away for you.  And they will bring you back an itemized receipt for your taxes.
I never felt ashamed or intimidated by either of the ladies during the walk thru.  In fact, they were excited to make suggestions and worked very well together. Another thing I liked, they didn't pressure me to purchase any expensive organizing tools, rather they found objects I had in my home that could be put to use or showed me pictures of ideas of things I could get to help clean up.
The Pantry Challenge
Olinda & Kate left me with instructions on how to organize my pantry.  Now they could certainly come back and I can have them organize it for me, however, they inspired me to give it a shot.  So with a quick trip to the Dollar Tree, 40 plastic shoe boxes, and about an hour's worth of time, I now have a pantry to be proud of. How do I feel?  Joyous!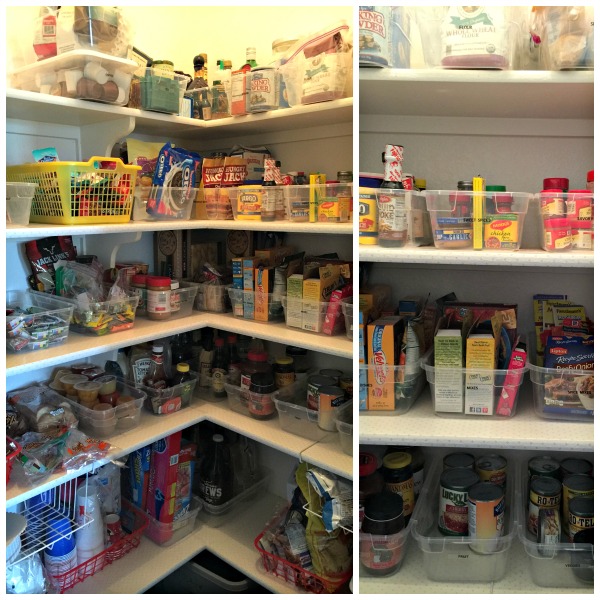 Organizing Parties
I was excited to learn that you can host an Organizing Party with Organized Joy as well. What??!!  You don't think an organizing cocktail party sounds fun?  Think again! With topics like "Busy Moms, Organized Life", "Family Command Center" and "Stress-free Holiday", it's just the right kind of fun to get you motivated to get going.  Parties are only $150 – invite friends, have each one pitch a little in to pay for it, and everyone gets inspired to get going! Click here to learn more about the parties.
Why Use a Professional Organizer
In the grand scheme of things, is hiring a professional organizer a necessity?  Probably not.  But it brings you intangible comfort and relief to have your house organized.  Just like their name, organization brings you joy. By hiring Organized Joy to come into your home either to organize it completely and teach you how to maintain it or motivate you to do it yourself, you have given yourself this sense of satisfaction.  I will be so happy to know exactly where I can find my taxes from the last 3 years, my passports when I need them, or even just that new recipe I clipped out of a magazine.  And every time I open my pantry, I smile.
Now it's up to me to maintain it. Or I can hire Olinda & Kate to do that too!
Organizing Joy New Customer Special
In honor of our visit, Organizing Joy would like to offer any new customers who mention this article 15% off an organizing package.   
Also, make sure to follow them on Facebook or sign up for their weekly newsletter – they have lots of great articles and pinterest boards with tips to share!
And make sure you follow their 52 weeks to organizing challenge! They are posting a quick video each week to help you get every inch of your home organized!
I encourage you to give them a quick call and meet them – once you see what they can do, you will be sold.  Get yourself organized & ready for the summer!
Disclosure: I was provided with a 1/2 Day Organizing Package with Organized Joy LLC.  I was not compensated for this article.  All opinions are my own.