People & Parks Fund BBQ Plate Fundraiser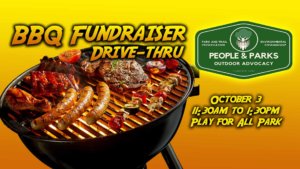 People & Parks Fund BBQ Plate Fundraiser is on Sat., Oct.,3, 11:30am to 1:30pm at the Play for All Park. This will be a drive thru & pick-up event and COVID safety precautions will be in place. All BBQ plates are $10.00 and will include your choice of Brisket or Pork Butt, with Sausage, Beans and Potato Salad. All proceeds will go to People & Parks Fund.
With an additional $20.00 family donation you will become a P&P Member and receive the following:
P&P Fund t-shirt (each additional t-shirt is $10.00)
Voting rights to help select the project funded that year
The People and Parks Fund raises funds by selling "memberships" to the public for just $20 per family, per year.
Additionally, the first 20 New Memberships will receive a Free $20 value ticket to the October 8th, 7:30 pm Light Wizards Illuminate Centennial Plaza Show. For more information visit: www.Facebook.com/lightwizardsshow & www.lightwizards.net. 
For more information or to donate to the People and Parks Fund, residents may go to www.PeopleParksFund.org &  https://rrcommunityfoundation.org/donate/.
You might also enjoy: