Pizza Delight | Round Rock, TX
We visited Pizza Delight in Round Rock – here's a brief review and what they have to offer.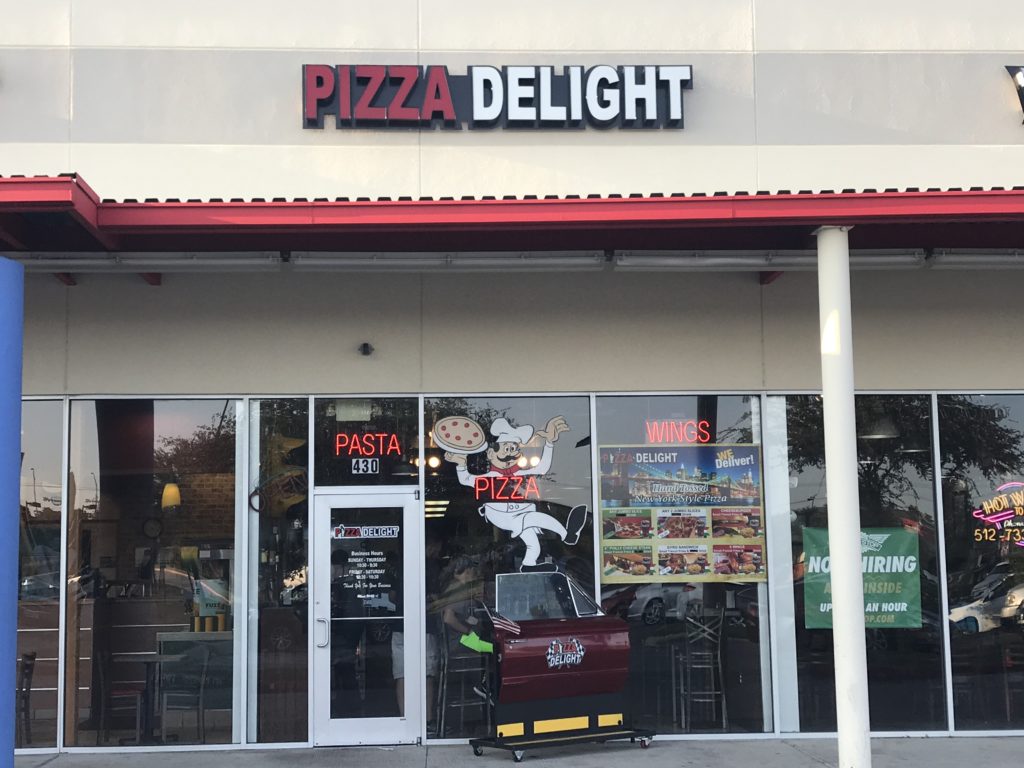 Pizza Delight located on Palm Valley Blvd. has been in Round Rock for a few years but recently came under new owners that have revitalized the restaurant.  With a fun NYC Pizza Joint theme, they offer much more than just pizza, and best of all? They deliver ALL OVER ROUND ROCK.  Yes! You heard me – all over the city!
Pizza Delight: Atmosphere
Streetlights, car parts, & signs make up the tale-tell theming of Pizza Delight, but it's when you walk in the restaurant and smell that distinct NYC-pizzaria smell, you really feel they are going to be just like NYC.  And they are in more ways than one.
Pizza Delight has a walk-up counter to order at.  If you are there for lunch, many different pies are available to pick a slice from. But at dinner, everything is made to order.  There is a fairly small seating area but even on a Saturday night, people were in and out and there was still plenty of room to sit as a family.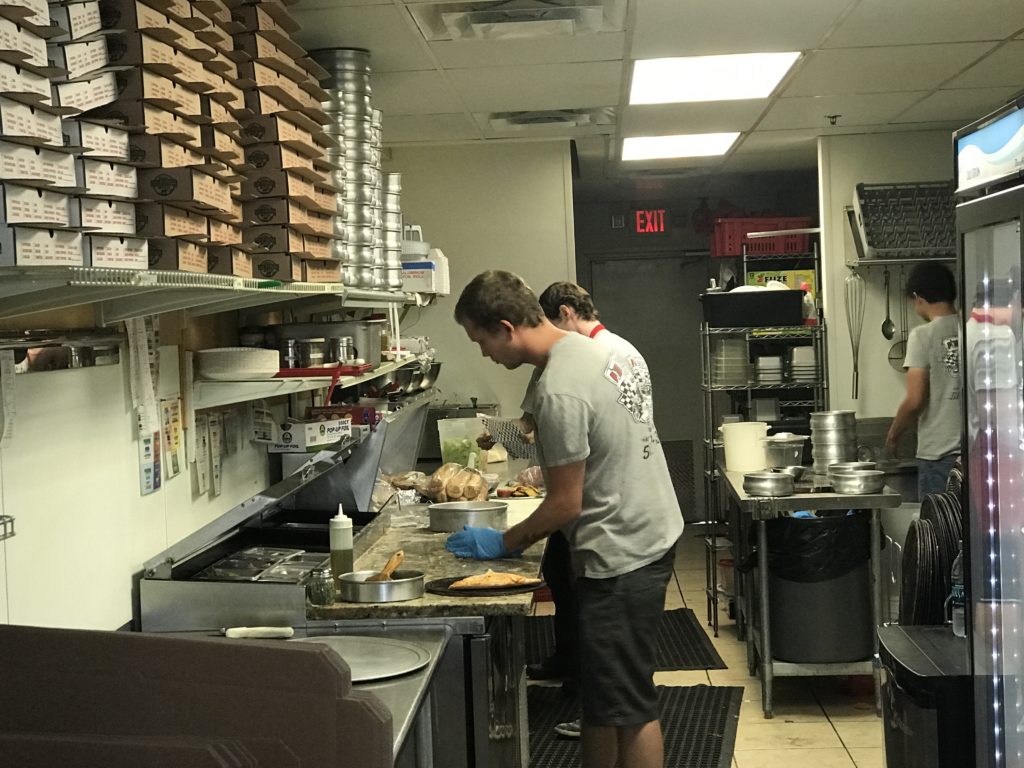 We loved the decor – right down to the car door outside that greets you.  There are large-screen TVs to enjoy football games on as well.
Pizza Delight: Starters & Salads
Pizza Delight offers a full menu – from starters to salads to pasta, calzones, & of course, pizza. We started with the Fried 4 Cheese Ravioli, which was a huge order – yet my kids had no problems polishing it off.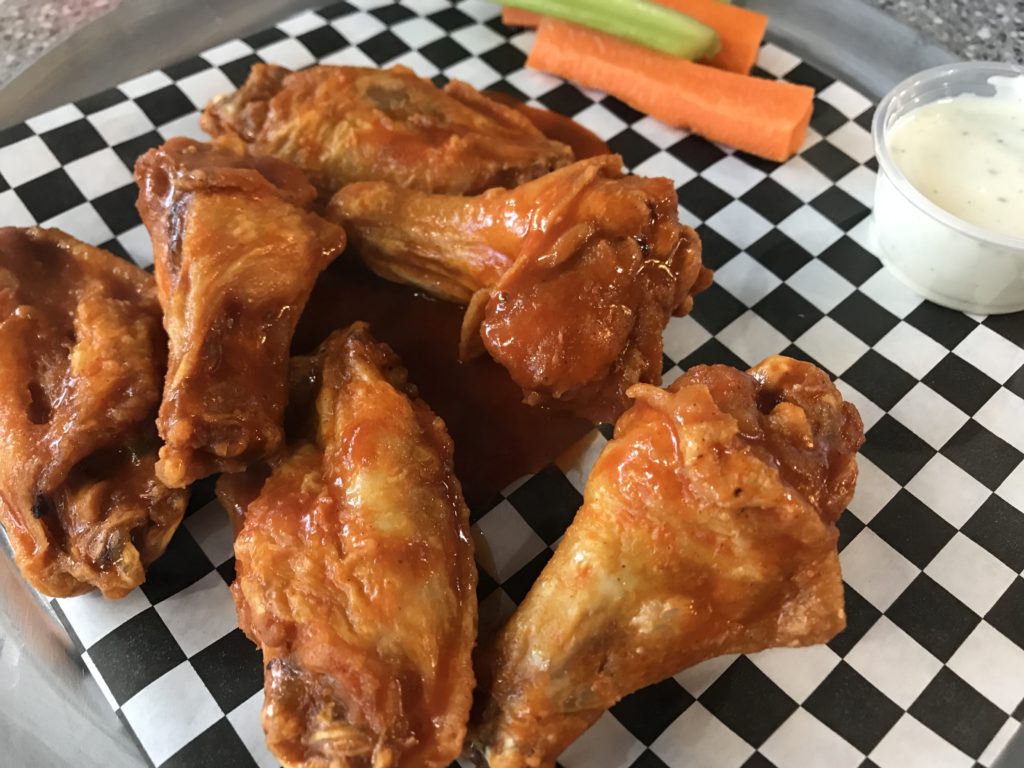 My husband enjoyed the wings. The wings are offered in several different flavors.  And can be ordered in a large quantity (50) for parties & games.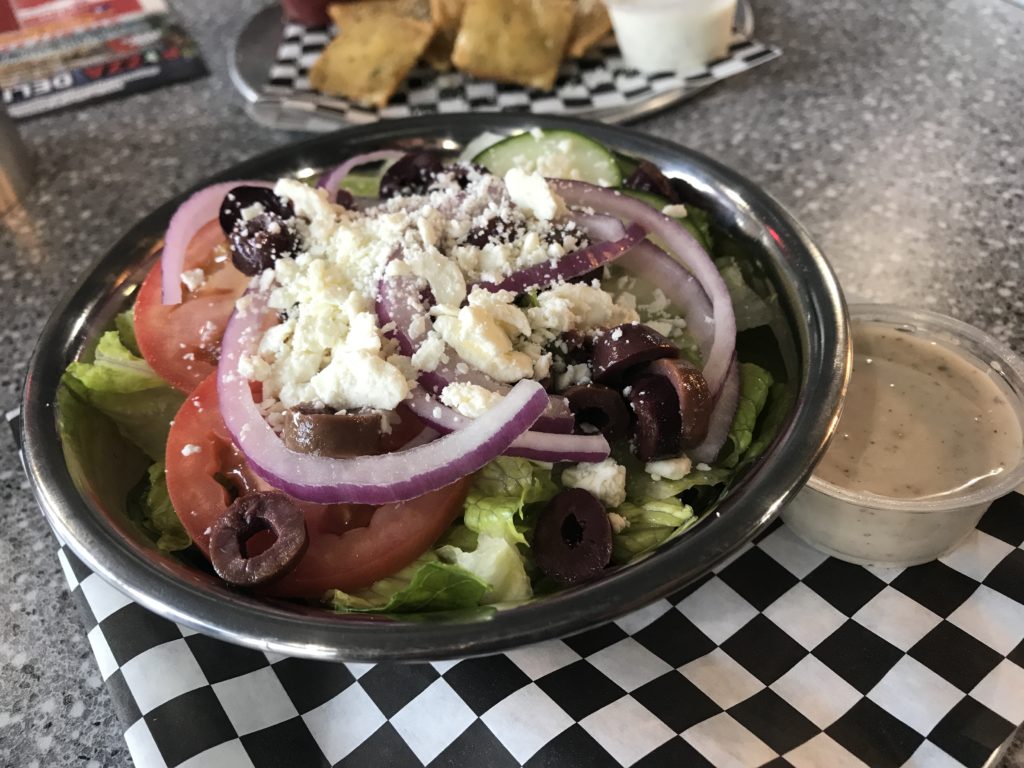 I tried the greek salad – full of feta cheese, just the way I like it.  They also have garden, caesar, and house salads that come in a single serving or family sized.
Pizza Delight: Pizza, Pasta, & More
Pizza Delight makes your pizza to order.  You can choose from several specialty pies or build your own. And they offer a variety of sizes – a 12″ single up to a 20″ house.
Building your own pizza goes beyond just the typical red sauce too – you can choose to have it Green – pesto and mozzarella cheese or White – ricotta and mozzarella cheese. And there are several different ingredients to throw on top.
We went for our regular favorite pizza – pepperoni & Canadian bacon. And here's where we thought we were back in NYC – besides the heavenly smell of pizza when you walk in the door, the pizza tasted exactly like we were on the streets of New York City.  Big crusty slices of pizza with lots of cheese, easy enough to fold with your fingers in half and gobble down. YUM.  This pizza was delicious.
What else is on their menu?  Well, there are several unique specialty pizzas to choose from – Broccoli Delight, Lasagna Delight, & Buffalo Chicken Delight to name a few.  And they have a calzones, strombolis, hot subs, and several pasta dishes.  With the starters and the pizza, we just didn't have enough room to try it all but I hear it's ALL GOOD.
See their full menu here.
Pizza Delight: Delivery & Weekday Specials
As I mentioned previously, Pizza Delight delivers all over Round Rock.  Their website shows within a 5 mile radius, but while we were in there, they showed us the map and it pretty much included all of Round Rock.  There is a $3 delivery fee and you must order at least $18 worth.
Pizza Delight has also come up with several weekday specials to connect with the community more too. Every night they are offering some fun special!
It's another great pizza place to enjoy in Round Rock and we love the variety.  Make sure to give Pizza Delight a try the next time you are craving some pizza.
Pizza Delight is located on 1700 East Palm Valley Blvd Ste. 430 Round Rock, TX
Learn more about Pizza Delight online. And follow them on Facebook & Instagram.