Round Rock Holiday Gift Guide: Ladies Gifts
Holiday Gift Shopping for Ladies has never been easier in Round Rock – take a look at all the Christmas gift ideas I found…..
The Holiday Shopping season has begun! Do you think you can find a Christmas Gift for everyone on your list in Round Rock?  I bet you can! In fact, I am challenging you to try! Last week, I spent a few days shopping for my family here in Round Rock and I was AMAZED at how many GREAT gift ideas there are in the local stores.  And I love putting my money back into supporting local businesses. I want  the taxes I pay stay here with the city. And with sucah a great selection out there, it's a win-win for everyone.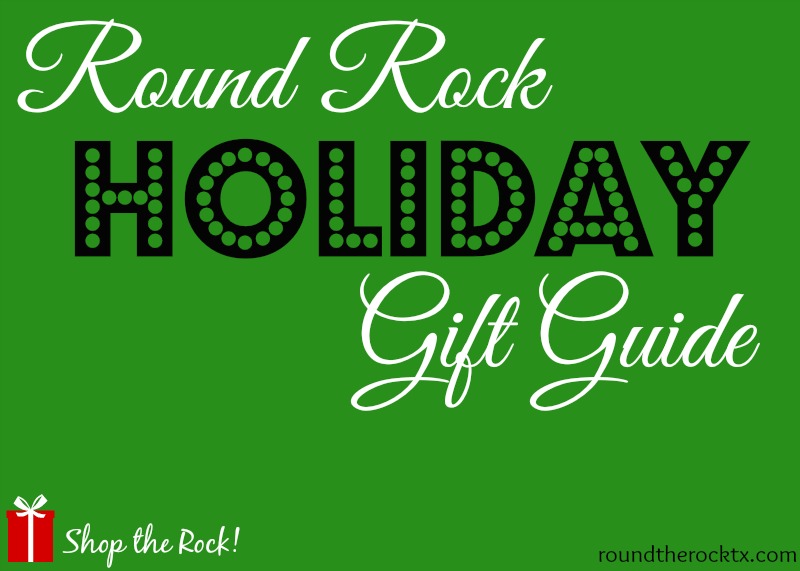 Today, we are doing some shopping for the ladies.  This was fun for me, as I put my list for Santa together while doing "research" for this article.  Tehre are so many great stores here in Round Rock for gifts for the lady in your life – from sports, to books, to clothing, jewelry, and more.  So let's get started!
There are a ton of great local authors' books available at The Book Spot.  Susan Whiting Albert writes a whole series of murder-mysteries based in the Hill Country, Julia London is an author who lives here in Round Rock and the Butternut Creek Series is a best -seller. They also have cookbooks, YA fiction, and more!  Just ask one of the owners for some advice on a good series to give as a gift!
Right down the road on 620, Che Bella Gift Boutique, I found these great Balli Custom Photo Art. Custom sayings are printed over your photo in great stand-up canvases.  These would make excellent grandparent gifts too and they can be made in days.  They also have lots of great jewelry and these gorgeous crosses made by Petra Crux.  Also, if you "check0in" on Facebook while you are there, you get a free gift!
Another hidden gem on Main Street is The Dowdy House where I found these beautiful leather bracelets & necklaces that you can customize yourself. They are made by Lenny & Eva and they are beautiful!  The Dowdy House also has my favorite skirts made by Open Arms.  Open Arms is a charitable organization here in Austin who employs African Refugees to upcycle these skirts, scarves, and more.  It's an awesome organization and they product is fantastic!
My new favorite sports store, Fleet Feet Sports, has LOTS of great ideas for the active lady.  I found the perfect cold-weather running gear, compression socks, arm socks, water bottles, watches, and more.  Or you could get the ultimate great gift for her – a gift certificate to be fitted in a pair of shoes – that's what I want under the tree this year!
The newest gift shop in town, Mays Street Boutique, has some gorgeous Kendra Scott Jewelry.  The earrings and necklaces are stunning and she has a limited selection of the Kendra Scott jewelry travel cases as well.  I also loved these hand-made wine glasses that are made locally too.  Mays Street Boutique carries all the Lady Primrose & Jack Black lines.
And our list would not be complete without a stop at Sweet Love, Sugar Britches.  NOt only does this store have the cutest clothes, but they have some great accessories as well. Pick out a scarf, necklace, or earrings to go with an adorable top.  Grab a leather purse, tote, or bag made by Consuela (locally made in Dripping Springs).  Or get mom a custom baseball cap complete with the sport, team name, and child's number.   And I can spend hours taking in all the primitive signs they have.  A gift certificate from here would be a great gift too!
What about these ideas?
Che Bella is located at 16238 RR 620
Fleet Feet Sports is located at 3750 N Gattis School Rd Ste 500
The Book Spot is located at 1205 Round Rock Ave
Mays Street Boutique is located at 2001 N Mays St
Sweet Love Sugar Britches is located at 106 S Mays St
The Dowdy House is located at 109 E Main St
I can't think of a better time to support our community by shopping local.  Check out all the reasons why you should at Shop the Rock. Merry Christmas and happy shopping!!
Round Rock Holiday Gift Guide: Children's Gifts
Round Rock Holiday Gift Guide: Teen Gifts