Brady's Bridge Super Family Fund Run is on July 31, 2021 at 8 a.m.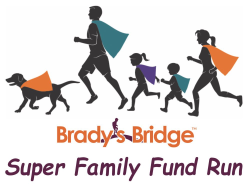 For the 5K, the cost is $35.00 Race Fee + $3.03 SignUp Fee. 18 and under- $15 (Discount will be given at checkout). Price increases to $40 after July 30, 2021 at 11:59pm CDT.
Additional race information can be found at http://www.bradysbridge.org/.
From Jeremy, Tabitha and Brady Fry:
Many kids in our community, with special needs, do not have an option for after-school care. This hit home for us when our son, Brady, entered Kindergarten in 2016. After several visits and phones calls, there were no programs or daycares that would enroll him. Because of his needs, he required a lower teacher to student ratio than the programs could offer. Brady is in a wheelchair, has a feeding tube and has been diagnosed with a seizure disorder, amongst other diagnoses.  Traditional after-school programs are allowed 22 kids per 1 adult. It's not possible to offer the specialized care he needs in this type of program. This not only creates a challenge for the children, but also for working parents that do not have a flexible schedule. How do they provide care for their child and maintain their source of income?  Our program is designed to allow for lower ratios of children to teachers (6 to 1), so the kids can receive the care they need.
Looking at the numbers, in order to be competitive and affordable for families, the other programs truly had to have higher ratios, to cover expenses and pay employees. That is why we need your help! Donations given to Brady's Bridge will help offset some of the day-to-day expenses of running an after-school program, so that we are able to offer affordable after-school care for kids, with a much lower ratio than a traditional facility. This further supports our mission to love and care for kids with special needs and their families.  Because we will enroll all abilities, siblings of kids with special needs may also enroll, allowing for one after-school care program for the entire family.
Currently we are finishing the permitting process for our building and remodeling to meet licensing requirements. Proceeds from this event will go towards plumbing, electrical, framing new rooms, new fixtures and furnishings. You are building a home for this after-school program.  
You might also enjoy: