Tell Me Something Good Round Rock – Week 1
I don't know about you, but I am tired of all the doom and gloom I see every time I open my Facebook. Don't get me wrong, I see the need for protection right now. There is definitely a place for news, but I am seeing too much negativity on social media, when all we really need is some GOOD NEWS.
So I have been looking for good news to share with you to help show some of the good that is happening in our small town of Round Rock. It's stories like these that help show what an amazing community we live in – and give you a sense of pride to live here!
I hope you enjoy reading these stories – as much as I had finding them! Maybe it will inspire you to create some good in your neck of the woods. And if you do, please share them with me!
Nightly Appreciation
Every evening, the community lines up to celebrate and show appreciation for the staff at St. David's Round Rock Medical Center:
Paying it Forward
Even before all this began, Edward Yeomans, owner of Pizza Delight, gave generously to the Round Rock community by donating pizzas and hosting fundraisers for many schools and organizations.
Over the past week, he & Pizza Delight have gone above & beyond. They donated pizza to the healthcare heroes at Ascension Seton Williamson Hospital at half the cost, having to close their kitchen for the evening to regular customers to fill the order! They also donated pizza and wings to Williamson County Dispatchers for dinner.
I can't help but think, if you are ordering dinner out soon, try this local restaurant to help give back to them for all they are giving our community!
Celebrate a Senior Movement
Both Round Rock High School and McNeil High School have created groups on Facebook to "adopt a senior" to help bring joy to the kids from the Senior Class of 2020. Since their Senior experience has been altered drastically, they need some cheering up!!
These groups are asking strangers to "celebrate a senior" by gifting them with inexpensive graduation gifts, treats and notes. This is an inexpensive effort and anyone can do this!
Round Rock High School Celebrate a Senior
McNeil High School: Celebrating Seniors Class of 2020!
They Are Just Good Citizens…..
I love coming across stories like these on Facebook – I wish more people took the time to tell everyone when something good happens to them:
Bravo Mr. Ice Cream Man!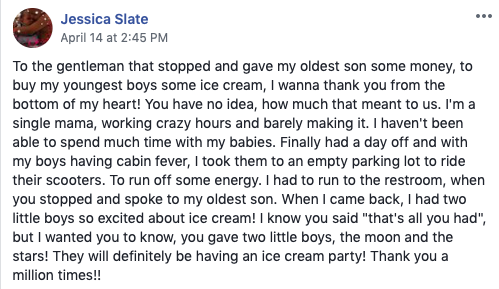 Thanks for doing the right thing!

Free Dry Cleaning for First Responders & Health Care Workers
The locally owned Tide Dry Cleaners is offering FREE Dry Cleaning for First Responders & Healthcare Workers –  their free delivery service is included too! Text Don @ 512-925-0130. He has approved sharing this info publicly Not a first responder? I know they could use your business and their service is great!!
Inspiring Artwork
We loved seeing this fence pop up on Facebook (photos by John Guerreo). You can see them in person on the corner of Sandy Koufax Lane and Jackie Robinson Place in Round Rock.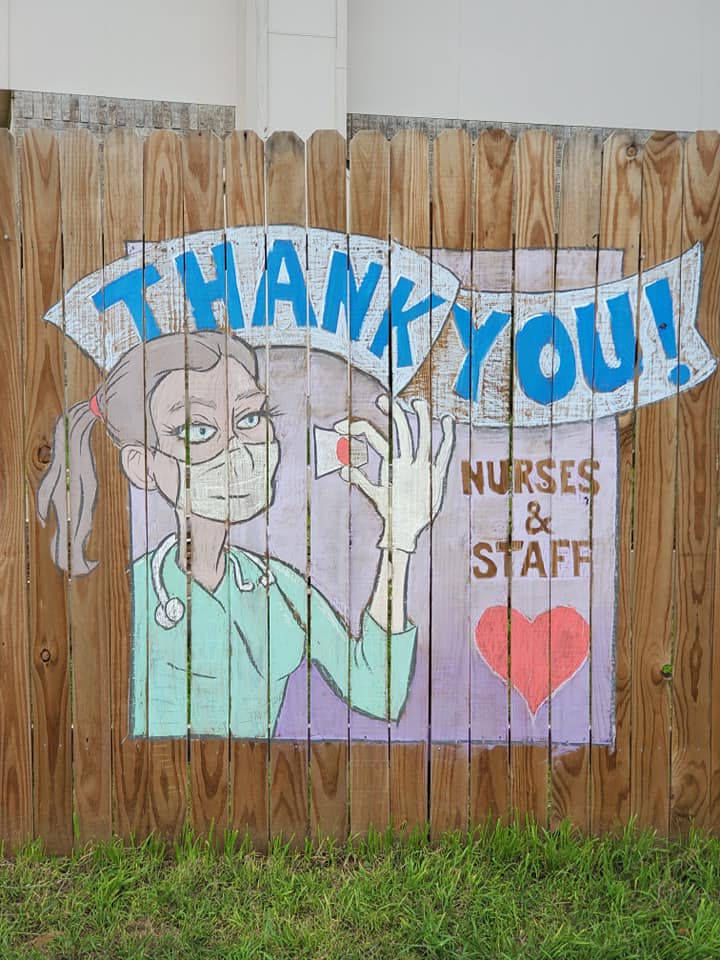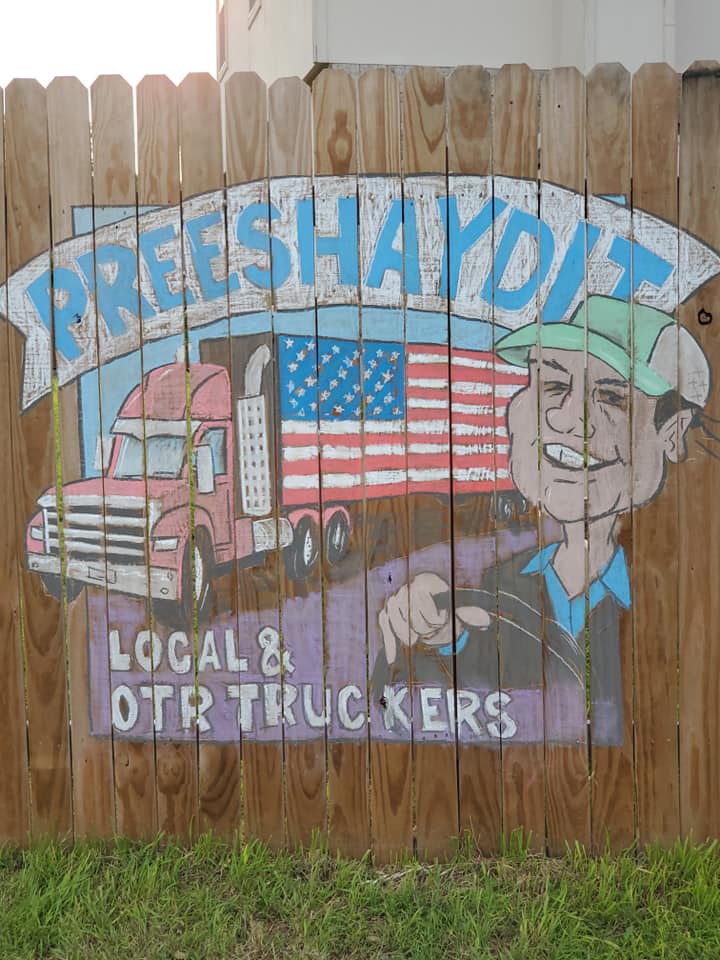 Missing Her Students
Swimming Instructor and Ready, Go, Swim Owner, Hannah Griffiths, read a story to all of her students who are missing their time in the pool this past week. Most appropriately, its a book about swimming and she read it by her pool! Go Hannah!
Do you have a story of someone who has done good in our community? Please share it with us! Email me at [email protected]