I love to invite Round Rockers to tell us about their experiences around the Rock.  Christina Rudofsky visits some of the coolest spots in town.  I loved her visit to The Jelly Queens and appreciate her telling us all about it!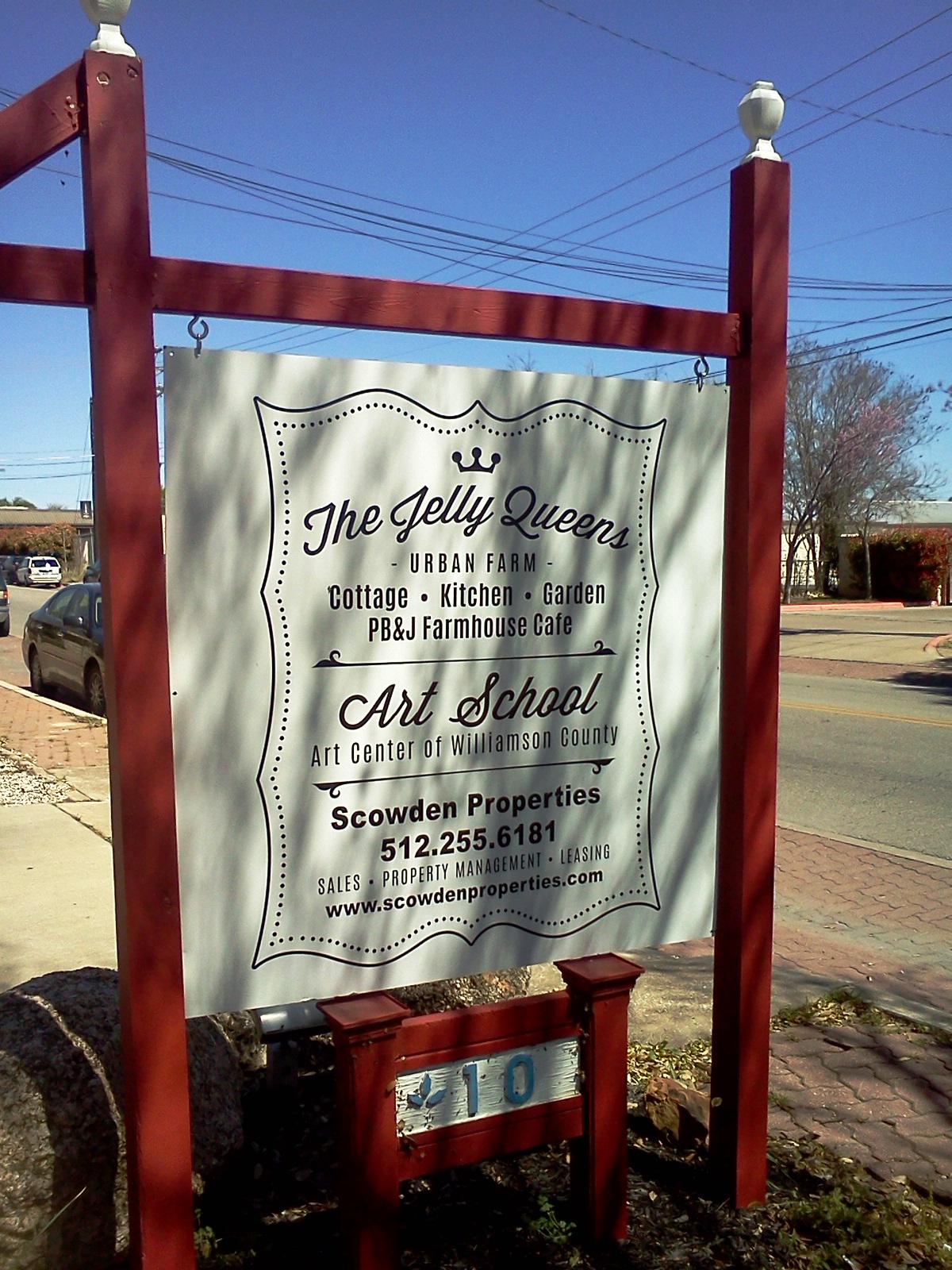 The Jelly Queens Cottage

Up the road from THE Round Rock, you'll find a little treasure set back from the road and behind a white picket fence: The Jelly Queens and its gourmet market and jelly kitchen. It shares the same building a
s the Art Center of Williamson County, a great spot for art classes for ages 5 through adult.
At 10 Chisholm Trail Road, this 100 year old building and three-year old specialty business is sandwiched between multiple historic properties — the William M. Overton House/Old Round Rock Post office (8 Chisholm Trail), the Sellestrom House at (14 Chisholm Trail), and across the street, the Inn at Brushy Creek (1000 N. IH-35). It's appointed at the corner of one of the more interestingly-named streets in the city, Poker Alley, and, for those who know their local history, this is in Old Town, the original settlement of the city.

The Jelly Queens store sells an array of seasonal, handcrafted, locally-sourced, organic (yes, all of the buzzwords are used here for these delicious products!) jellies and jams, as well as spices and gifts. Founded in 2012 by Dallas-based Donna Collins, the Jelly Queens also runs an online business, and its products are available in select specialty shops in Texas and other states in the US. But, why buy online or in another store, when we here in Round Rock can buy direct from the merchant right near downtown?
The owner's face will be familiar to food television aficionados, as she was a contestant (picked from 39,000 people who auditioned for it) on season two of Chef Gordon Ramsay's Master Chef tv show. She is also a master of feng shui (no wonder her store and products are so beautifully designed and packaged).
Since these are artisan products made with products directly from their own garden (referred to on their website as "the Jelly Queens Urban Farm," aka the property right behind their shop), not all jams and jellies are available all year round; it just depends on what is currently in season. Peach Pepper Jam and Pumpkin Butter are some of these season-specific offerings, but there are also combos like Sassy Apple Fig Jam, Black Garlic Rosemary Sauce, an award-winning Blood Orange Lavender Marmalade and their Cabernet Jelly, which is a perfect spread to jazz up a turkey sandwich into something really special. For those who want to be in control of how spicy a spicy jelly might be, there's a "Create-your-own-heat" option available on their website.
Now, let's talk about this marmalade. Some of us only know marmalade as the jelly sandwich favored by the star of the Paddington bear children's book series. Others know it as a very British and tangy preserve (the tang is thanks to the inclusion of hand-zested citrus peel). Well, the Jelly Queens' Blood Orange Lavender Marmalade is so delicious and well-crafted, that it garnered a 2014 World Marmalade award in the international competition held annual in the UK. Yes, a marmalade made in Round Rock won awards in the UK, the originators of marmalade. That's something to be quite proud of! More locally, in the US, they've also won awards like the 2014 Good Food Award and the HEB Quest for the Best.
But wait, there are more than just savory jams and jellies at the Jelly Queens physical store and online shop; there's also sweet spreads under their Ice Queens label, for being so perfect atop ice cream. This line includes the spicy combination of Habanero Chocolate and an adult treat with Chocolate Stout (yes, some of their products have wine, beer or champagne).
With one additional label, the Spice Kings, they offer spice blends for all of your cooking and grilling needs, from The Happy Pig and the Tasty Bird, to a perfect mix for your next Friday night at home with The Movies Popcorn Salt.
The shop is rounded-out with an assortment of carefully-curated gift items, like whimsically patterned tea china with nature and bird themes, aprons, and other personal items like bath salts. Stay tuned to the Jelly Queens' Facebook page for announcements about their recurring cupcake happy hours, in which they partner with locally-owned dessert maker, Forever Rose Cupcakes (whose recent combination have included sweet & sour blueberry lemon and red velvet with cream cheese frosting).
So, the next time you're visiting Memorial Park and the Round Rock, or taking in a show at Sam Bass Community Theatre; shopping up the street at Danny Ray's Music, the Ceramic Lodge, Round Rock Garden Center, or the Studio Kitchen; or eating at Vasquez Restaurant (what we're telling you here is there is a lot to do in the area, and we haven't even listed everything!), walk, bike or drive over to the Jelly Queens to select gifts for yourself and your friends, and learn about yet another great business based right here Round Rock!