Win Free Jumping for a Year at the Grand Opening of Urban Air Adventure Park – April 21, 2018
Urban Air Adventure Park is opening in Cedar Park on Saturday, April 21, 2018 and they have a BIG giveaway to coincide with their Grand Opening:
Jeff Van Delden and Brian May, Austin-based entrepreneurs, are excited to announce they are bringing Urban Air Adventure Park to the Cedar Park Austin-area on Saturday, April 21, beginning at 10 a.m. The first 100 people in line on opening day will receive free jumping for the rest of 2018. Urban Air is the premier full-service family entertainment center offering more than 30,000 square feet of adventure park attractions, as well as nine private rooms and plenty of reserved seating for group events and birthday parties.
"We are beyond excited to bring Urban Air to this vibrant city," says May. "Our family-oriented approach gels with this dynamic community, and as we grow together, we resolve to provide a fun, safe environment for adventure-seekers of all ages. In addition to bringing dozens of new jobs to the area, we strive to be the best destination for birthday parties, corporate events, and everything in between."
The new location of Urban Air is the perfect destination for safe, fun, affordable activities for families located in Leander, Liberty Hill, North Austin, Round Rock, and Cedar Park.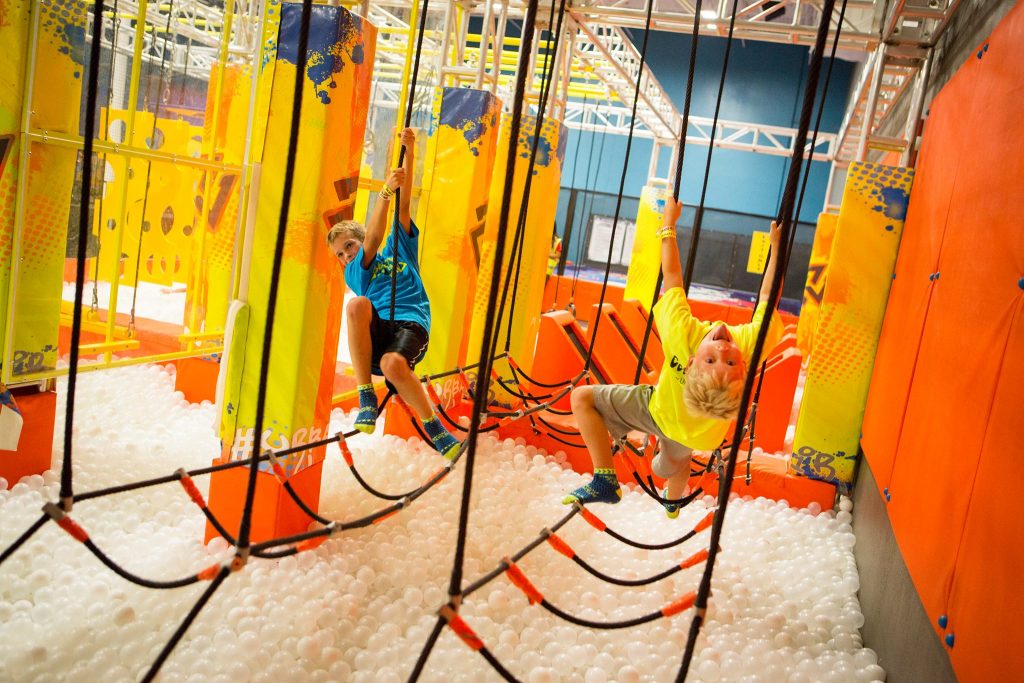 Attractions at Urban Air Cedar Park will include wall-to-wall trampoline arenas and a kids area for ages seven and under in addition to the following:
Dodgeball Courts: Ultimate dodgeball combines regular dodgeball with wall-to-wall trampolines, creating one epic dodgeball experience. Pick-up games are held daily and all ages are welcome on our courts.
DropZone: The DropZone will have you launching into your favorite stunts and tricks. The air-bag technology create a super soft, safe landing experience and is great for all ages.
Runway Tumble Track: The Runway allows you to take flight on one of Texas's longest trampolines. Great for the gymnast, tumbler, or cheerleader who wants to put in a little extra practice before their next competition.
Slam Dunk Zone: If you've ever wanted to try a dunk you saw on TV, now is your chance. Launch yourself down Texas's longest Slam Dunk Track and dunk it like King James.
The Apex: The Apex allows you to literally bounce off the walls! With dozens of trampolines on the floors and the walls, The Apex provides endless bouncing fun.
TUBES Indoor Playground (Kids 9-and-Under): An interactive adventure zone designed to allow imaginations to run wild. The Indoor Playground elements provide fun experiences for your kiddo while enhancing fine motor skills, hand-eye coordination, and sensory development.
Warrior Battle Beam: Claim your Warrior status in our newest attraction – the Warrior Battle Beam! Battle your friends in the ultimate fitness arena and test your balance and strength to be the last Warrior standing.
Warrior Obstacle Course: The Urban Warrior Course has three unique lanes testing your speed, agility, strength, and stamina. With a Warrior Wristband you get to train on any lane until you think you're ready to conquer the Leader-board.
Urban Air Cedar Park will also be home to the Urban Air Adventure Hub, which includes exclusive adventure park attractions that can only be found at Urban Air, such as an Indoor Ropes Course, Indoor Climbing Walls, Pro Zone Performance Trampoline Pit, and the incredible, all-new attraction, the Urban Air Sky Rider Indoor Coaster. Guests can also go head-to-head in the state-of-the-art Arcade or sit down and share a meal at the Urban Cafe.
Urban Air Adventure Park Cedar Park is located at 13201 Ranch Road N. 620 and will be open Monday – Thursday from 3 pm. to 8 p.m., Friday from 12 p.m. to 11 p.m., Saturday from 10 a.m. to 11 p.m., and Sunday from 10 a.m. to 8 p.m. School holidays and summer, Open Jump is held daily, starting at 10 a.m. Urban Air Cedar Park will provide weekly events and kids birthday parties for all ages and fitness levels. For more information, please visit www.urbanairtrampolinepark.com/cedar-park-tx/.