Visit Hogwarts in Austin this Halloween!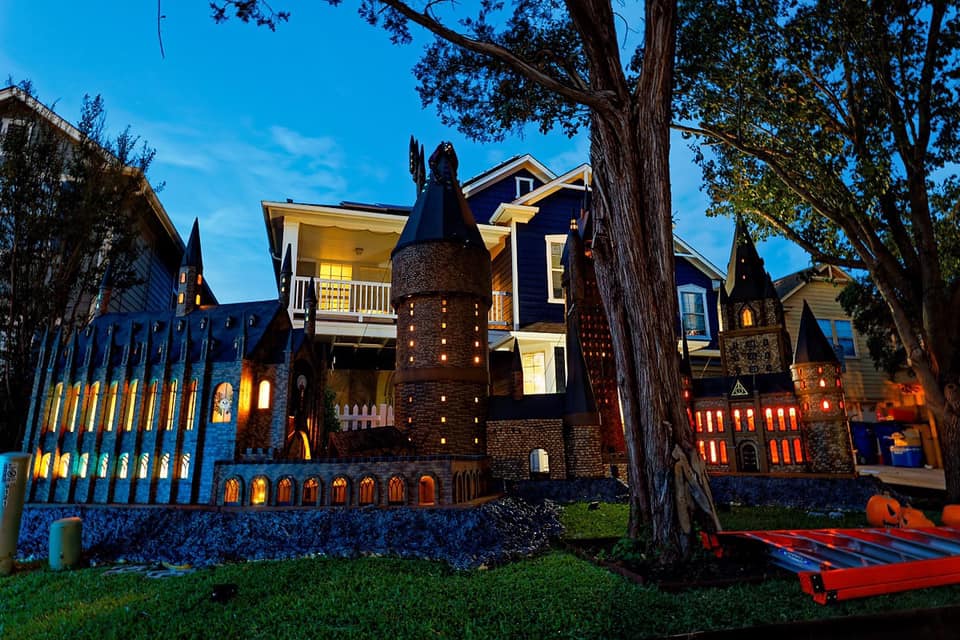 Where are my Harry Potter Fans?? Did you know you can visit Hogwarts in Austin? It's actually been here for a few years, getting better and better each one. And the owners of the Harry Potter-themed house in house, other ways called "Diagon Alley Austin Halloween House" recently announced that it will be ready for visitors before Halloween this year!
The homeowners started building this "Hogwarts in Austin" themed display in 2019 and were able to convert it to be COVID-friendly over the past year.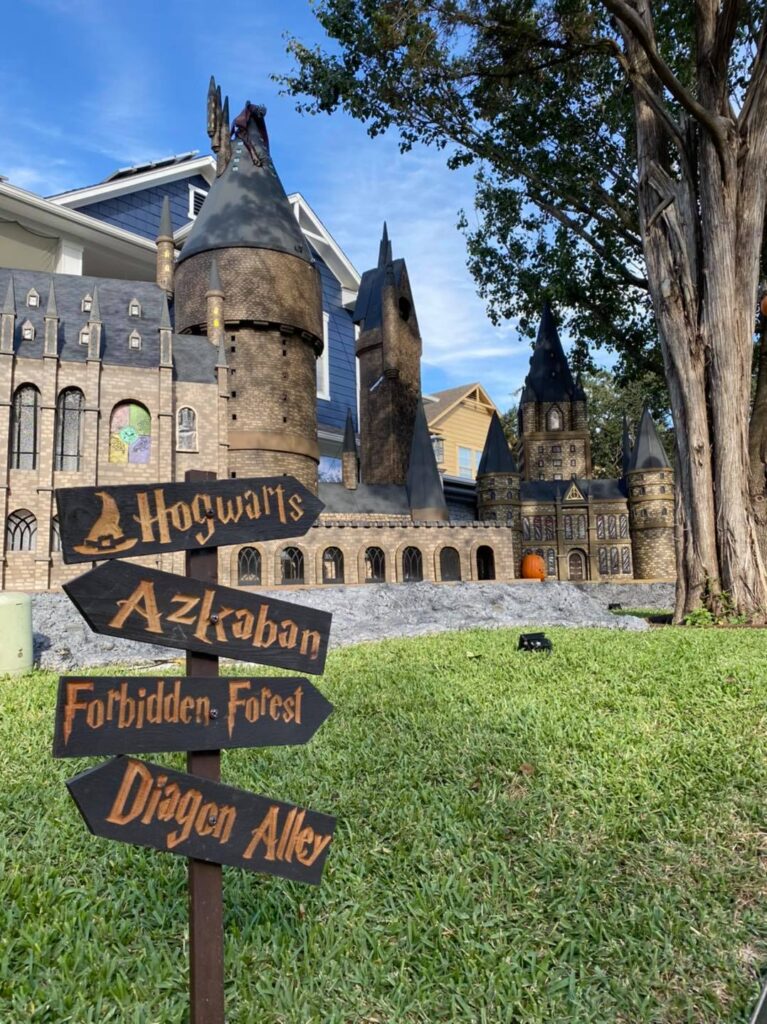 And the Diagon Alley Austin Halloween House answered a few burning questions on their Facebook page:
What will the display look like this year?
It will look a lot like last year, with some additions. We are NOT doing the walk-through immersive Diagon Alley ATX display this year. We are still in a pandemic and we want everyone to stay healthy. We ARE placing our version of Hogwarts Castle in our front yard! Joel has been working since July on this new additions. You can see everything from the safety of your car as you drive-by. Some people choose to get out and view from the street. There will be floating pumpkins,The Great Hall, The Astronomy Tower, The Marble Staircase Tower, and the new Bell Tower ("Cargill Hall"). . On most weekends the new "Hogwarts Castle Window" will come to life with different moving scenes…floating pumpkins that move, a roaring fire in the Gryffindor Common Room and other scenes.
What about Christmas? Will you do the light show again?
We will transition the display to a Christmas at Hogwarts/ Yule Ball theme in mid-to late November. Floating pumpkins will replaced with floating stars and crystal icicles. Light show starts at dusk and shows start every half hour until 8:30pm on weekdays and end at 9:30 on Sat & Sunday.
Where are you located? I can't find an address anywhere?
As we are just a family that puts up elaborate decorations and not a business we are reluctant to post our exact address on social media. However, the cross streets are Slaughter Lane and Bungalow. Once you are in Vintage Place, we are across from the park. You can't miss us!
When are you open and what are your hours?
We will keep Halloween decorations up through mid-November, and then transition to a Holiday Yule Ball theme. Because the decorations will be viewed from the street in front of our house, there are no set hours. However, the lights will only be on at certain times: On Weekdays (Monday-Friday) Lights out at 8:30pm. Lights out at 9:30pm on Weekends. Please remember that we live here and are not a business. Please dim your lights if you pull up directly in front of the house. Thank you!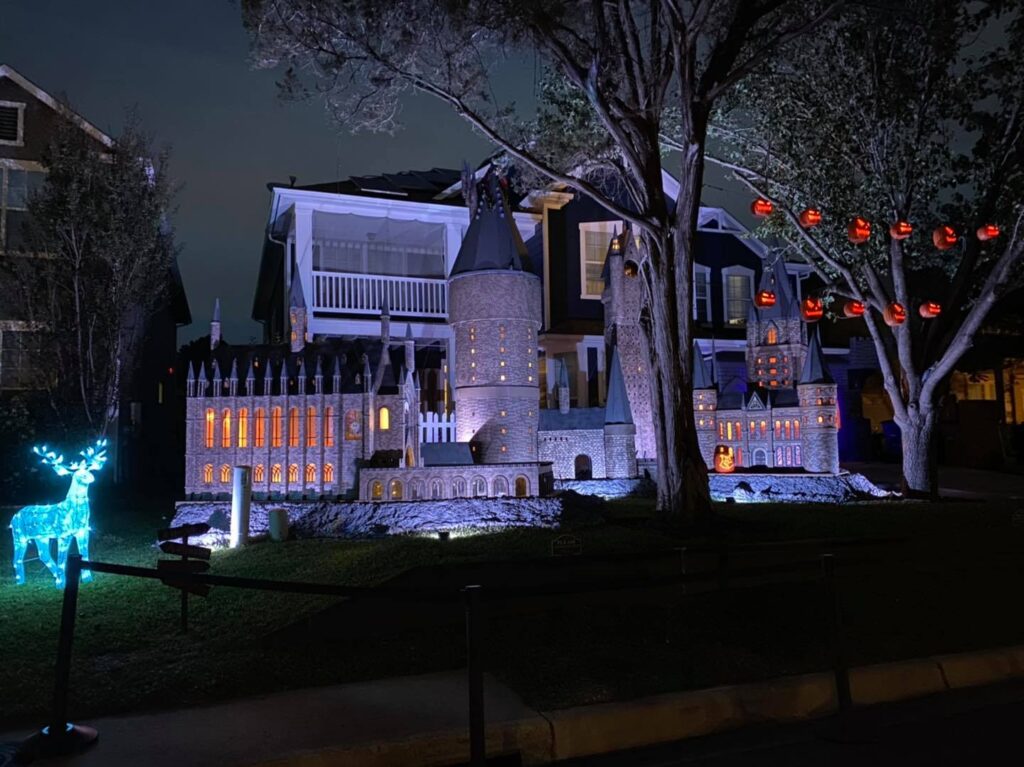 Can we walk up to the display (into your yard) to get better photos?
No. We kindly ask that you enjoy the display from the street. While the display looks sturdy, it is made from foam insulation boards which are more delicate than they look. For safety reasons (there are currently nails, construction debris, etc) we ask that you do not come onto our property. Please respect this request.
What about parking and walking up to the street to see the display?
There is limited parking in our neighborhood. If you choose to walk up for photos, please maintain social distancing.
Do I need to wear a mask if I get out to view the display?
Yes, please. Keep in mind that Joel's wife is a two-time cancer survivor. If you appreciate his effort and work, please do him this one favor. This year, we are allowing people to come up to a certain point on our driveway to get a better look at the Hogwarts Castle Window on the weekends. If you are on the driveway at all, you need to wear a mask or you will be asked to return to the street to view. There are no exceptions. The view from the street is still fantastic!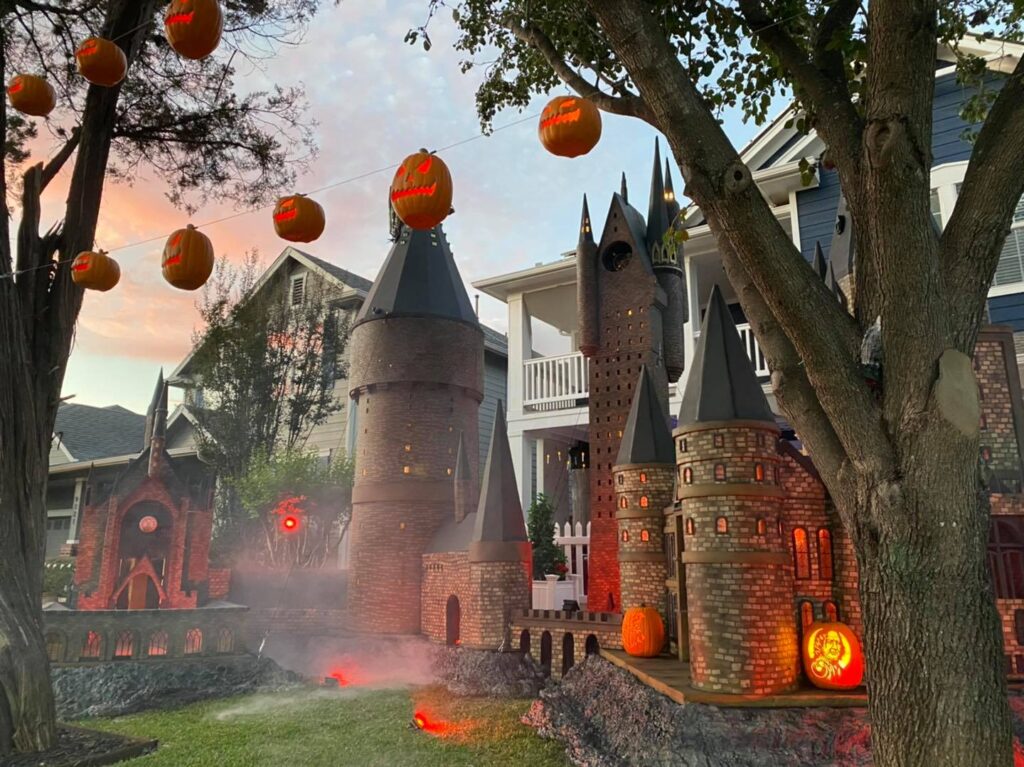 I've heard that you are doing this to support local Austin charities. How can I donate?
Thank you so much for supporting these amazing organizations! We do not keep any portion of your donation for materials or expenses related to the project. All money collected will be split between Foster Angels of Central Texas, Variety Texas, and ZACH Theatre. All have been hit hard by the pandemic and are worthy of our support. Please consider donating.
There are currently two ways to donate: You can Venmo: @DiagonAlleyAtxYou can donate via GoFundMe (link coming soon)
Thank you all so much for your support, kind words and encouragement as we try to create a little magic for the community we love. Please be patient, respectful and kind to each other when you visit. Drive slowly and watch out for our neighborhood children on bikes and skateboards. Let's take care of each other during this time and make a few magical memories this fall. We're working hard these last couple of weeks & will post when the display is finalized. See you soon!
Diagon Alley Austin Halloween House will be ready for visitors on October 28 and will stay up thru the Holidays.
Follow Diagon Alley Austin Halloween House here on Facebook
---
More Articles You May Be Interested In