This article was originally published in the Spring 2021 Issue of Round the Rock Magazine. For the full issue, click here.
It's hard to believe that it has almost been a full year of dealing with the pandemic, lockdowns, and cancellations. It has been such an emotional roller coaster of a year and a new way of life is quickly becoming "normal."  But in the midst of all this turmoil, citizens in our community got creative and found ways to make each other smile. 
Right from the start, so many people worked hard to make sure our healthcare workers were provided for with homemade masks, warm meals, and thank you parades at local hospitals.  We were touched by so many anonymous acts of kindness that we heard of thru social media. 
A few unique acts in our city really stood out, and we wanted to tell you a bit more about them here. 
---
The Flamingo House
John & Kristen Welsh
1021 Hidden Glen Dr
John & Kristen Welsh turned their front lawn into a weekly, ever-changing flamingo display that has included a flamingo wedding, a Halloween costume party, and an interactive flamingo maze. When the pandemic hit and their kids were stuck at home from school, they thought a flamingo display could be something to give their neighbors to brighten their day. The first display was just a mass collection of 39 flamingos. The neighbors have been really supportive and everyone looks forward to seeing what the flamingos will do next.
---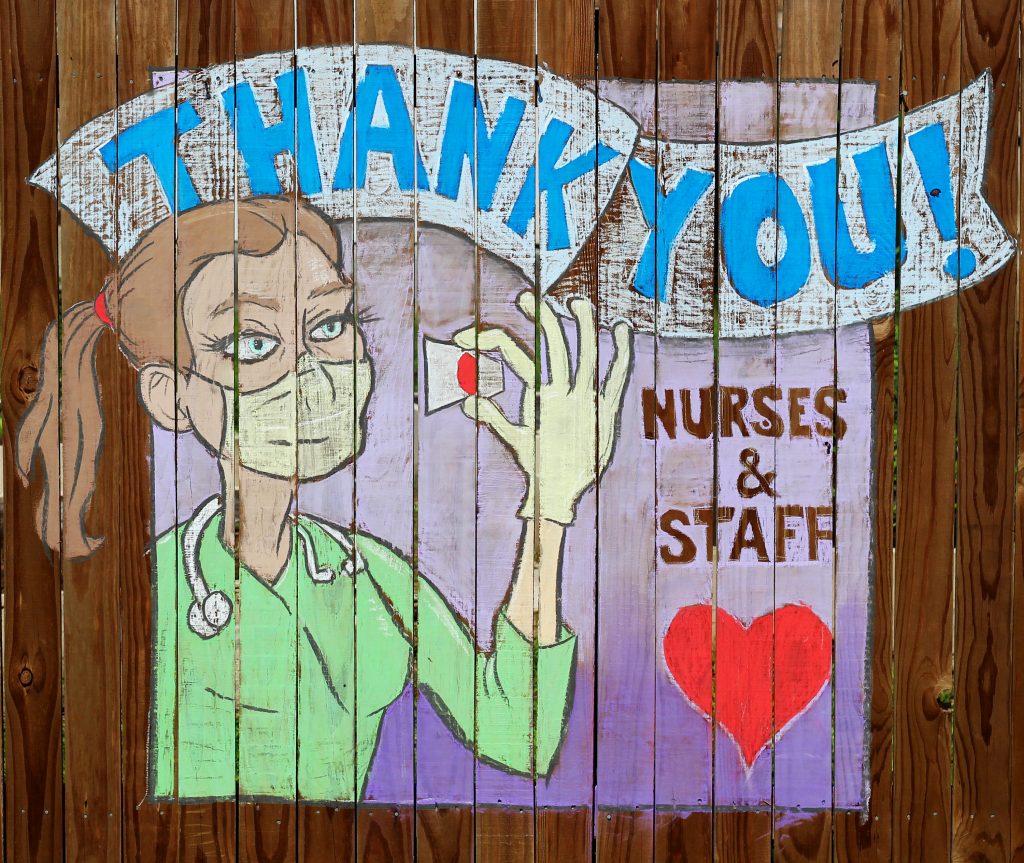 The Thank-You Fence
Joe Richmond
Ryans Crossing Neighborhood
During the thick of this Covid-19 pandemic, local graphic designer, Joe Richmond, created some "Thank-You" chalk murals on his fence. He created one per week for about 6 weeks. Each one focused on a group of essential workers who were on the front lines or otherwise did not have the luxury of working from home, such as: Nurses & Healthcare workers; Truckers and Supply-line workers; First responders (Fire, Police, EMS); Teachers;  Food Staff (Grocery, Food Prep, Delivery); Donors in general (People sewing masks, donating blood, money, food).
"As the Covid Pandemic stretched and political unrest grew on and people were starting to realize this was going to have a huge impact on our families all over the world, I wanted to salute those who were really making a sacrifice for their fellow humans. At times like these, it's sometimes difficult to know how to help. I thought I could at least use my talent to offer some public recognition and a genuine thank-you to those essential workers." 
Scroll to the bottom to see more Thank You Fence photos.
---
Round Rock Explorers Guide
Girl Scout Abby Robison
Abby Robison needed a project for her Girl Scout Silver Award and wanted to teach others Round Rock history.   A fan of National Park Junior Ranger Guides (she's completed 80!),  she decided it would be awesome to make a guide for Round Rock and bring attention to some of our historic sites.  "I absolutely love doing these guides because they have taught me so much about history, the environment, etc.  This really made me curious about my own hometown of Round Rock, so I researched and found that we have a lot of interesting history."  Abby developed the Round Rock Explorers Guide during the pandemic, so she made it Covid- friendly, including all outside locations. You can currently find it in the Round Rock Visitor Center or download a pdf copy and print it yourself at https://bit.ly/RRExplorerGuide
---
Central Texas Buzz Fairies
Crystal Edler
After receiving a random basket of goodies on her doorstep, local realtor, Crystal Edler, decided to create a group on Facebook to help encourage more random acts of kindness.  "I was having a rough week and that basket made my day!  I wanted to do the same thing for others.  Due to Covid, businesses were shut down, women were at home with their kids trying to homeschool, every tv station was doom and gloom stories, and I wanted something lighthearted to spread joy throughout our community."
In May 2020, she created a Facebook group called Central TX Buzz Fairies and invited her closest friends in Austin.  It soon went viral in the Central Texas area and jumped from 50 of her friends to 20,000 women!   The original idea was to randomly leave a small gift basket with wine or beer on somebody's doorstep, essentially "buzzing" somebody.  (similar to the idea of Boo-ing around Halloween)  But it ended up being much more than that.  Women grouped together to buy random gifts for each other, they all came together and bought gifts for a member that was going through cancer treatment, and they have also shared food/groceries, helped members find jobs, and many other things.  
"Tears of joy from women who were struggling with quarantine and isolation found ways to make each other laugh and smile again."  Several smaller spinoff groups were created and a Kids Group was created as well!  Parents got their kids and teens involved and they started leaving gift baskets for other kids/teens for birthdays or just for random acts of kindness.  It became a small movement in our area of everyone just spreading joy to each other.  
---
Round Rock Digital Scavenger Hunt
Kenny Crooks
During times of restriction due to the need for social distance, Kenny Crooks developed a digital scavenger hunt that families could do together from the comfort and safety of their vehicles.  After being cooped up for days on end, he began thinking up ideas of how we could get out of our homes, have a little fun and still be safe while doing so. And he came up with a digital scavenger hunt to showcase often overlooked locations of Round Rock and teach everyone interesting history.
Those who have completed the hunt said they had a blast, many state that they explored areas they did not even know existed. 
To participate in the scavenger hunt, head to  https://roundrockhunt.wixsite.com/roundrockhunt
---
More Photos of the Thank You Fence