You Want to Read these Books! Round the Rock's Book Picks 2017
We like to read over here in the Round the Rock family and in honor of "Read Across America" day today and "National Unplugged Day" tomorrow (we can't make this stuff up), we thought it would be fun to give you a list of books that we really enjoyed reading in 2017.  You can also view the list of 20 books that Round Rock is reading right now according to the Round Rock Public Library here.
I know there are many distractions to keep us from reading.  I encounter many each day from work (ahem) to catching up on This is Us or The Crown.  But I am always satisfied and feel rested & refreshed after getting lost in a good book.
In 2017, I made it a priority to read more and have tried to set aside at least an hour each Sunday just for me to curl up and read.  Don't get me wrong, that is not the only time I read during the week. But I was looking for some un-interrupted time to read.  I read a lot of great books in 2017, but wanted to highlight my favorites for you.
Round the Rock Book Picks 2017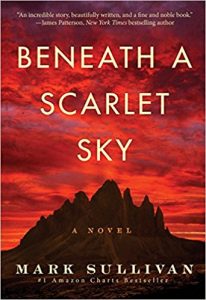 I read this book in 3 days while on vacation this summer.  I am a HUGE fan of historical fiction and I couldn't put it down.  Very well written and base don a true story, it's almost unbelievable!
Pino Lella wants nothing to do with the war or the Nazis. He's a normal Italian teenager—obsessed with music, food, and girls—but his days of innocence are numbered. When his family home in Milan is destroyed by Allied bombs, Pino joins an underground railroad helping Jews escape over the Alps, and falls for Anna, a beautiful widow six years his senior.
In an attempt to protect him, Pino's parents force him to enlist as a German soldier—a move they think will keep him out of combat. But after Pino is injured, he is recruited at the tender age of eighteen to become the personal driver for Adolf Hitler's left hand in Italy, General Hans Leyers, one of the Third Reich's most mysterious and powerful commanders.
Now, with the opportunity to spy for the Allies inside the German High Command, Pino endures the horrors of the war and the Nazi occupation by fighting in secret, his courage bolstered by his love for Anna and for the life he dreams they will one day share.
Fans of All the Light We Cannot See, The Nightingale, and Unbroken will enjoy this riveting saga of history, suspense, and love.
---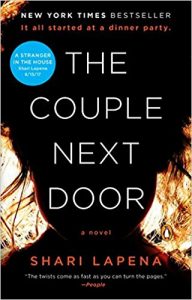 I read this thriller in one day.  And that is unheard of for me.  It was that good.
Anne and Marco Conti seem to have it all—a loving relationship, a wonderful home, and their beautiful baby, Cora. But one night, when they are at a dinner party next door, a terrible crime is committed. Suspicion immediately lands on the parents. But the truth is a much more complicated story.
Inside the curtained house, an unsettling account of what actually happened unfolds. Detective Rasbach knows that the panicked couple is hiding something. Both Anne and Marco soon discover that the other is keeping secrets, secrets they've kept for years. 
What follows is the nerve-racking unraveling of a family—a chilling tale of  deception, duplicity, and unfaithfulness that will keep you breathless until the final shocking twist.
---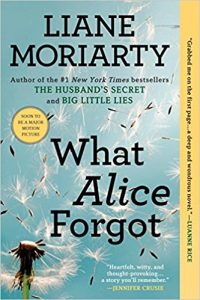 Fans of Big Little Lies will enjoy this one by the same author.  In fact, I've read all of her books and found this one to be my absolute favorite.  It will make you take a look at yourself and see how others might perceive you.
Alice Love is twenty-nine years old, madly in love with her husband, and pregnant with their first child. So imagine her surprise when, after a fall, she comes to on the floor of a gym (a gym! she HATES the gym!) and discovers that she's actually thirty-nine, has three children, and is in the midst of an acrimonious divorce.
A knock on the head has misplaced ten years of her life, and Alice isn't sure she likes who she's become. It turns out, though, that forgetting might be the most memorable thing that has ever happened to Alice.
---
I warned you that I love historical fiction and I tried not to dominate this list with that genre of books, but Lilac Girls was fascinating.  And true.
New York socialite Caroline Ferriday has her hands full with her post at the French consulate and a new love on the horizon. But Caroline's world is forever changed when Hitler's army invades Poland in September 1939—and then sets its sights on France.
An ocean away from Caroline, Kasia Kuzmerick, a Polish teenager, senses her carefree youth disappearing as she is drawn deeper into her role as courier for the underground resistance movement. In a tense atmosphere of watchful eyes and suspecting neighbors, one false move can have dire consequences.
For the ambitious young German doctor, Herta Oberheuser, an ad for a government medical position seems her ticket out of a desolate life. Once hired, though, she finds herself trapped in a male-dominated realm of Nazi secrets and power.
The lives of these three women are set on a collision course when the unthinkable happens and Kasia is sent to Ravensbrück, the notorious Nazi concentration camp for women. Their stories cross continents—from New York to Paris, Germany, and Poland—as Caroline and Kasia strive to bring justice to those whom history has forgotten.
---
This heart-wrenching story held my attention the whole way thru. Another terrific historical fiction that happened right here in the US.
Memphis, 1939. Twelve-year-old Rill Foss and her four younger siblings live a magical life aboard their family's Mississippi River shantyboat. But when their father must rush their mother to the hospital one stormy night, Rill is left in charge—until strangers arrive in force. Wrenched from all that is familiar and thrown into a Tennessee Children's Home Society orphanage, the Foss children are assured that they will soon be returned to their parents—but they quickly realize the dark truth. At the mercy of the facility's cruel director, Rill fights to keep her sisters and brother together in a world of danger and uncertainty.
Aiken, South Carolina, present day. Born into wealth and privilege, Avery Stafford seems to have it all: a successful career as a federal prosecutor, a handsome fiancé, and a lavish wedding on the horizon. But when Avery returns home to help her father weather a health crisis, a chance encounter leaves her with uncomfortable questions and compels her to take a journey through her family's long-hidden history, on a path that will ultimately lead either to devastation or to redemption.
Based on one of America's most notorious real-life scandals—in which Georgia Tann, director of a Memphis-based adoption organization, kidnapped and sold poor children to wealthy families all over the country—Lisa Wingate's riveting, wrenching, and ultimately uplifting tale reminds us how, even though the paths we take can lead to many places, the heart never forgets where we belong.
---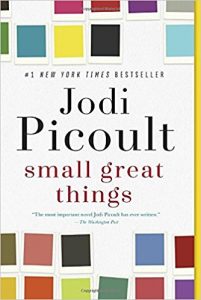 I read this book with my book club and though I have never been a fan of Jodi Piccolo, this book was fantastic.  And made for a GREAT discussion.
Ruth Jefferson is a labor and delivery nurse at a Connecticut hospital with more than twenty years' experience. During her shift, Ruth begins a routine checkup on a newborn, only to be told a few minutes later that she's been reassigned to another patient. The parents are white supremacists and don't want Ruth, who is African American, to touch their child. The hospital complies with their request, but the next day, the baby goes into cardiac distress while Ruth is alone in the nursery. Does she obey orders or does she intervene?
Ruth hesitates before performing CPR and, as a result, is charged with a serious crime. Kennedy McQuarrie, a white public defender, takes her case but gives unexpected advice: Kennedy insists that mentioning race in the courtroom is not a winning strategy. Conflicted by Kennedy's counsel, Ruth tries to keep life as normal as possible for her family—especially her teenage son—as the case becomes a media sensation. As the trial moves forward, Ruth and Kennedy must gain each other's trust, and come to see that what they've been taught their whole lives about others—and themselves—might be wrong.
With incredible empathy, intelligence, and candor, Jodi Picoult tackles race, privilege, prejudice, justice, and compassion—and doesn't offer easy answers. Small Great Things is a remarkable achievement from a writer at the top of her game.
---

One last historical fiction book for you – I couldn't help it because this one stayed with me long after I read it.
With courage, grace, and powerful insight, bestselling author Kristin Hannah captures the epic panorama of World War II and illuminates an intimate part of history seldom seen: the women's war. The Nightingale tells the stories of two sisters, separated by years and experience, by ideals, passion and circumstance, each embarking on her own dangerous path toward survival, love, and freedom in German-occupied, war-torn France―a heartbreakingly beautiful novel that celebrates the resilience of the human spirit and the durability of women. It is a novel for everyone, a novel for a lifetime.
---
These are just a few of the books that I would recommend reading.  To see what Round Rock is currently reading according to the Round Rock Public Library, click here.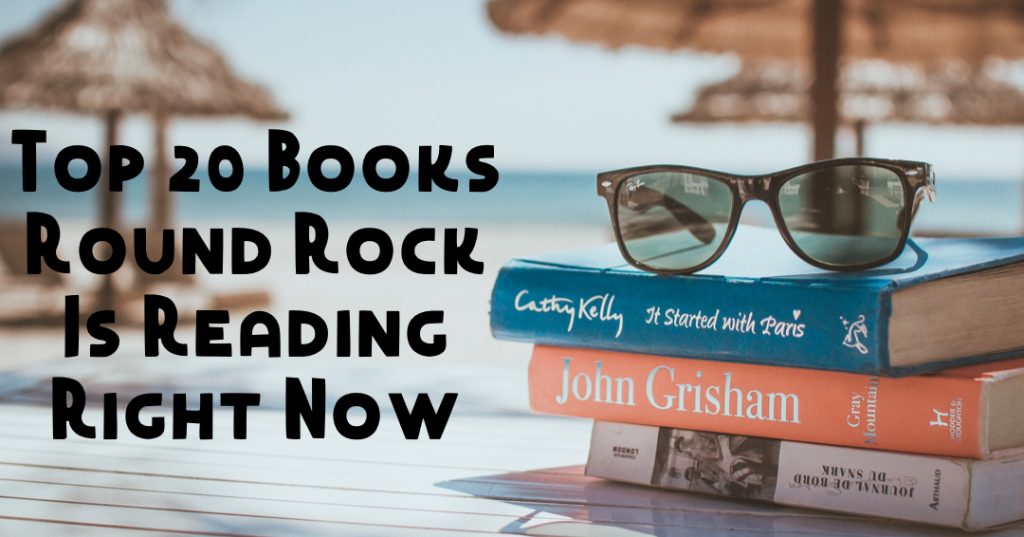 In the meantime, share your favorite books you read this past year in the comments below!