Make Your Instagram Pop with These 13 Round Rock Murals
Round Rock is stepping up its photo-op game. While we may not yet be at an Austin-level tier for street art, Round Rock definitely has some creative backdrops popping up all over the place! If you're out there "doin' it for the 'gram", then don't miss these 13 most Instagrammable murals in Round Rock. Make your Instagram pop with these 13 Round Rock murals!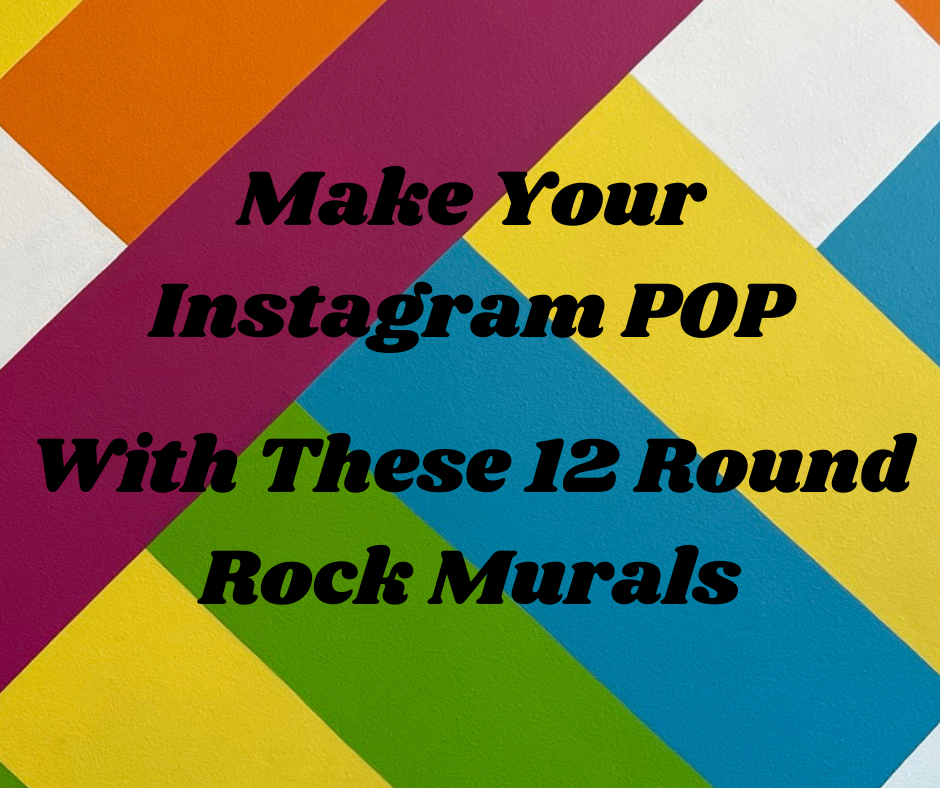 Make Your Instagram Pop with These 13 Round Rock Murals:
1. Greetings From Round Rock Texas
You can find this mural inside the Round Rock Express field, Dell Diamond. The only way to get to it is with tickets to a game. We had a great time at a Sunday home game for their Kids Day promotion. Free train rides outside the ballpark before the game, and kids get to run the bases after the game. There's also a couple of playgrounds for kids inside the ballpark. It's a very kid-friendly place! Dell Diamond, 3400 E Palm Valley Blvd, Round Rock.
2. Bright & Bold Mural
The Yogurt Experience has the most cheerful, colorful mural in all of Round Rock! It's guaranteed to make you smile. The nice thing about this mural is that it spans the entire wall, so you can get the words in the picture or just have the beautiful colored stipes. And the fact that there's delicious fro-yo here as well gives you another reason to check out this cute shop! 200 University Blvd #230, Round Rock.
3. Hello Sunshine Mural
Waffle Love has a groovy vibe throughout the entire shop, and my favorite piece of wall art has got to be the Hello Sunshine mural. Don't forget to flash your peace sign when you ask a nice customer to take your picture here. 1300 Gattis School Rd #100, Round Rock.
4. Treatin' Not Cheatin' Green Wall
620's Healthy Hub has delicious protein shakes, teas, and coffees, as well as a beautiful wall of faux-greenery and a bright pink neon sign that says Treatin' Not Cheatin'. It's hard to resist not snapping a selfie here. 1312 Round Rock Ave, Round Rock.
5. Octopus Mural
On the side of the building at Salt Traders Coastal Cooking, you can find this impressive giant octopus mural. It spans the length of the entire wall! 2850 N Interstate Hwy 35, Round Rock.
6. Torchy's Devils Mural
Torchy's has two Round Rock locations, one at 1500 N Interstate Hwy 35 and one at 2150 E Palm Valley Blvd Ste 100. You can find cute little devil murals at both!
Bonus: The Torchy's at 1500 N Interstate Hwy 35 also has this cool wall inside:
7. The Blue Wall at IKEA
Round Rock is the proud location of the area's only IKEA. Stop by for a $1 ice cream, maybe pick up a new couch, and don't forget to snap a selfie at the big blue wall! 1 Ikea Way, Round Rock.
8. Giant Red Lion at Meridian School
Meridian School has a giant red lion on the side of their building. Go during non-school hours to snap a selfie here. This wall really pops! 2555 N Interstate Hwy 35, Round Rock.
9. The World is a Better Place With You In It
Mays St Boutique is the home to a very special and meaningful mural in Round Rock. Mural artist Rachel Viator painted butterflies fluttering around the Earth along with the words "The world is a better place with you in it." The butterflies are a symbol of hope and rebirth, which are there to remind anyone considering suicide that there is always hope. The owner of Mays St Boutique, Sandi Deli, said it was her way to contribute, years after her teenage son's best friend took his own life. 2001 N Mays St # 6, Round Rock.
10. Welcome to Round Rock, Texas (MOOYAH)
MOOYAH Burgers has an impressive mural inside. Just in case you needed an excuse to get some fries and a shake. That cow with the sunglasses is too cute! 200 University Blvd Ste. 400 Ste. 400, Round Rock.
11. Round Rock Mural at Firehouse Subs
Firehouse Subs happens to be my middle son's favorite place to eat, so we go here a lot. There's a really cool mural of firefighters at the round rock of Round Rock at this location! We love how the artist made the fire truck look like an old Wells Fargo wagon, referencing the wagon ruts you can see in the ground as you walk along the riverbed near the round rock. 3151 S IH 35 Frontage Rd Ste 630, Round Rock.
12. Retro Car Mural
On the side of the building of Rudy's Car Wash, you can find this old-timey car and gas station mural. It's cool and quirky and fun! 2400 N Interstate Hwy 35, Round Rock.
13. Round Rock Gardens
Round Rock Gardens has a sweet little hidden photo-op set up in the tropical plants section of their store. See if you can find the velvet green couch, plant backdrop, and neon sign that says #RoundRockGardens. My boys were actually the ones who spotted this one while we were there buying plants one day. They were excited to add another one to our list! 901 Sam Bass Rd, Round Rock.
You might also enjoy: