Round Rock Businesses That Offer Virtual Support/Classes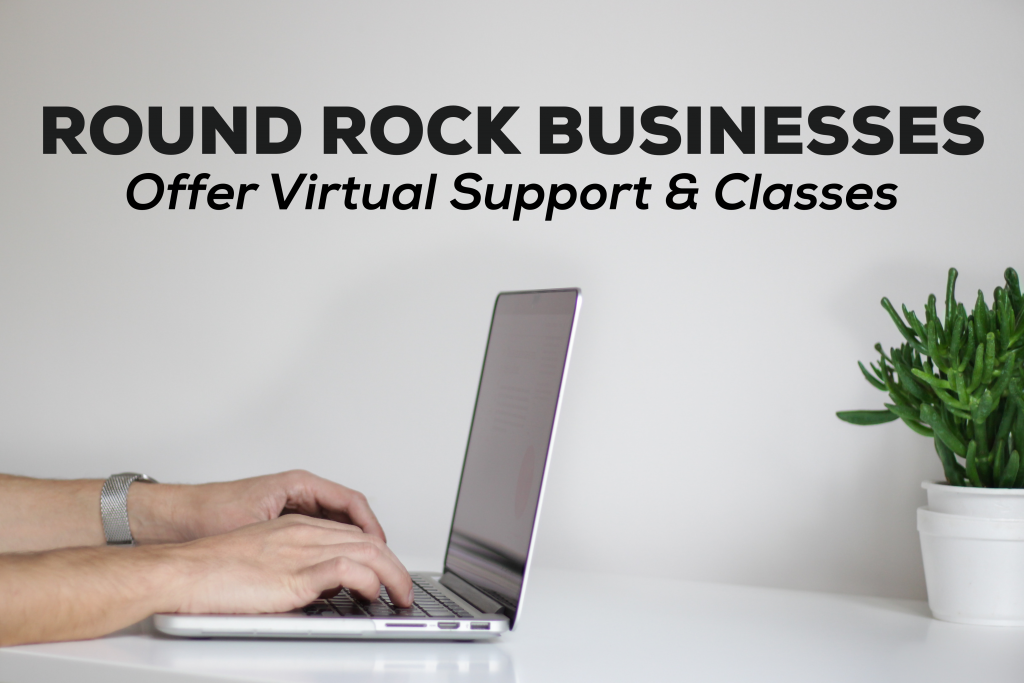 Now that Williamson County has issued a Shelter at Home Mandate, more and more Round Rock Businesses are finding ways they can virtually support their clients and customers.
We have been compiling this list for days and will continue to update as we find more businesses to add to the list.
Round Rock Virtual Help
Round Rock Dental Group
Dr. Eric Hoffman of the Round Rock Dental Group reached out to us to make sure that everyone was aware of there tele-dental services they provide:
We are now offering a service for patients, new and existing, to call our docs via FaceTime, Skype, or Facebook messenger video to discuss their concerns. Our docs will determine if patient needs to come in or if we can call in antibiotics for an infection.  A lot of dental offices are closed all together but we are remaining open to manage dental emergencies 8-5 Monday- Friday. We have taken additional protective measures for patients and staff. We have been busier than I thought we would be. Dental emergencies don't stop during pandemics and the last thing we want is for patients to end up in emergency rooms. During normal business hours call 512-255-1000 and our office staff will connect you with a dentist if needed. After hours call my cell phone 210-273-1362 (Dr. Hoffman) or Dr. Murphy's cell phone at 512-992-6615.
Spine & Sports Physical Therapy

Spine & Sports Physical Therapy is offering Virtual PT for patients:
I've been providing tele-therapy to allow clients to receive PT from their home.  (click here for more info)  It's an easy way to work with at PT (me) at home while staying healthy, active and typically finding ways to relieve pain.   My PT clinic is Spine and Sports Physical Therapy. 
I also recently developed an online program for people wanting to independently work on core strengthening, postural improvement and /or lower extremity flexibility / strengthening.  This program uses PT exercise progressions to address the most common orthopedic issues.  I've partnered with the Leukemia & Lymphoma Society and proceeds with will benefit this charity.  It's called OrthoWellness and info about this program can be found at OrthoWellness.org. 
Connecting Hearts Wellness Center
Connecting Hearts Wellness Center  offers counseling and alternative wellness. And they are now offering telehealth services. Learn more here.
Round Rock Virtual Workshops
Toast & Timber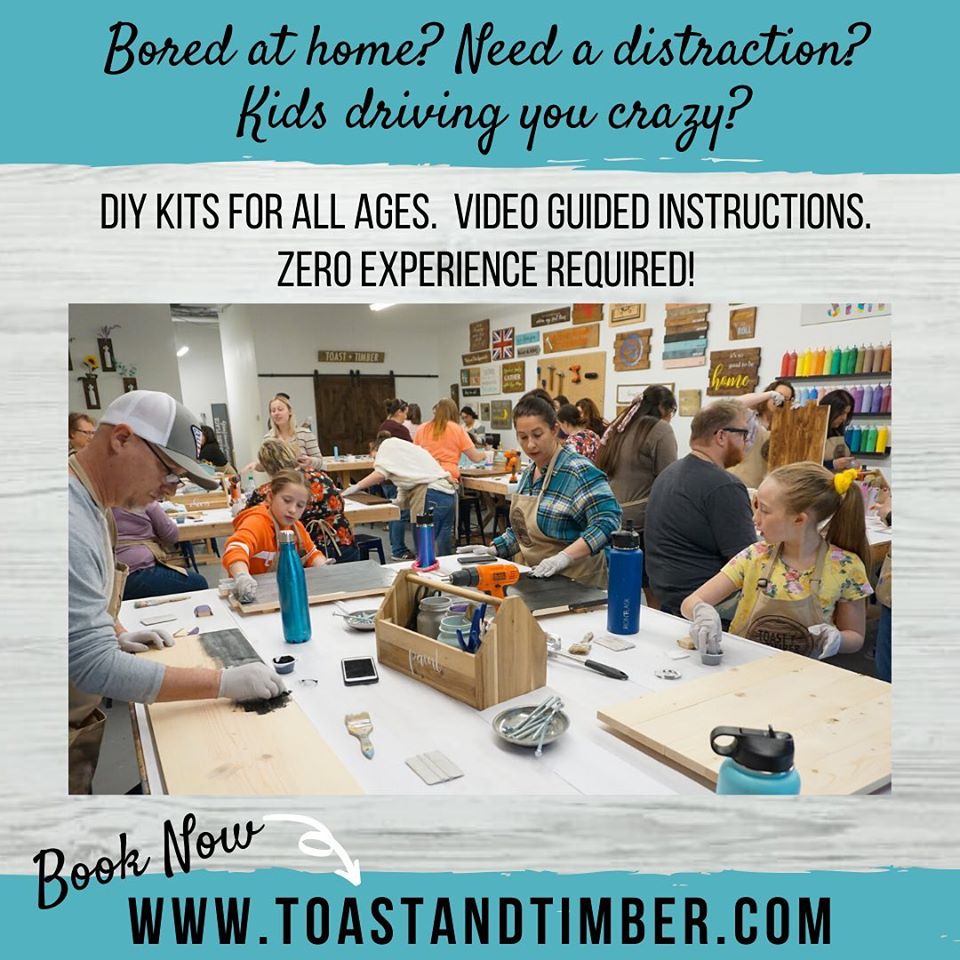 Toast & Timber is a creative workshop that offers make your own home decor. While their shop is closed, they are now offering a DIY Take Home Kit that you can pick-up at their shop or they will deliver it for you. Check out details here.
While we can't bring everyone together to create during this time, we will be offering DIY Kits for Pick up or Delivery for our wood sign projects with video guided instructions. This is the perfect activity for you to do while you're bored at home and needing a creative outlet. This way, we still get to spread a little bit of joy into your homes during this time (without spreading germs!). We have DIY kits for all ages. Zero experience is required. Everything included. Written & video guided instructions will be provided.
Breakfast, Lunch & Dinner
Are you puzzled by what's in your pantry? Confused by those dusty cans in the cupboard? Frustrated by what's NOT in your 'fridge? Ask for a hand, some hints, a little "help from a professional" on my Facebook business page. "Write a post" to ask a question by text or picture. If you really want to dig in, I'm offering 15 and 30 min online "cupboard tours" ($10/$15 respectively) where you can have me as a virtual talking head, helping you plan your next couple meals.
Why me? I teach confidence in the kitchen in Austin! As Breakfast, Life, and Dinner, I do in-house cooking classes, cupboard cleaning sessions, event meals and meal service (where I cook your meals for the week), so this is what I do, all day, every day! During these trying times, let's make sure that you are using ALL the good food that you've stocked up on. Maybe you can even expand your horizons and we can try a new recipe together!
Round Rock Virtual Shopping
Haute Boutique
Haute Boutique will be offering online shopping with free delivery and live shopping events in their Facebook Group. Join their Facebook group here.
Round Rock Virtual Classes
Renzi Tutoring & Guitar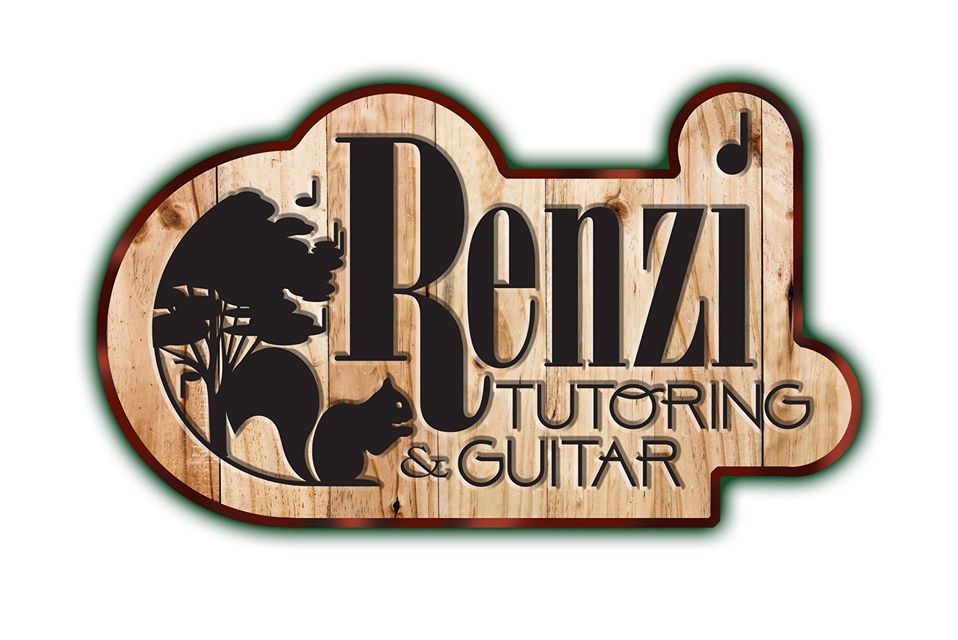 Renzi Tutoring & Guitar is offing virtual guitar lessons for students. If you enroll for a month, you get one lesson for free ($30 value). Also, Chris is putting up guitar lesson videos daily on his Facebook Page.
413 Fitness
413 Fitness is a gym for those living with a movement disorder like Parkinson's or stroke. We had to shut down gym so are offering classes on our YouTube channel. There are varying fitness levels from chair to high intensity including pushups and jacks.  
https://youtu.be/HYWmYzkh56M
School of Rock
School of Rock is offering Remote Lessons – click on their website to learn more – https://locations.schoolofrock.com/roundrock
Round Rock Virtual Tutoring
Round Rock Express
Round Rock Express announced on Monday, March 23 Spike's Reading Challenge:
Given recent events around the world and with more children learning from home at this time, we invite you to join us in Spike's Reading Challenge for kids 12 and under of all reading levels!

Starting Monday, March 23, 2020 through Friday, May 15, 2020, log your hours read in order to receive two (2) general admission outfield lawn tickets to our game on Sunday, July 5, 2020.

Not only will each reading log submission receive tickets, but additional prizes will be awarded on Sunday, July 5, 2020 for readers who reach specific milestones of hours read.

Please visit 
RRExpress.com
 for more information on Spike's Reading Challenge, as well as coloring sheets and reading videos. 
Huntington Learning Center
Huntington is excited to launch HuntingtonHelps Live. Our new online tutoring programs that will offer you support and educational services during this transition. Your child should not fall behind due to schools closing and we are here to help. Call 512-910-4050 to find out more about our online tutoring programs. https://bit.ly/3ak7EOK
Round Rock Virtual Open Houses
Camp Doublecreek
Camp Doublecreek, one of Round Rock's premier summer camps, will be offering Virtual Open Houses in lieu of their actual Open Houses scheduled for April. Virtual Open Houses will take place on Saturdays in April or you can watch one here with this link. Follow their Facebook Page to learn more.
Round Rock Virtual Events
Penfold Theatre's Spring Screen Series
Penfold Theatre Company announced they would be "airing" online each Friday a past performance or sneak peek of an upcoming performance for free! Check out the details on their website.
If you offer virtual assistance or classes and would like them added to this list, please email the information to [email protected]
Other Articles You May Find Helpful