Round Rock ISD Cancels School March 20 – April 3
Updated Monday, March 16 at 11:29 AM – It has been announced that Round Rock Independent School District has cancelled all classes from March 20-April 3, 2020 with school resuming Monday, April 6, 2020.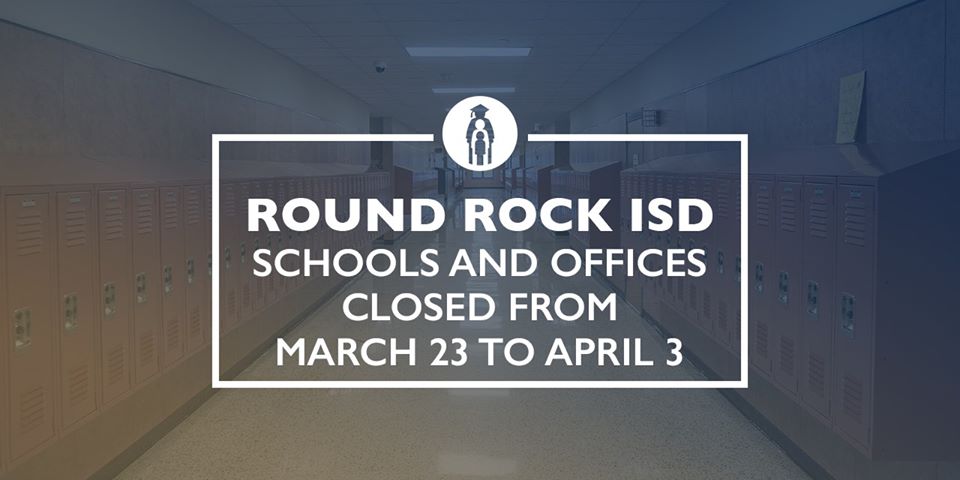 Released this morning:
An IMPORTANT Letter from Dr. Steve Flores, Superintendent of Schools
Dear Round Rock ISD Community,
Round Rock ISD will be suspending normal school operations through April 3, with students returning to school April 6, unless conditions warrant an extension of school closures. There is a potential of schools remaining closed indefinitely as our state and nation respond to this global pandemic.
During this time, all Round Rock ISD facilities will be closed for instruction and other purposes, including UIL events, athletics, rentals, field trips, after-school programs and other campus activities.
These are unprecedented events and Round Rock ISD is committed to doing our part to keep our community safe, while also continuing to provide critical services and support the education of our students. I want to thank all of you for your patience as we work to ensure our families are receiving the support they need.
Round Rock ISD's leadership team is currently finalizing a plan to deploy virtual learning, as well as the dissemination of a variety of learning options, to maintain instructional continuity in the event we need to extend campus closures. We understand the appropriate solutions will vary by student and grade level and will be working with our campus leaders to provide a variety of tools to support learning during school closures.
We know many of our students depend on us for needs beyond academics. To help support students during the extended school closure, curbside breakfast and lunch service will be provided at designated sites across the District on days that would otherwise be regularly scheduled school days. Times and locations will be shared later this week via email and will also be available on our District website.
We will continue to update parents through email, text and phone call on this developing situation. Please visit our Coronavirus webpage with current information about our District's response and plans related to COVID-19. We will also provide information on our Facebook and Twitter pages.
Thank you for doing your part to keep our community, our state and our nation as safe and healthy as possible. The health and wellbeing of our community, students and staff is our top priority and we are committed to supporting our students, parents and staff throughout this unparalleled global pandemic. We believe this important step will aid in easing the anxiety of our families and contribute to stemming the spread of COVID-19. 
Respectfully,
Steve Flores, Ph.D.
Superintendent of Schools
Texas STAAR Testing Cancelled for 2019-2020 Academic Year
This comes in light of the announcement that Texas Governor, Greg Abbott, announced that he is waiving the State of Texas Assessments of Academic Readiness (STAAR) testing for the 2019-2020 school year. He is also requesting suspension of federal testing requirements.
Keep up-to-date on all the cancellations we have found across the area with this article.
Looking for some ideas of fun things to do with kids at home while you are observing social distancing this week? Check out these fun ideas!
And for some feel-good news, check out this story about Whataburger delivering meals to H-E-B Employees on Sunday.