Round Rock Restaurant BINGO!
In case you haven't heard, we started a magazine!! Yes! Round the Rock is available in PRINT. Starting with the summer issue, we will now be offering a quarterly print publication that is filled with EVEN MORE great reasons to LOVE our city!
Learn more about why we decided to publish a print magazine and read it here.
In our first issue, we offered a fun way to help support local businesses with the Round the Rock Shopping Passport, where we asked you to shop at or dine at local businesses and restaurants and you would get a stamp. Complete at least 10 and you would be entered to win a gift basket worth $400 of local prizes.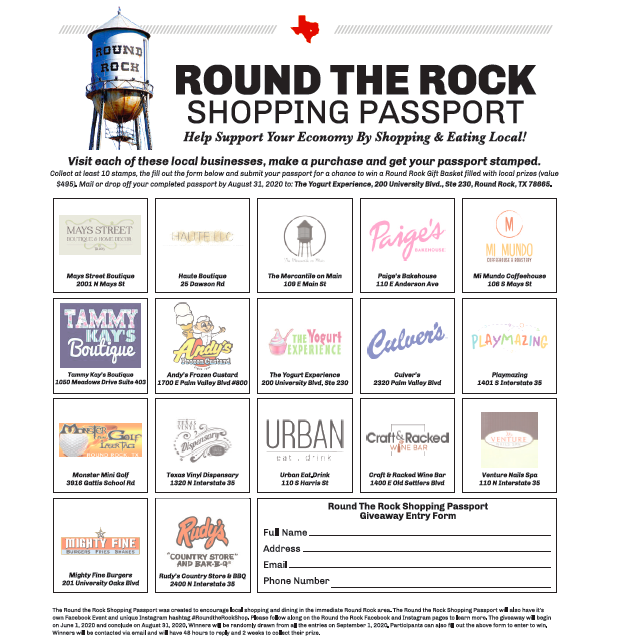 We had so much fun with our Shopping Passport, that we decided to do it again with our fall issue of Round the Rock. This time, we playing it BINGO style!
Restaurant BINGO: What is it?
Right now, locally owned restaurants are hurting. They are suffering from a loss of business and many are struggling to stay open. We have created the Round the Rock Restaurant BINGO as a way to help!
We wanted to create a fun activity for everyone to learn about and dine at locally-owned restaurants in Round Rock. So the idea of a "Bingo card" was born. Simply put, dine at the restaurant on the Bingo card and get a stamp!
Restaurant BINGO: How Do I Win?
Once you reach 5 stamps, fill out the form and mail it in to the address provided for your chance to win a$25 gift cards to one of the 20 participating Round Rock restaurants!
But honestly, it's more than just winning a prize, it's about helping community – our community – who needs the support of our loving community!
Restaurant BINGO: Who is Participating?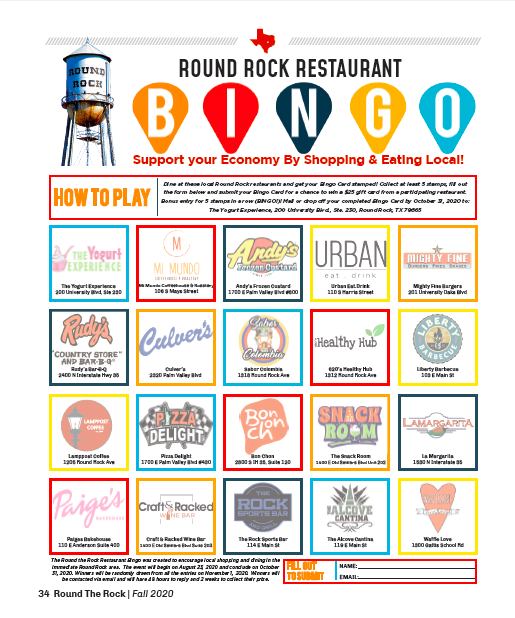 The following restaurants are participating in Restaurant BINGO and have contributed a prize:
The Yogurt Experience
200 University Blvd. Ste 230
http://yogurtexperience.com
Mi Mundo Coffeehouse & Roastery
106 S Mays St
https://www.mimundocoffee.com
Andy's Frozen Custard
1700 E Palm Valley Blvd #800
https://locations.eatandys.com/ll/US/TX/Round-Rock/1700-E-Palm-Valley-Blvd
URBAN eat.drink
110 S Harris St
https://www.urbaneatdrink.com
Mighty Fine Burgers
201 University Oaks Blvd
https://mightyfineburgers.com
Rudy's Country Store & Bar-B-Q
2400 N Interstate 35
https://rudysbbq.com
Culver's
2320 Palm Valley Blvd
https://www.culvers.com/restaurants/round-rock-tx-palm-valley-blvd
Sabor Columbia
1318 Round Rock Ave
https://www.saborcolombiarestaurant.com
620's Healthy Hub
1312 Round Rock Ave
https://www.facebook.com/620s.healthyhub/
Liberty Barbecue
103 E Main St
https://www.libertybbqrrtx.com
Lamppost Coffee
1205 Round Rock Ave
https://www.lamppost.coffee
Pizza Delight
1700 E Palm Valley Blvd #430
http://pizzadelighttx.com
Bon Chon
2800 S IH 35, Ste 120
http://bonchon.com/wp-content/uploads/2020/05/Round-Rock-S-IH-35_Takeout-Menu.pdf
Snack Room
1400 E Old Settlers Blvd Unit 202
https://www.facebook.com/SnackRoom
La Margarita
1530 N Interstate 35
https://lamargarita.us
Paige's Bakehouse
110 E Anderson Ave
http://www.paigesbakehouse.com
Craft & Racked Wine Bar
1400 E Old Settlers Blvd
http://www.craftandracked.com
The Rock Sports Bar
114 E Main St
http://www.rocksportsbar.com
The Alcove Cantina
119 E Main St
https://www.alcovecantina.com
Waffle Love
1300 Gattis School Rd
https://waffleloveatx.com