Round Rock Chalk Walk and Festival Benefitting the Arts | October 5-6, 2018
Round Rock Arts is hosting the 2018 Round Rock Chalk Walk and Festival Benefiting the Arts from October 5-6, 2018 at Centennial Plaza. The event is free to attend and includes live music, art vendors, food, free activities for kids, street performers, trick dogs, jugglers, hula hoopers, community art experiences, interactive drumming, community partners,  business vendors, and much more! 
Round Rock CHALK WALK 
Event location: Centennial Plaza, 301 W. Bagdad Street in downtown Round Rock, TX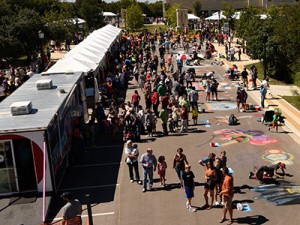 Friday, October 5, 2018 – 5:00pm-10:00m
Saturday, October 6, 2018 – 10:00am-7:00pm
Contact: [email protected]
Chalk Walk is the Round Rock area's largest festival for the arts, drawing thousands of people to Round Rock in just two days!
This large-scale festival is produced by our 501c3 nonprofit arts organization, and we could not launch Chalk Walk and Arts Festival each year without the support of our generous sponsors, volunteers, board
members, and other members of the community.
The thousands in attendance – comprised of residents of and visitors to the area – come to downtown Round Rock to enjoy chalk artists creating artwork on the streets of the festival groups, musicians, vocal groups, theatrical performances, food and drinks, and children's performances by local organizations and schools. Not only is it great fun, but Chalk Walk and Festival also has an economic impact of over $380,000 on our community!
Round Rock Arts' goal is to provide a celebration of the arts accessible to all, so admission to Chalk Walk and Festival is free. Art is the theme and chalk is the medium. From start to finish, participating artists will create art in full view of the public, who are encouraged to interact with the
artists as they use their amazing talents to create beautiful "murals." That the paintings disappear at the end of the festival makes their beauty even more appealing. We have created new cash prize categories this year, including: Best of Show; Second Place; Third Place; Best Representation of Round Rock; Best Animal; Best Figure; Best Copy of a Famous Masterpiece; Best New Comer (first-time artist); and Most Creative.
Other new features for this year include Uncle Lucius as the Friday night headliner concert. As with all other performances during this festival, this performance is free. Also on Friday evening, we'll stage the  Annual "Chalk Walk High School Food Truck Battle," in which teams of culinary students from area high schools and the Art Institute of Austin team up for the battle of ultimate flavor supremacy. Winning dishes will be determined by votes from festival attendees, with the winning student team receiving a scholarship prize!
For those wishing to get involved in this year's Chalk Walk and Festival, more information can be found on our website: