30 Exciting Holiday Events in Austin & Central Texas
We can't wait to bring on the holidays this year! Get your calendars out, because these 30 Exciting Holiday Events in Austin & Central Texas will help get you in the celebrating spirit.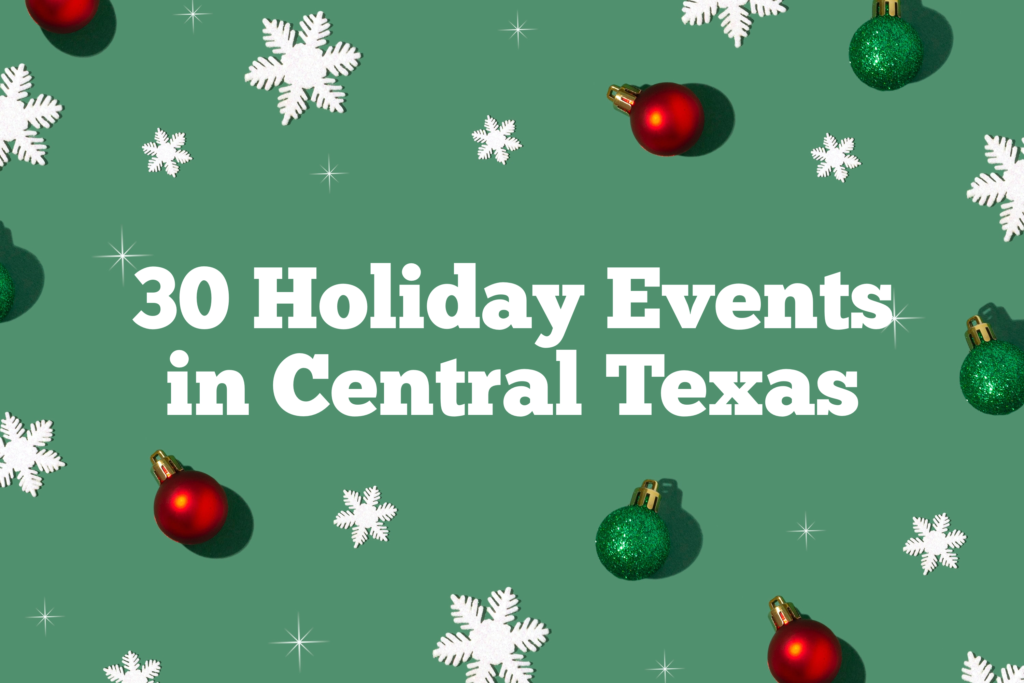 30 Exciting Holiday Events in Austin & Central Texas
---
Santa's Ranch
New Braunfels, Texas
November 5, 2021 – January 2, 2022
A drive-thru Christmas Light Park is located just 30 minutes south of Austin on I-35.  With over 1 million lights and 100 displays & animations, the one mile drive thru park is seen from the comfort of your own vehicle.
---
The 2 hour, round trip train ride on the historic Bertram Flyer includes story-time, cookies, and a visit from both Mrs. Claus and Santa Claus!
---
I'll Be Home for Christmas
A Christmas Affair 2021 ~ Palmer Events Center
The Junior League of Austin
November 17-21, 2021
A shopping event like no other, this 5 day event puts everyone in the Holiday mood! The event consists of 4 full market days with over 200 local and national vendors.  There are some really fun children's events too – Enjoy breakfast or brunch with Santa, a teen/tween party, and photos with Santa all weekend long!
---
A Christmas Carol
ZACH Theatre, Austin, TX
November 24, 2021 – January 2, 2022
This Christmas tale unfolds on ZACH's Topfer Theatre the entire month of December. Perfect for the whole family – so much fun with modern songs twisted into this classic tale. I couldn't think of a more fun date night or family night!
---
Mozart's Coffee Holiday Lights Show
Mozart's Coffee
November 11 – January 6, 2021
Don't miss the fantastic light show at Mozart's Coffee this year! This free show is each evening, every hour on the hour. They also offer table reservations (not free). Reservations strongly recommended!
---
Christmas Walkway of Lights
Marble Falls
November 19, 2021 – January 2, 2022
Open nightly from 6PM-10PM till January 1st, The Walkway of Lights displays 2 million lights in Lakeside Park and over 350+ lighted sculptures. It is FREE to the public, and is entirely funded by donations. 
---
Enjoy holiday performances, face painting, see Santa, and enjoy live music by American Authors! Admission is free.
---
Gingerbread Village at Four Seasons
Four Seasons Hotel Austin
November 29- December 28, 2021
Inspired by the magic of the North Pole, this year's Gingerbread Village features 11 edible "houses," from Santa's Workshop and an Elf Dormitory to a bustling Town Square, complete with a live countdown to Christmas. The Village will be on display in the lobby from November 29 to December 28.
---
Elgin CHRISTmas Tree Farm
Elgin Tree Farm
November 26 – December 10, 2021
Take the family out this year to hand pick your Christmas Tree at an actual Tree Farm.  In additional to getting a tree, you can enjoy a scenic hayride, animals, crazy maze & playground. 
---
Lost Pines Christmas
Bastrop, TX
November 25-December 19, 2021
There are a variety of fun events that happen in Bastrop that are fun for the whole family – from a Lighted Christmas Parade, the River of Lights, Santa visits, Ice Skating and more.
---
BIG & GLOWING holiday cheer coming back to Round Rock for 3 amazing nights in December! Join us for the annual Light Up the Lake, a FREE NEW 3-day holiday festival around the lake and festival area at Old Settlers Park on Thursday, December 2, Friday, December 3 and Saturday, December 4 starting at 6:00pm. The event will feature SPECTACULAR giant balloons hovering over Bright Lake, amazing light show, LIVE music, holiday displays, holiday food and refreshments, crafts, family activities, yule log and more! Live music entertainment as well.
---
A Miracle on 34th Street Classic Radiocast
Penfold Theatre Company
December 9-19, 2021
The players at the fictional KPNF radio station return to put their stamp on another holiday classic: Miracle on 34th Street. As they bring to life the entire story through dozens of character voices and live foley sound effects, you'll be re-introduced to Kris Kringle, the charming Macy's mascot put on trial for claiming to be the real Santa Claus. Besieged by commercialism and disillusionment, winning the trial and restoring his friends' faith in the most precious, intangible parts of Christmas will require Kris to perform nothing short of a miracle! Dec 9-18 will be at Old Settlers Park in Round Rock, and the Dec 19th show will be at the Driskill Hotel in Austin.
---
Lighting of the Square
Downtown Georgetown
November 26, 2021
Georgetown's Annual Lighting of the Square is the Friday after Thanksgiving. The downtown holiday lights will remain lit every evening through January 1. FREE! 103 W 7th St, Georgetown.
---
Santa's Wonderland
College Station
November 12 – December 30, 2021
Spend an unforgettable evening celebrating the holidays Texas-style with great food, fun, and festivities at the largest outdoor Christmas celebration in the South!
---
Lights Spectacular
Johnson City
November 26, 2021 – January 2, 2022
Imagine a light display with over a million lights. And it's so big, NASA reported seeing it from the International Space Station! Yes, that would be the Johnson City Texas Lights Spectacular. 
---
Sights & Sounds of Christmas
San Marcos, TX
December 2-4 and 9-11, 2021
This wonderful holiday event features a running event, ice skating, Santa, shopping, food, live music, Town of Bethlehem, and a carnival. Open Thursday December 2nd through Saturday the 4th, and again December 9th through the 11th.
---
A Dickens Christmas in Lockhart
Lockhart, TX
December 4, 2021
The town of Lockhart, Texas is transformed into a Dickens' style Christmas starting with a Lighted Christmas Parade on Friday night. The fun continues on Saturday with an all-day festival that ends with the lighting of a Yule Log on Saturday night.
---
Georgetown Christmas Stroll
Georgetown, TX
December 3 & 4, 2021
Downtown Georgetown Square transforms into a Norman Rockwell-picturesque scene with window displays, carolers, yummy goodies and local vendors.  Visit the live nativity at the Bethlehem Village, tease the Grinch at the Whoo-Village and Santa makes an appearance at the parade on Saturday. The 40th Annual Christmas Stroll on Friday, December 3 from 5-9 p.m. and Saturday, December 4, 10 a.m.-8 p.m. 
---
Old Town Christmas Festival
Leander, TX
December 4, 2021
Old Town Leander comes alive to spread Christmas joy throughout the community. This free event includes the Old Town Rudolph Run 5K, Leander in Lights Parade, activities for the kids, pictures with Santa, local school performances and entertainment, food court, local vendors, and more.
---
Main Street Bethlehem
Burnet, TX
December 3, 4, 5, 10, 11, and 12, 2021
Pick your way through transients, peddlers, the crippled, and aged in the town's fringe. Experience the presence of animals as they affect all aspects of life in that time . . camels, donkeys, sheep, goats, chickens, and doves.
---
Downtown Austin's Holiday Stroll
Downtown Austin, TX
December 4, 2021
A free, family-fun event that starts with a group sing-along at the Capitol in Downtown Austin.  As that is wrapping up, the Capitol Holiday tree is lite and Congress Ave becomes alive with music, art, shopping, & more. Saturday, December 4, 2021 with the traditional Sing-Along and downtown tree lighting from 5-8 p.m.
---

Celebrate the magic of the holidays on Mercer Street in historic downtown Dripping Springs. Holiday festival with live entertainment & activities for kids.
---
Holiday Tree Lighting & Santa's Workshop
Cedar Park, TX
December 3, 2021
Over 65,000 lights illuminate the largest Live Oak Tree in Cedar Park. Santa's Workshop will kickoff immediately following the tree lighting ceremony. Enjoy live music, carriage rides, games & prizes, inflatables, photos with Santa (bring your own camera), and arts & crafts projects. Bring the whole family for what promises to be a festive evening. Free admission.
---
The Nutcracker at the Ballet Austin
The Long Center
December 2-23, 2021
The Austin Ballet produces the longest-running production of The Nutcracker in Texas.  I can't think of a sweeter Christmas performance to take your children to.
---
Zilker Trail of Lights
Zilker Park
November 27-December 31, 2021
One of Austin's most anticipated events is back this year as a drive-thru experience. Millions of holiday lights and displays line the trail, creating a fun experience for the whole family. General admission, Dash Pass, and Premier Night tickets are available.
---
Drive-thru lights display down COTA's Tunnel Road. Meet dancing elves and strolling entertainers on Candy Cane Lane and an Enchanted Forest, and so much more.
---
Armadillo Christmas Bazaar
Palmer Events Center
December 17-19, 2021
Hot music, fine art and cold beer make the Armadillo Christmas Bazaar the place where Austin shops in the giving season. The show is actually two events in one: an art fair and music festival with a vibrant community-driven vibe.
---
Austin families are invited to hear memorable Christmas music played by many different forms of tubas and euphoniums FREE. It will be fun for all ages.
---
See thousands of luminarias, seasonal food and drink, and more. Ticket here. 4801 La Crosse Ave, Austin.
---
Skate with Santa and take your own digital photo at Playland! Admission includes roller skate rental too.
---
You might also enjoy: