Round Rock Holiday Lights Trail
This is a Round Rock Holiday Lights Trail – a listing of homes that are worth driving to see their Holiday Yard Displays!
Last weekend, my son and I took off on a drive around the city of Round Rock to find as many cool light displays as we could. We were blown away by the creativity and hard work that so many families do to make their holiday light displays so special.
We have always published a list of Holiday Light Displays in Round Rock and in the Central Texas area, but wanted to list out the order of homes to see that are manageable to get to in one evening.
Driving around and looking for Holiday Light Displays is an easy thing to do and safe for your family to enjoy. So pile the kids in the car, grab some hot cocoa, and turn up the Christmas tunes, here is our Round Rock Holiday Lights Trail!
---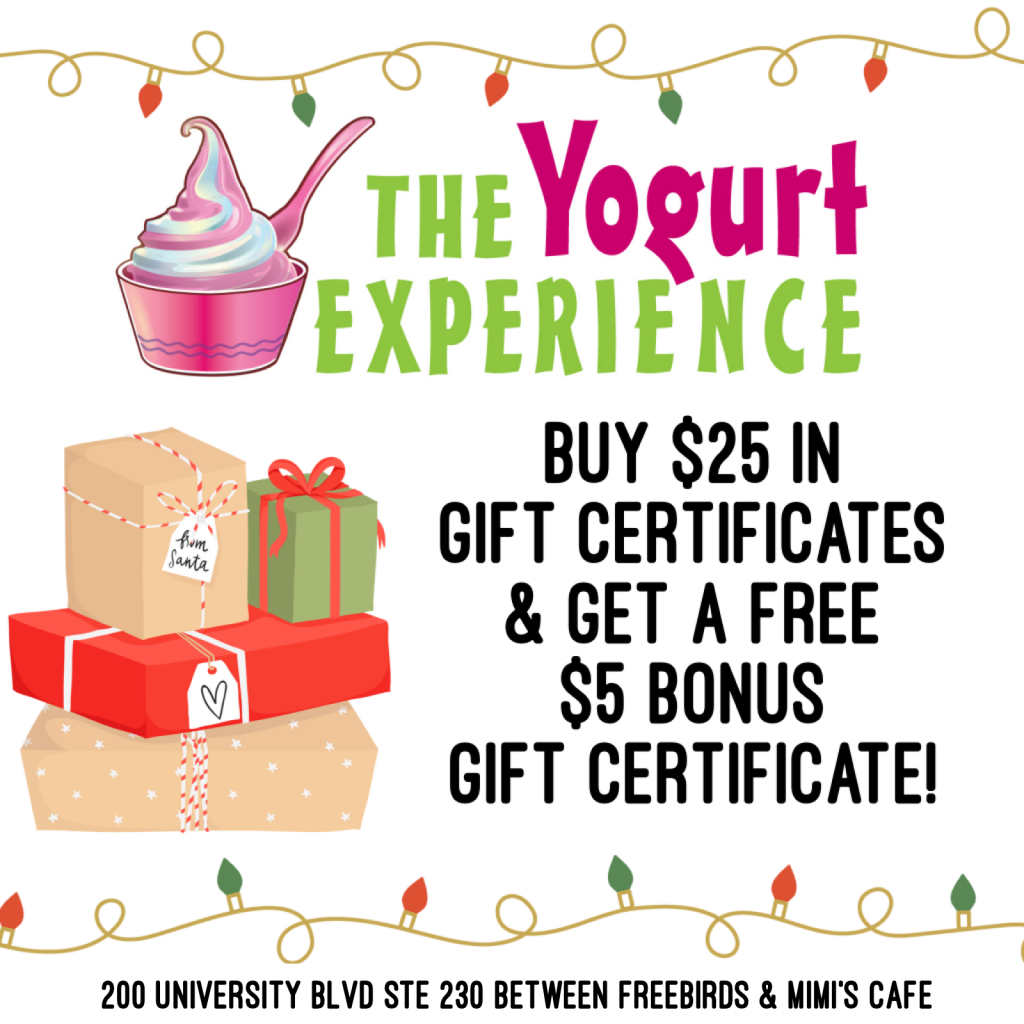 The Round Rock Holiday Lights Trail is sponsored by The Yogurt Experience. Buy The Yogurt Experience Gift Cards ONLINE for Holiday gifts and email them directly to the recipient!
---
Round Rock Holiday Lights Trail
Bethpage Drive (Round Rock/Hutto)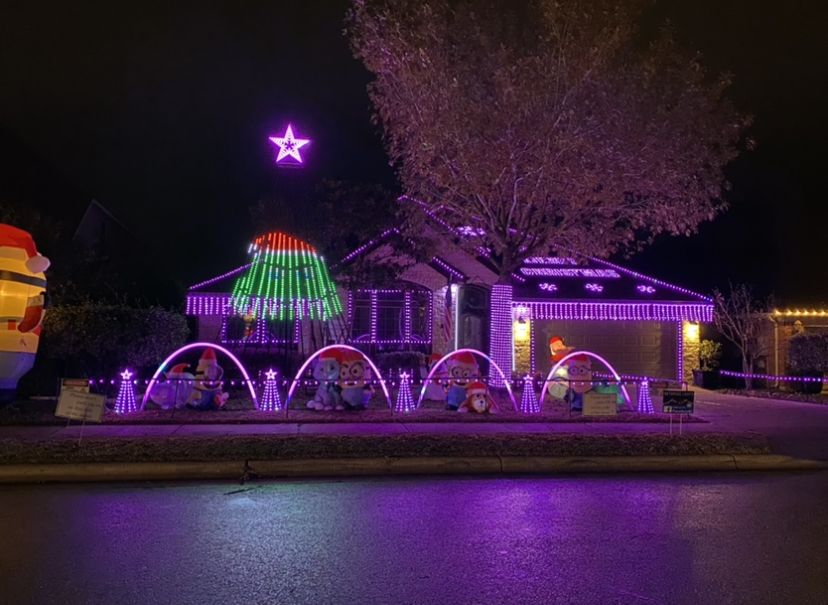 Start on Bethpage Drive, where you will encounter a few different houses with light shows, fake snow, and Santa's Mailbox!
801 Shady Bluff Cove
This home has gone all out this year with long light show segments and multiple scenes all over the property.
Bent Brook Drive
The entire street of Bent Brook Drive in the Forest Creek neighborhood has gotten into the spirit this year with many homes dazzling in twinkling lights. We even found Buddy the Elf!
3716 Royal Port Rush
In years past, this home has had various shows to see. This year, they have a fun movie screen with dancing animatronics and SNOW! And don't miss the reindeer on the roof!
2036 St Andrews Drive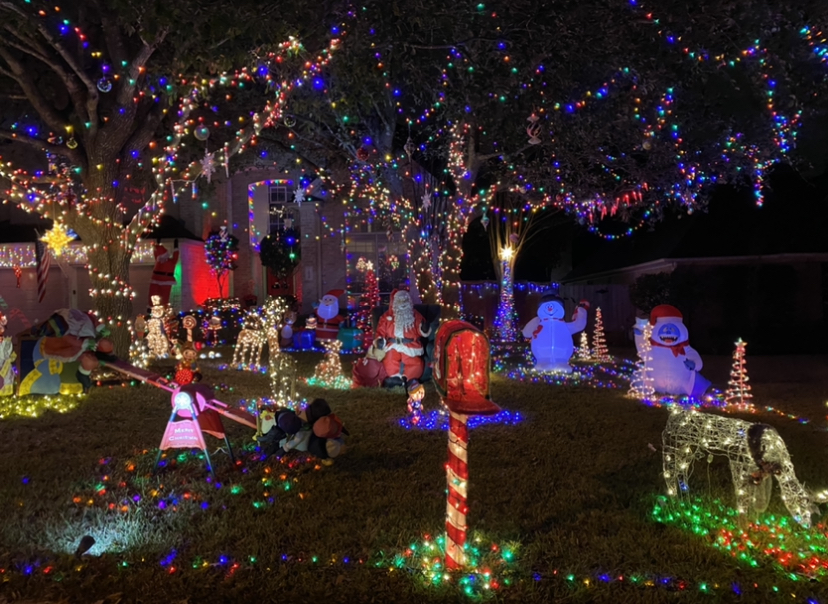 This home is a blow-up wonderland and if your kids like to see their favorite characters, this is definitely a home you want to visit.
30 Meandering Way
We have been visiting this home for years as they have the famous singing Reindeer. We really enjoyed watch Santa and his elves in the windows of his home too. They have many great songs to watch the various lights shows with.
Woodland Ln & Meandering Way
This corner has some of the biggest inflatables we have ever seen! From Minions to Charlie Brown, these inflatables take over a few different yards and are so worth seeing!
1005 Tom Seaver Pl
Santa is also hanging out on Tom Seaver Pl along with a lot of dancing lights. We particularly enjoyed the Pentatonix songs with the animated lights. Really awesome!
3430 Sandy Koufax Ln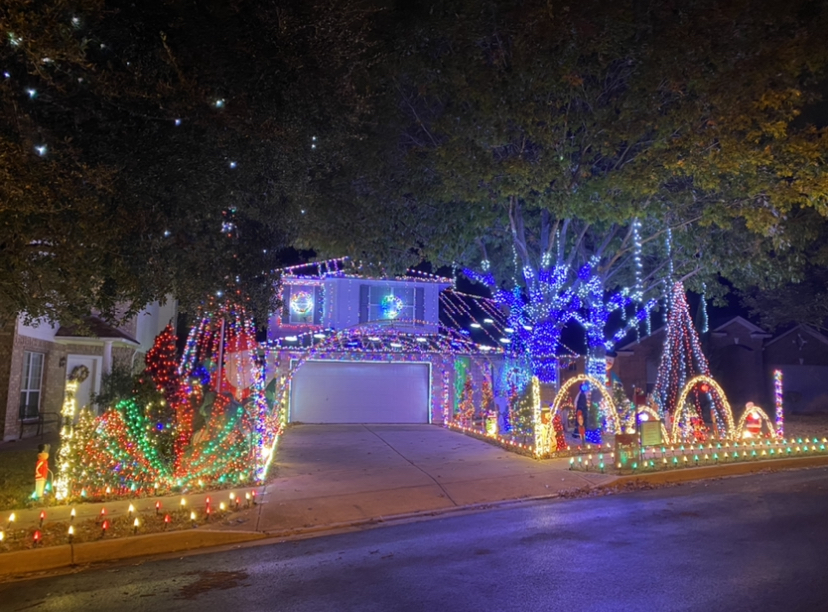 This family had a fun light show for Halloween, so we anticipated something great from them this Christmas. They did not disappoint! Lots of fun light shows with music to listen to!
Clifton Pl & Settlers Park Loop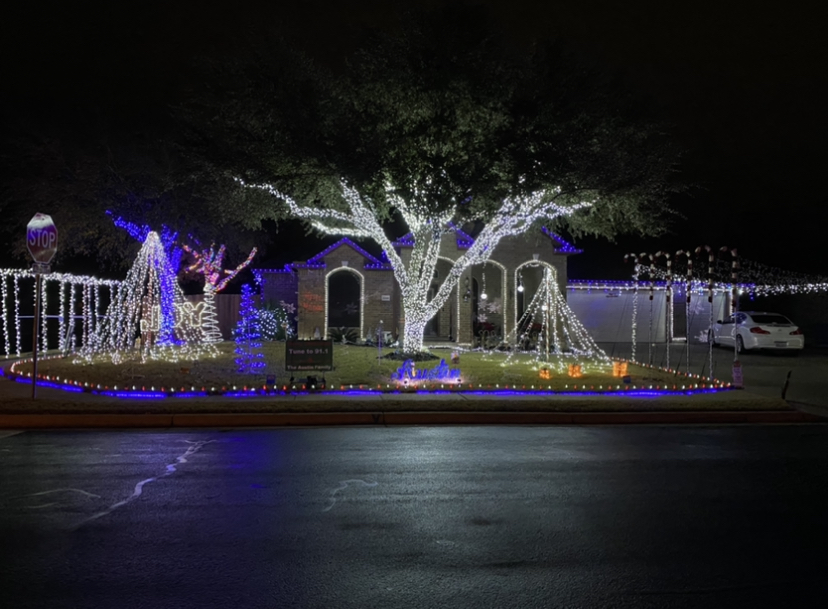 The Austin Family Light Show has been setting up for a few years and we always have loved what they do. They have great variety of songs that are animated. And being on the corner, it is easy to see from many different vantage points.
2016 Wood Glen Dr
Head on over to the West side of Round Rock (the other side of IH 35) for these last 2 light shows. This family has a large list of songs set to lights in their front yard they have worked hard on this year.
2405 Berwick Cove
This home on Berwick is home to the famous Elfvis and the Kringles. Unfortunately, for a variety of reasons, Elfvis has taken a break the last few years. But the family behind them decided to put on a light show for us this year, so let's make sure we go by to see it!
HONORABLE MENTIONS WORTH SEEING!
1403 Windy Cove in Round Rock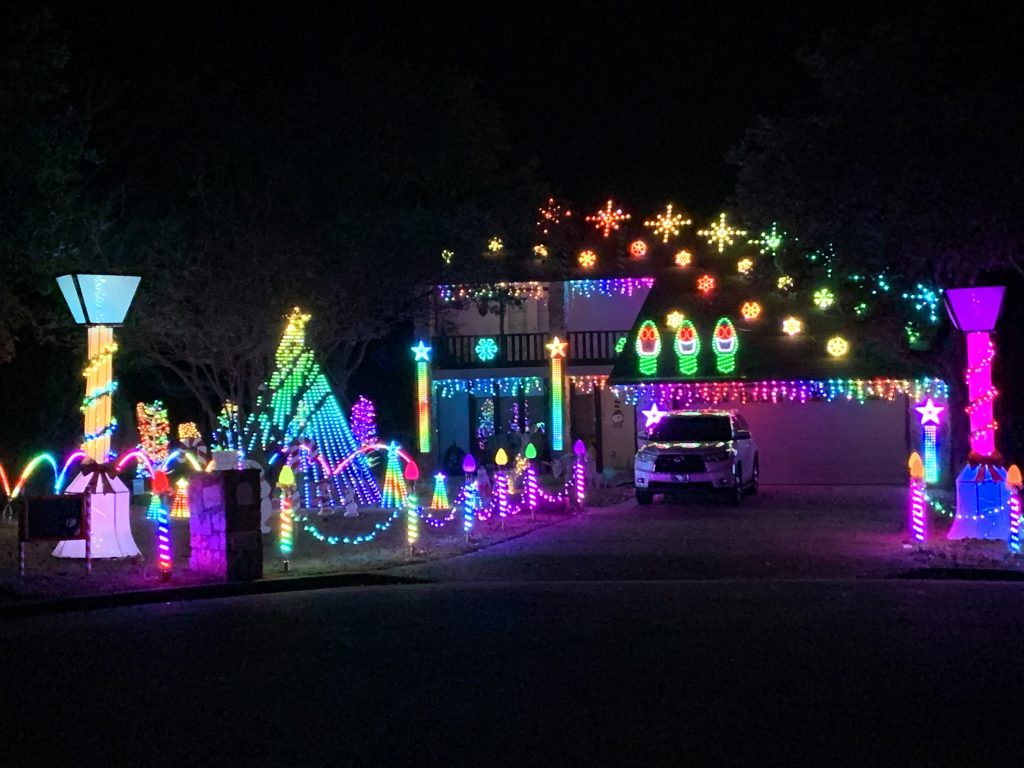 Warnock Court

Warnock Court is currently collecting new/unwrapped toys/books on behalf of Williamson County Brown Santa through January 1st. We are honored to be involved with this charity that positively impacts local families in need!!  https://www.wilco.org/brownsanta
Warnock Court is located in Parkside at Mayfield Ranch off County Rd 175. All 13 houses participate 100-124 Warnock Court.
These families have worked so hard to put on these displays, so let's be mindful to stay in our cars, and be courteous to other cars who want to see the show too. Last week, we headed out right when it go dark and didn't encounter anyone else but as we get closer to the holidays, I am sure more and more people will be out to see them.
I am sure we have missed a few great homes – if there are any you think we should add to the list, please email me at [email protected]
Don't miss all the Fun Happening in Round Rock this Holiday Season!