Elfvis & the Kringles Partially Up for 2020 – Holiday Light Display in Round Rock
We were thrilled to hear that Elfvis & The Kringles is going to be putting up a "small display" this year! 
After being cancelled the past two years, the family that has the incredible "Elfvis & The Kringles" holiday light display announced on their Facebook page that they would not be putting up a full display this year but will be having a "small lights & music show." You can find them at 2405 Berwick in Hidden Glen in Round Rock.
In years past, Elfvis & The Kringles have provided the community both on an entertainment level AND giving back to the community with their Blue & Brown Santa donations they have done thru the year. Round Rock has loved Elvis & The Kringles and this family for bringing it to us.
Read on to learn more about the light display:
A Round Rock family provides one of the most delightful Holiday Light Displays we have ever seen! Make sure you visit Elfvis & The Kringles this Holiday Season!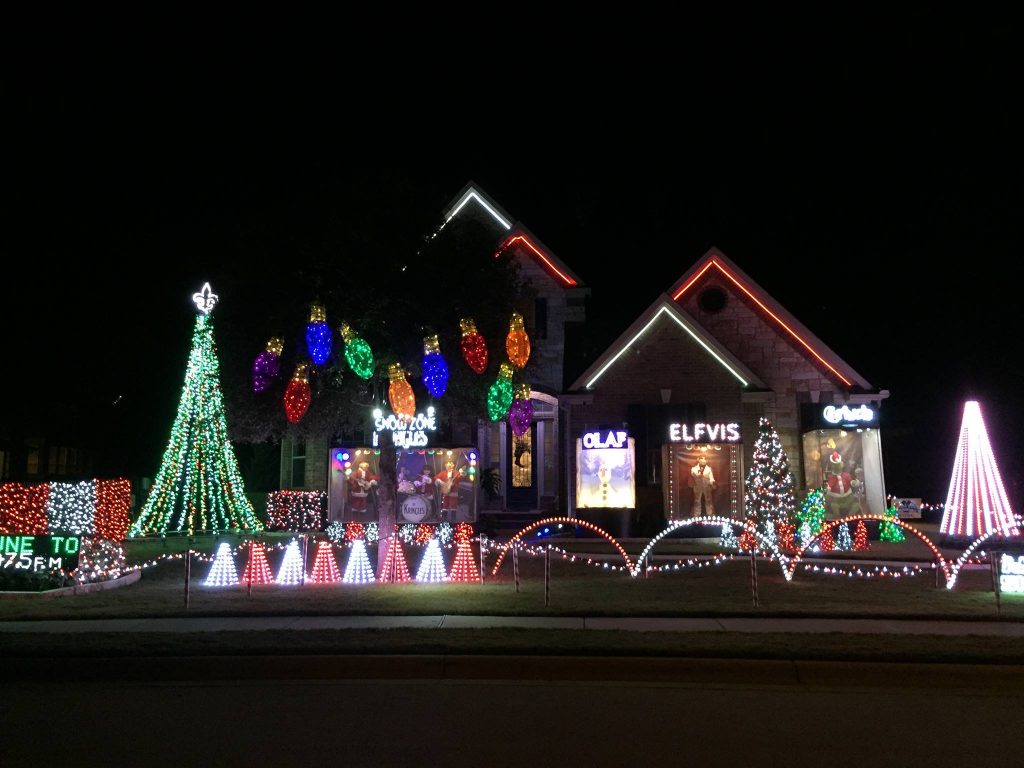 Don't you love fun Home Holiday Light displays?? I am always in awe of those that can create a fabulous light show in their front yard for the general public to come and see. There is something very special about these families, wanting to put in HOURS of work for the enjoyment of kids at Christmas.
One such house is located right here in Round Rock.  Have you heard of Elfvis & the Kringles house???  Located on the Northwest side of Round Rock, this home boasts FOUR sets of singing and dancing animatronics.  Take a look at who is starring in their show this year:
Last year, I had the honor of meeting the homeowners & thanked them for all the hard work they put into this show.  They were so humble and acted like it was no big deal. No big deal?? Are you kidding me?
Actually, they have an amazing story.  Mark & Michelle were transplanted from Louisiana, as victims of the Hurricane Katrina. They look at their "show" as a way to give back to the community that invited them in.  They are also collecting for the Georgetown Blue Santa and Williamson County Brown Santa.

Always check the Elfvis & the Kringles Facebook Page for up-to-date show times & information.
Don't miss all the Fun Happening in Round Rock this Holiday Season!