Penfold Theatre presents Hound of the Baskervilles | June 4-27, 2015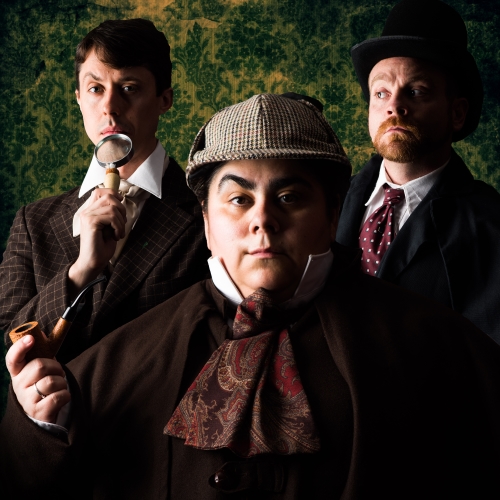 Penfold Theatre brings back another fun "Penfold in the Park" this June with the production of Hound of the Baskervilles.  Presented each Thursday, Friday, & Saturdays at 8:00 pm  June 4-27, 2015 at the Centennial Plaza amphitheater, this is FREE for the whole family. Donations are appreciated for this fun show.
When Sir Charles Baskerville is found dead on his estate with a look of terror still etched on his face and the paw prints of a gigantic hound beside his body, the great detective Sherlock Holmes is summoned from Baker Street with Dr Watson in tow to unravel the mysteries surrounding his death and investigate the ancient curse of the Hound of the Baskervilles. In this hilarious, new adaptation for three actors, Sir Arthur Conan Doyle's classic mystery has been supercharged with playfulness and wit reminiscent of Monty Python and The Complete Works of William Shakespeare (Abridged).
The Hound of the Baskervilles is the fifth production in the "Penfold in the Park" series, an annual offering of free, outdoor summer theatre, made possible by a partnership with the Round Rock Parks & Recreation Dept. Performances take place in the amphitheater of the Centennial Plaza.
For more information: http://www.penfoldtheatre.org/about/2014_15/hound_of_the_baskervilles
For More Summer Fun In Round Rock:
Summer in Round Rock
Round the Rock Instagram Summer Challenge
Vacation Bible Schools in Round Rock
RRPL Summer Reading Program
RRPL Summer Children's Events
Kaleidoscope Toys Summer Events
Summer Reading Programs in Round Rock
Cinemark Summer Movie Club
Water Parks, Pools, & Splash Pads in Round Rock
Austin Summer Fun Checklist
Round Rock Express Summer Concert Series
Round Rock Express Specialty Jersey Night
9 Things NOT to Miss at a Round Rock Express Game