9 Things You Don't Want to Miss at a Round Rock Express Game
I'm so excited y'all – it's almost Opening Day with the Round Rock Express!
Am I a baseball nut?  Um, No.
Do I go to every single home game?  No, as a busy mom, I don't have time for that.
Is it the ballpark food?  Nope.  Although it is great food. 
So why am I so excited about the season starting?
Attending a Round Rock Express game is so much more than just watching a baseball game.  There are so many fun places to watch the game from, food to enjoy and experiences to be had…..all within the price of a game ticket!
Here are 9 Fun Things to do at a Round Rock Express Game
1. Have dinner at the Intel Club – This season, Greenhouse Craft Food is in charge of the Intel Club and have planned an amazing menu available each game.  You can watch the game indoors at the Intel Club or just have dinner up there.  Admission into the Intel Club is $5.
2. Reserve the Rocking Chairs – Remember those awesome rocking chairs that are under the Home Run Porch in left field?  They are still filled on a first come, first serve basis when the gates open. However, you may now reserve a rocking chair for the evening for $5. The rocking chair sales table is located under the Home Run Porch.
3. Escort your favorite player on field – Youth baseball & softball teams have the opportunity to walk on the field with the team at the start of the game with the new Baseball Buddies package.  Lots of cool stuff, including game tickets, come with these packages.  Check it out here.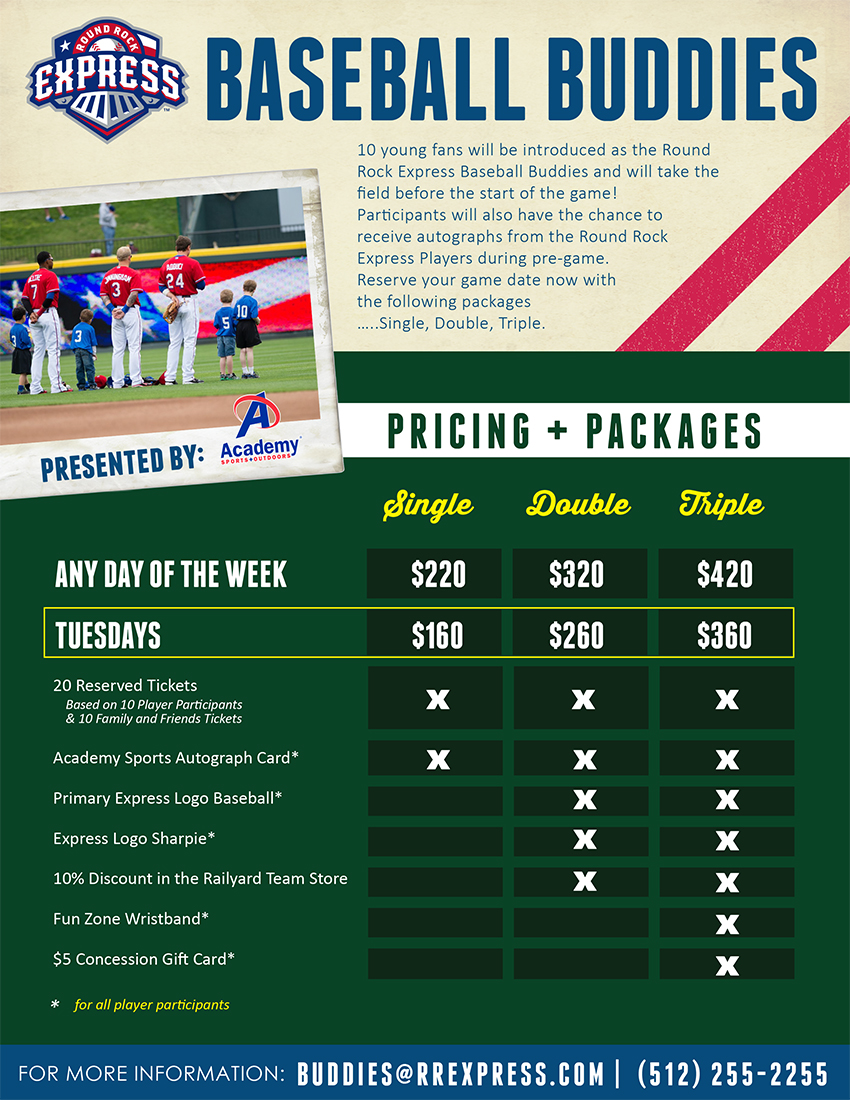 4. Perform the Star Spangled Banner at a Game – Groups of 100 or more can sing the National Anthem before the start of a game.  What  a cool experience! More details here.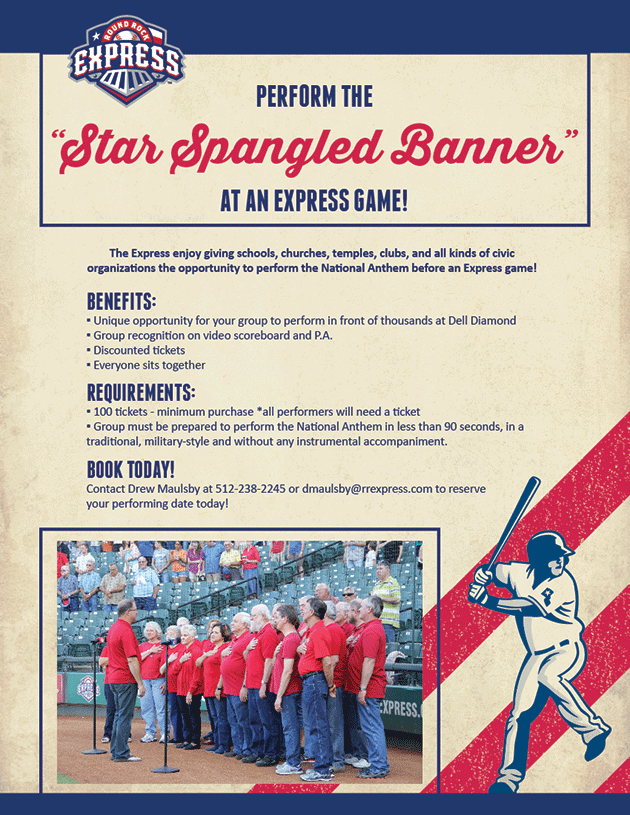 5. Bring your Dog to a Game – Last year, the Bark in the Park was so popular, they have decided to do TWO of them in 2016!!  Check out the details here.
6. Boogie Down at a Concert after the Game – Back by poplar demand – it's Star Wars Night! And 70's Night. And 90's….. the theme nights are so much fun, they expanded and added a few more.  Featuring themed fireworks and/or a great concert, these are fun nights to attend a game!
7. Have your Birthday and Anniversary Announced – Not new this year, but I wanted to remind you all that you can have this done! If you would like to have a birthday or anniversary listed on the scoreboard, please e-mail Wendy Abrahamsen at [email protected]. Information is required 24 hours in advance. Name will appear on the board in the middle of the third inning.
8. Have a flight at the Beer Garden: Enjoy a flight of beer and play a game of corn hole before the game begins in the new Beer Garden.  Located just below the party porch in the left outfield, this is a fun meeting place to relax before a game.
9. Don't miss the Fun Promos: My kids love all the games that get played between innings.   And here's an insider's tip – if you find the Express Party Patrol when you first get to the game, they are looking for volunteers to play!  Why not try your hand at the dizzy bat race??
The Round Rock Express season started in April and lasts thru September, so there are plenty of opportunities to get out and cheer on the Express.  'Cause all this fun wouldn't be there with out our great team!  Make sure you support them! Tickets are available here.
For More Summer Fun In Round Rock:
Summer in Round Rock
Round the Rock Instagram Summer Challenge
Vacation Bible Schools in Round Rock
RRPL Summer Reading Program
RRPL Summer Children's Events
Kaleidoscope Toys Summer Events
Summer Reading Programs in Round Rock
Flix Jr. Summer Movies
Cinemark Summer Movie Club
Water Parks, Pools, & Splash Pads in Round Rock
Rock'N River Water Park Expansion
Kaleidoscope Toys Summer Bridge Program
9 Things NOT to Miss at a Round Rock Express Game