Maison Cuit Breakfast | Round Rock, Texas
This is a review of breakfast at Maison Cuit, a scratch bakery in northwest Round Rock that specializes in pastries and bakery items.  They also make a pretty darn good breakfast.
Maison Cuit
Maison Cuit just recently opened it's doors in February 2016, but owner & primary chef/baker Adrianna King has been masterfully creating her pastries & cakes for a few years now, catering to the North Austin area.
Maison Cuit is located in an adorable cottage on Chisholm Trail, just north of the actual round rock.  Admittedly, I am a huge fan, as you can see here.
Maison Cuit Atmosphere
As I mentioned, Masion Cuit is in a small cottage with 2 small rooms – one with a display case and another with a few tables.  But one of the best features of the bakery is the outdoor garden. Just last week, we sat outside on the picnic table and enjoyed our pastries and tea.  It was relatively quiet and the birds were chirping to us.  In fact, a gorgeous cardinal kept flying up to a strategically placed mirror in the garden to see himself. It was delightful.
Apart from the setting, Maison Cuit is warm & welcoming.  In speaking with Ms. King, I know that she gets there early each day to ensure she has ample time to pour her heart into the pastries she is making that day.  And she is still greeting everyone with a big welcome!
Maison Cuit's Food
As a scratch bakery, you never know what will be prepared for the day. And once she sells out of a particular item, that's it for the day. But every time I have gone, I have never been disappointed. Everything she bakes is divine!
One of my favorite items she makes are the croissants.  My absolute favorite is the almond croissant.  Once you try this item, I promise you, you will never be able to eat a wimpy, store-bought one again.  I don't know how she can make it so crisp on the outside and so flaky and light on the inside. All her croissants are this way, but the almond one in particular has an amazing almond & amaretto paste that is such a delightful surprise when you get to the middle.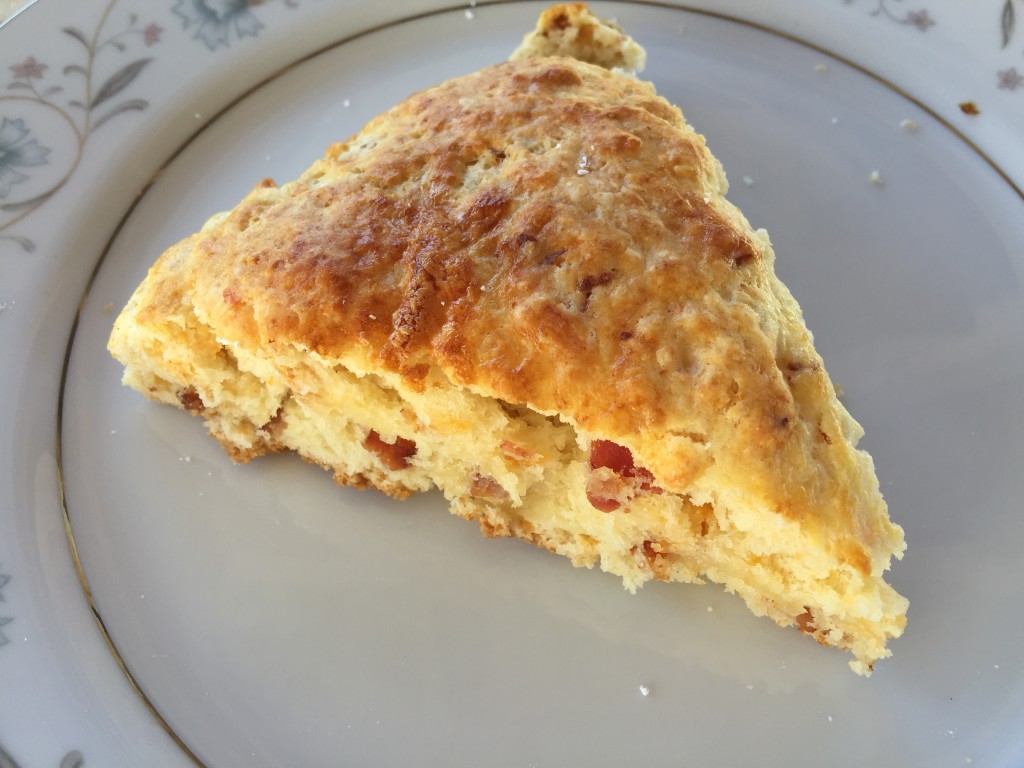 We also tried the bacon & cheddar scones – to balance out the sweet almond croissant, of course.  I have never been a big fan of scones as they are often hard and dry, but this one was so flavorful and savory.  It is heavy and dense, opposite the croissant, but the flavor was amazing.  I loved it.
Lastly, I decided to give her teas a try.  Maison Cuit has several different teas that you can steep on your own.  I am not really a big tea drinker (I LOVE coffee), so I settled on a flavored tea to "break" me in gently.  I tried the Creme Brûlée tea and it was so delicious and flavorful, that I didn't need any sweeter.  Look how fancy I was with my tea and scone!
Maison Cuit Service
Customers order at counter at Maison Cuit but you will always be greeted with a smile – most of the time from Ms. King herself.  Even if you are just popping in to pick up something to go.  And don't forget to try some of her amazing macarons.
Maison Cuit Things to Know
On a sunny day, the Maison Cuit garden is a nice place to enjoy a sweet treat and a great conversation with a friend.
Maison Cuit offers full tea service, complete with little sandwiches and sweets and it can be scheduled for any day they are open until 5 pm.
As a full service bakery, Maison Cuit also bakes beautiful cupcakes and cakes.
They do not have a dedicated parking lot – you can park along the street or across the street at the Old Town Square Center parking lot.
Once they sell out, they close!
Maison Cuit serves breakfast and sweets Tuesday thru Saturday. They are closed on Sundays and Mondays. Learn more and see their menu here.
Maison Cuit
10 Chisholm Trail
Round Rock TX 78681
More Round Rock Breakfast Reviews:
Cafe Java
Speedy Tacos