Penfold Theatre's A Midsummer Night's Dream
Penfold Theatre is back for the 10th year of free theatre in the park! As Lysandra and Hermia flee Athens' oppressive laws into a forest full of meddlesome fairies, will love come out on top? This new spin on the classic story places all 21 characters in the hands of 4 virtuosic performers for a free night of fun for the whole family!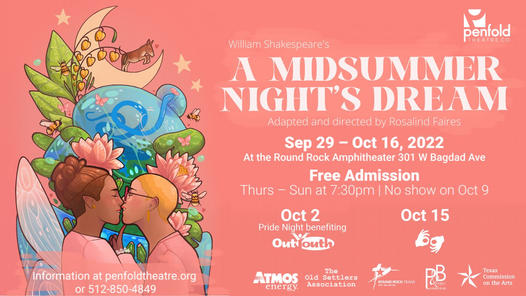 FAQs at penfoldtheatre.org
Directed and adapted by Rosalind Faires
Starring:
Yunina Barbour-Payne (A War of the Worlds) as Titania, Lysandra, Quince, etc.
Taylor Flanagan (Henry V) as Puck, Hermia, Snug, etc.
Dane Parker (A War of the Worlds) as Oberon, Demetrius, Flute, etc.
Kevin Percival (Control Group) as Bottom, Helenus, Theseus, etc.
Special events include:
Oct 15: ASL interpreted performance
Oct 16: Costume Contest