Thanksgiving Meals in Round Rock
We found Thanksgiving Meals in Round Rock for you this year- Are you Cooking or Not?  We have put together a list of restaurants in Round Rock that are serving Thanksgiving Dinner this year for those that don't want to deal with the work of preparing a big meal.
Or, if you are cooking this year, we wanted to help you out a bit by making a few suggestions of places to help with the holiday cooking here in Round Rock.
Thanksgiving Meals in Round Rock: No Cooking Plan (Take a full meal home!)
Greenhouse Craft Food – Pre-order Thanksgiving meal for just $18 a person.
Louisiana Longhorn Cafe – Order a full meal or sides to accompany your turkey at home! $22.99 this year, but the menu is the same: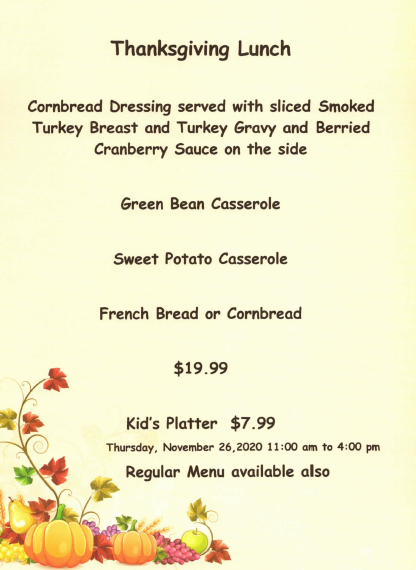 Cracker Barrel – Breakfast served all day and traditional Thanksgiving dinner and full menu is available after 11am.  2350 N. IH-35
Thanksgiving Meals in Round Rock: Turkey to Go
Cracker Barrel – Thanksgiving to go serves up to 6 with turkey and traditional sides.  Full hams available (512-218-0822)  2350 N. IH-35
Honey Baked Ham – Thanksgiving Meals – ham or turkey (512-765-4031) 2601 La Frontera Blvd
Pok-E-Joe's BBQ – Turkey and/0r Ham and Thanksgiving sides available  (512-388-7578) 1202 S. IH-35
Rudy's BBQ – Whole smoked turkey (feeds 10 people) – turkey will be cold only with reheating instructions & thermometer (512- 244-2936) 2400 N. IH-35
Smokey Mo's BBQ – Get a 12 – 14 lb smoked turkey.  (512-828-4050) 1601 N. IH-35
Thanksgiving Meals in Round Rock: Pies
Papi's Pies – a large variety of special-order pies 10 Chisholm Trail
Pie Jacked – Gluten-free pies 1105 S Mays Street Ste. 200 
The Yogurt Experience – Pumpkin Oreo Cheesecake & Pecan Prailene yogurt pies & more 200 University Blvd Ste 230
Cracker Barrel – Apple, Apple Pecan Streusel, Pecan, & Chocolate Pecan pies are available for pick-up while supplies last.  2350 N. IH-35
Paige's Bakehouse – custom cakes, pies, and desserts. 110 E Anderson Suite 400
Sweet Tooth Parlor Bakery & Cafe – Homemade baked goods, pies, cakes, cookies, and pastries. 808 E Palm Valley Blvd
Thanksgiving in Round Rock: Thanksgiving Fun
3rd Annual Round Rock Turkey Trot – A 2 mile or 5 mile course through Old Settlers Park starts at 8 am on Thanksgiving day.  Click here for more details.
Don't miss all the Fun Happening in Round Rock this Holiday Season!