Ways You Can Help People Affected by Hurricane Harvey
This is a list of all the national & local donation drives that are occurring to help those affected by Hurricane Harvey in Texas – both the coastal towns – Rockport, Port Aransas, Corpus Christi- and Houston.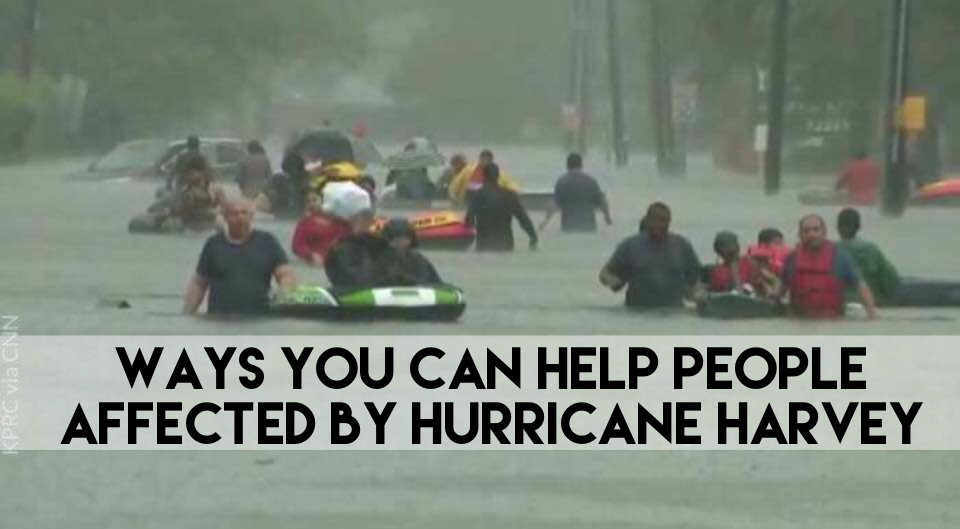 No doubt your heart aches each time you scroll through Facebook and see the photos of the devastation that Hurricane Harvey has left across Texas.  All we can think of is "how can we help?" We have gathered together some of the local ways you can tangibly help these areas, thru local organizations, businesses and volunteers.
Please keep in mind that one of the best things to donate right now is money for disaster relief.  We have found some great organizations where money is the best donation. But we have also found places that are accepting items for delivery down to the affected areas.
Please do not use this as a way to clean out your closets and get rid of your Goodwill pile.  It is more effort for volunteers to sort thru piles of stuff looking for exactly what they need.  Please consider donating exactly what the organizations are collecting.
Thank you for your generosity and help in this horrific disaster. We are TEXAS STRONG and we love our neighbors!
---
Austin Disaster Relief Network
There are several ways to volunteer or donate at the Austin Disaster Relief Network:
Donate to Help
Help Austin Disaster Relief Network meet the immediate emergency needs of survivors and help fund the long-term repairs/rebuilds of their homes by making a donation or become a fundraiser.
Community Volunteers:
 Sign up as a Community Volunteer in the areas of
clean-up, thrift store, and warehousing 
as needed following storm impact. Times will be posted with locations and priority needs assessment. When you sign up, you can select what areas of services you would like to volunteer and they will connect you with the opportunities as they become available.
Donations:
ADRN is anticipating the need for many items in the days ahead to help meet immediate needs of survivors impacted by Hurricane Harvey along with shipping disaster supplies to the affected areas. If you would like to donate items,
click here to see what is needed
Hope Family Thrift Store is open 10AM-5PM for Drop-Off Items at the receiving dock, Monday – Saturday (Closed on Sunday).
---
Texas Diaper Bank
The Texas Diaper Bank in San Antonio, is putting together relief kit for families with very small children who need access to clean diapers in the midst of flooding and evacuations. Many relief organizations do not supply diapers, so Texas Diaper Bank helps.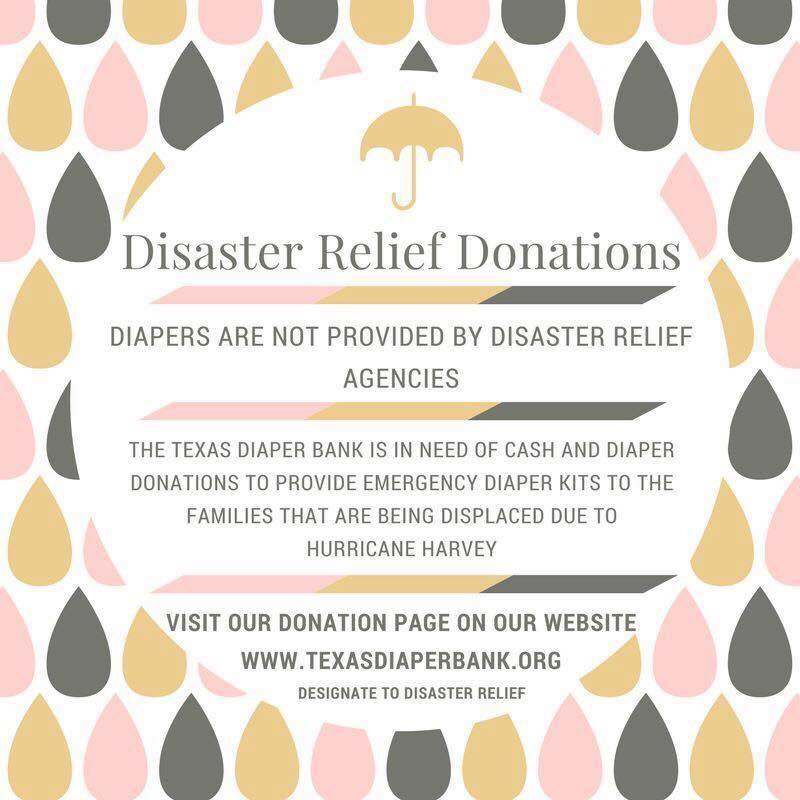 ---
Keller Williams Realty Round Rock
Keller Williams will be accepting donations at their Round Rock Office:
---
Park Place Healthcare Center – Georgetown
The Park Place Healthcare Center took in 50+ seniors form Katy and are in need of donations for them.  Please donate toiletries, linens, clothing, etc. at their location – 121 FM971 Georgetown, TX 78626
---
Celebration Church – Georgetown
Celebration Church is collecting donations starting Tuesday, August 29. Donations they will be collecting include the below list.  Learn more about how you can financially give and volunteer to serve here.
Immediate needs:
Toothbrush / Toothpaste
Bar Soap
Toilet Paper
Kleenex
Shampoo / Conditioner
Deodorant
Wipes
Canned Goods / Non-perishable Food Items
Feminine Hygiene Products
Blankets
Baby needs:
Diapers
Bottles
Formula
New Baby Blankets
Cleaning Supplies / Tools:
Mold Killer (Concrobium – Lowes / Home Depot)
Shovels
Gloves
Particular Masks
Safety Glasses
5 Gallon Buckets
Flat Shovels
Hammers
Demo Tools
Box Fans
Generators
Tarps
Bug Repellant
Sunscreen
---
We Are Blood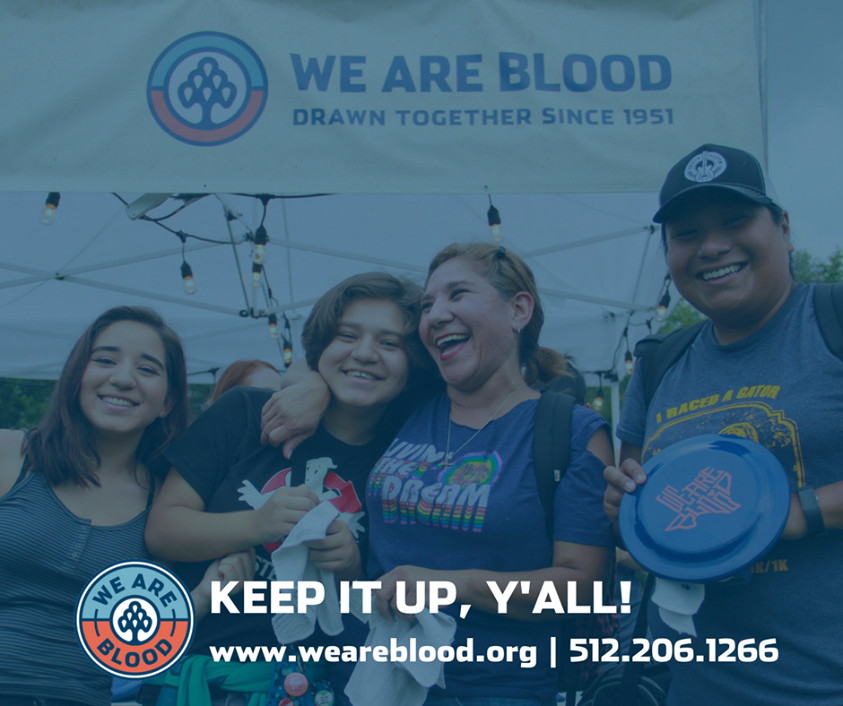 The blood bank is asking for donations so they can  maintain a steady stream of blood donations over the next month to see us through this natural disaster while also replenishing our local supply. That's more than 200 donations a day!
If you're eligible and interested in donating blood or platelets OVER THE NEXT FEW WEEKS, we hope you'll come in to see us! Below is the information you'll need to find a donor center or mobile drive near you. If you have any other questions, please do not hesitate to contact us at (512) 206-1266 or visit https://weareblood.org/about-us/contact/.
>> DONOR CENTERS <<
Our donor centers are located in ROUND ROCK, N. AUSTIN (N. Lamar), and S. AUSTIN (W. Slaughter). You may make an appointment by calling 512-206-1266 or visiting https://weareblood.org/donate-blood/make-an-appointment/.
Walk-ins are always welcome (and encouraged) at any of our donor centers!
>> ELIGIBILITY <<
Please do not defer yourself because you may be totally eligible to help out! If you have questions on any of our eligibility regulations, you may call 512-206-1108 or email [email protected]g at any time.  You can also check out our Eligibility FAQs on medical conditions, travel deferrals, and more at https://weareblood.org/donate-blood/eligibility/.
---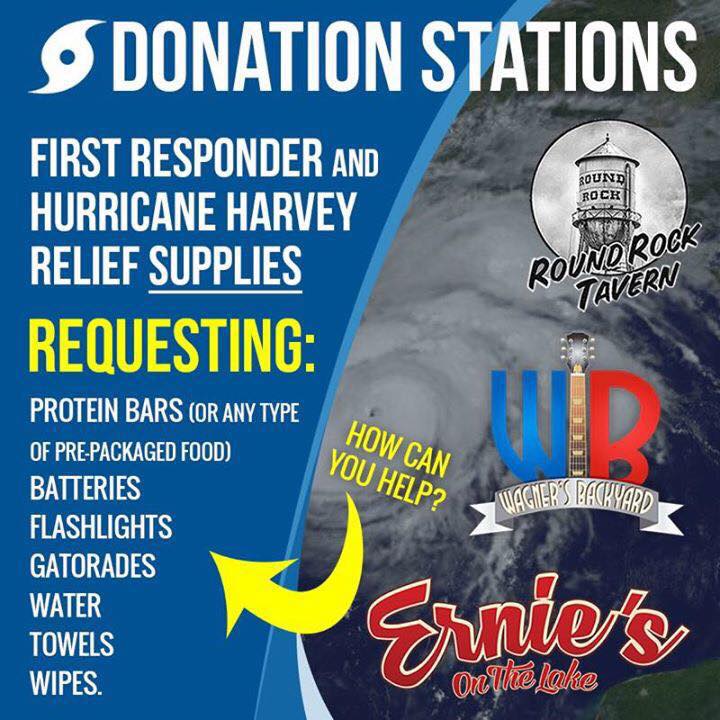 ---
United Way of Williamson County
In the wake of Hurricane Harvey, United Way of Williamson County will collect items and monetary donations to help meet the immediate and long-term needs of individuals and families in nearby communities affected by the storms. "Our hearts are with our friends and neighbors across Texas who have felt the devastating impact of Harvey. We want them to know that Williamson County cares and will stand with them as they begin the process of rebuilding their lives," United Way of Williamson County Chief Professional Officer LeAnn Powers said. "We have set up two options for Williamson County residents to partner with us to provide help and hope in the areas closest to home."
Financial contributions: Monetary donations can be made online at www.unitedway-wc.org, or by texting the word WilcoCares to 91999, or via check. All checks should be made out to United Way of Williamson County-Hurricane Relief Fund and should be mailed to P.O. Box 708, Round Rock, TX 78680. 100% of donations will be directed to hurricane relief efforts. United Way of Williamson County will not be collecting administrative fees for this fund. Monetary donations to United Way of Williamson County are tax deductible. United Way of Williamson County is working closely with the network of United Ways across Texas to identify the areas in most critical need of resources.
#WilcoCares Supply Drive: From Wednesday, August 30 through September 15, United Way of Williamson County is coordinating the collection of cleaning supplies and personal care items at locations in Cedar Park, Georgetown, Round Rock, and Taylor. Accepted items include bottled water, cleaning supplies, contractor grade trash bags, mops and buckets, heavy duty work gloves, hand sanitizer and more. Absolutely no clothing or bedding will be accepted due to a lack of time and resources available to sort and store those items. A detailed list of accepted donations can be found at www.unitedway-wc.org.
Collection locations:
Round Rock – United Way of Williamson County
1111 N. IH-35, Ste. 220, Round Rock, TX 78664
Monday-Thursday: 8:00 AM-5:00 PM
Friday: 8:00 AM-3:00 PM
Cedar Park – Toyota of Cedar Park
5600 183A, Cedar Park, TX 78641
Monday-Saturday: 8:30 AM-8:30 PM
Georgetown – Mel's Lone Star Lanes
1010 N. Austin Ave., Georgetown, TX 78626
Monday-Tuesday: 9:00 AM-11:00 PM
Wednesday-Friday: 9:00 AM-Midnight
Saturday: 9:00 AM-1:00 AM
Sunday: 11:00 AM-11:00 PM
Taylor – Greater Taylor Chamber of Commerce
1519 N. Main St., Taylor, TX 76574
Monday-Wednesday, Friday: 10:00 AM-5:00 PM
Thursday: 10:00 AM-6:00 PM
About United Way of Williamson County: United Way of Williamson County fights for the health, education and financial stability of every person in every community in Williamson County, TX. More than a fundraiser, United Way thoughtfully and strategically invests in local resources and programs that stabilize families, help students succeed academically, and increase access to healthcare and prevention services. For more information about United Way of Williamson County, visit www.unitedway-wc.org or call 512-255-6799.
---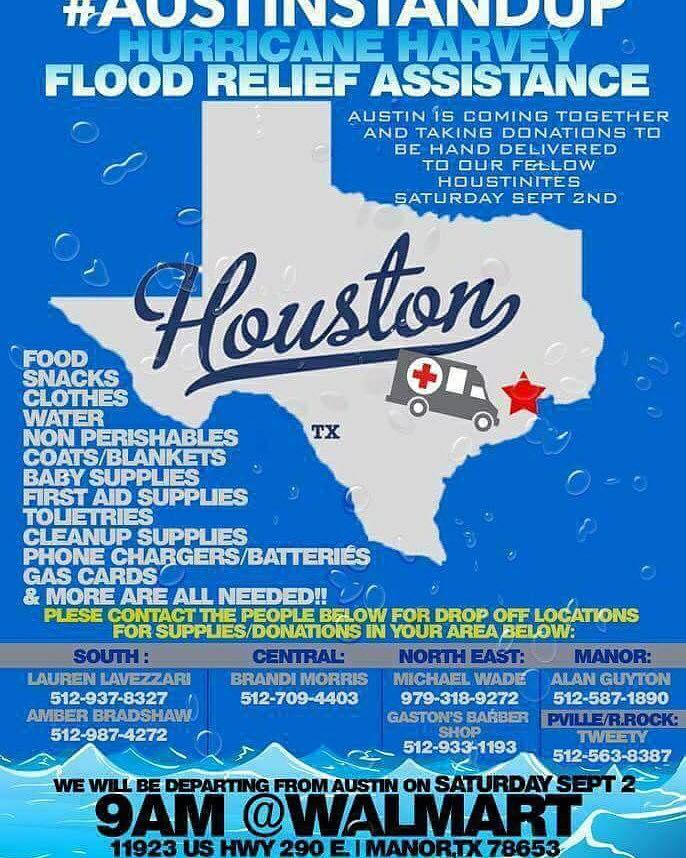 ---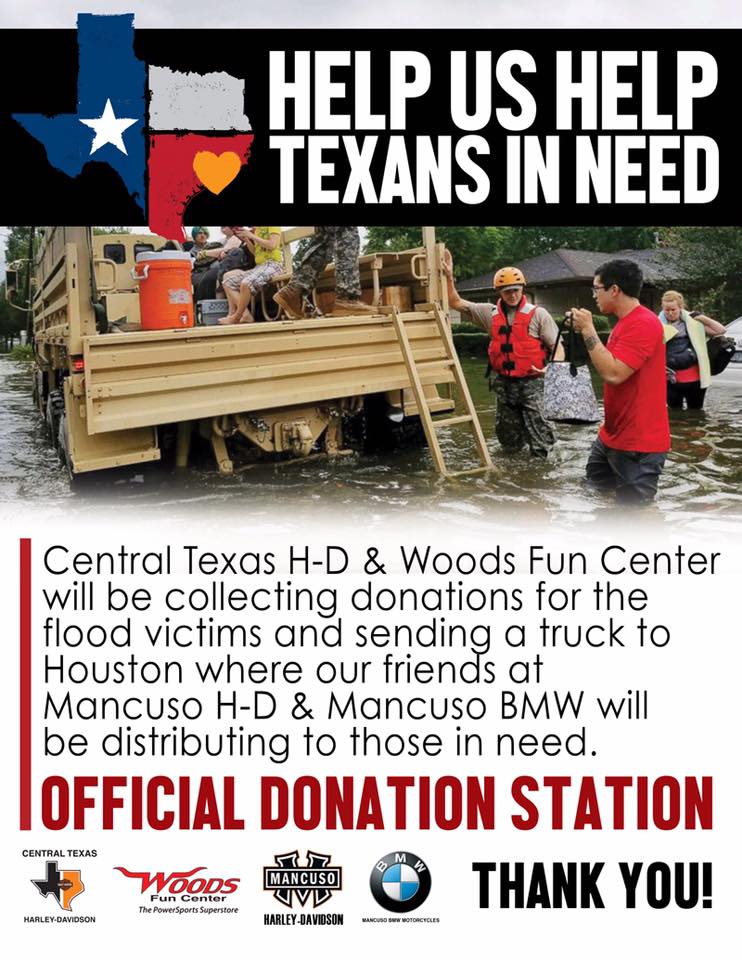 More ways to give/serve in the Georgetown Area via Hello Georgetown.