Where to Get an Easter Meal in Round Rock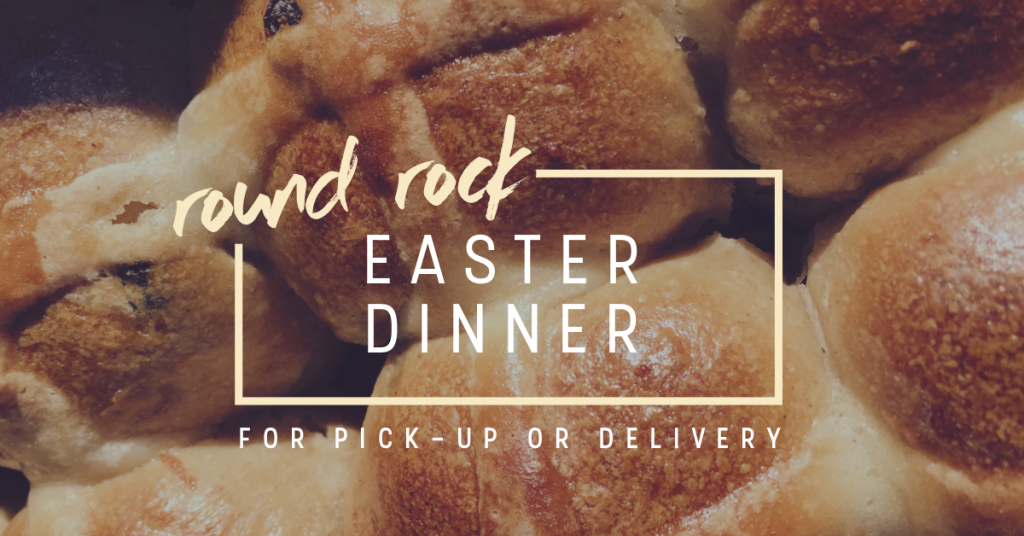 Easter is this Sunday, April 12 and many of you are looking for a traditional Easter Meal to serve your family in Round Rock.
Many local restaurants are offering Easter Meals to purchase – but you have to order them in advance. Here are what we have found so far:
Easter Meals in Round Rock
Greenhouse Craft Food – SOLD OUT
Greenhouse Craft Food has been making Family dinners each day as well. Check their Facebook Page to learn what they make each night.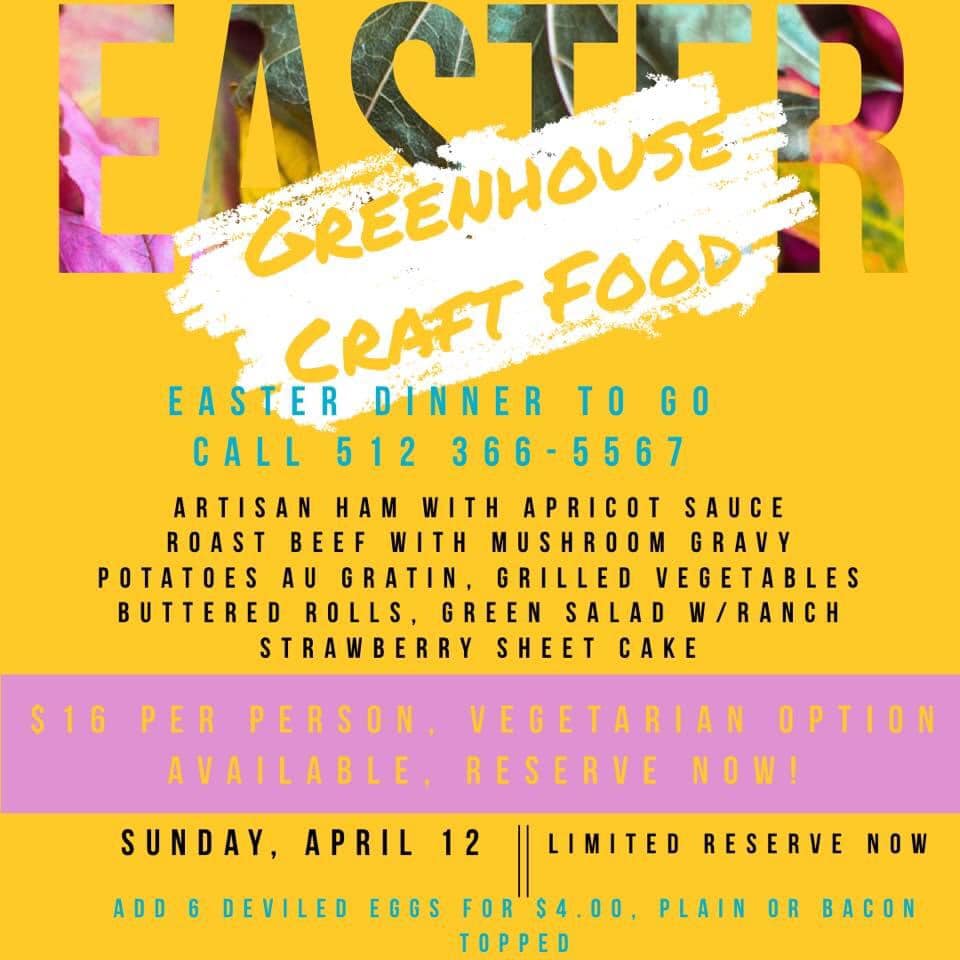 Sirloin Stockade
Learn more on their Facebook Page.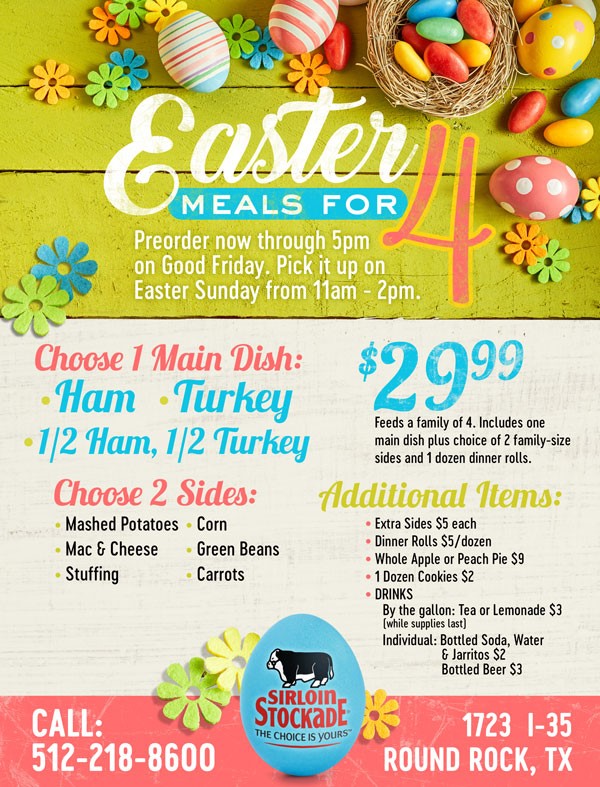 Cracker Barrel
Our NEW family-sized Heat n' Serve Ham Supper To-Go. Now available every day, including Easter. Serves 4-6 people, plus leftovers. Choose curbside, pickup or free delivery. 🐰 Order at http://spr.ly/61801I5je.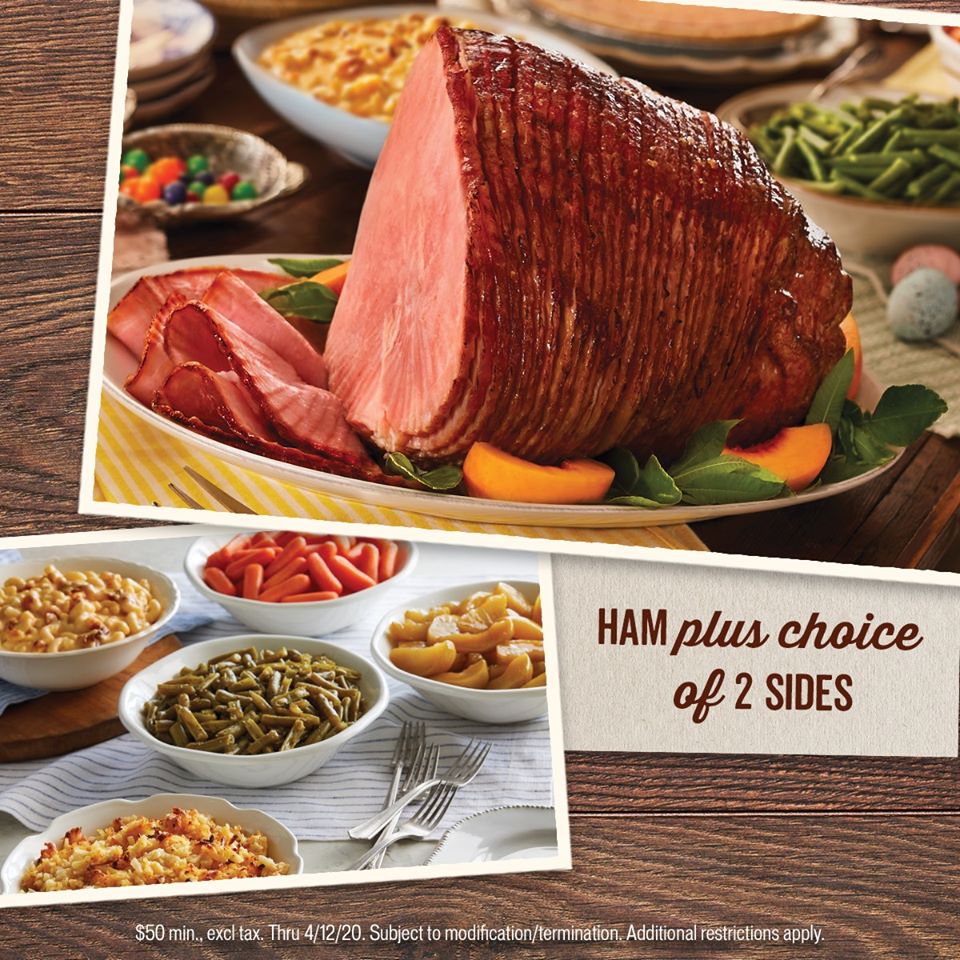 Gino's Italian Restaurant
We have some new EASTER DISHES.
Available now! 
Gino's Italian Restaurant in roundrock will be having 2 new Seafood family meals starting today.
Salmon Rustico for 4-5
Salmon topped with a creamy sauce with broccoli florets on a bed of penne pasta. 
Snapper Siracusa for 4-5
Topped with a lemon wine garlic sauce with mushrooms and artichokes over a bed of penne. 
Both dishes come with large garden or ceasar salad and bread and garlic oil dip. 
Only 59.99
Head to their Facebook Page to learn more.
Hippo Cafe
Pre-Order Your Easter Lunch from Hippo Cafe!!!! Fill out the simple form on our website. We will then call you and get all the necessary information for your family. https://www.hippocafe.com/easter.html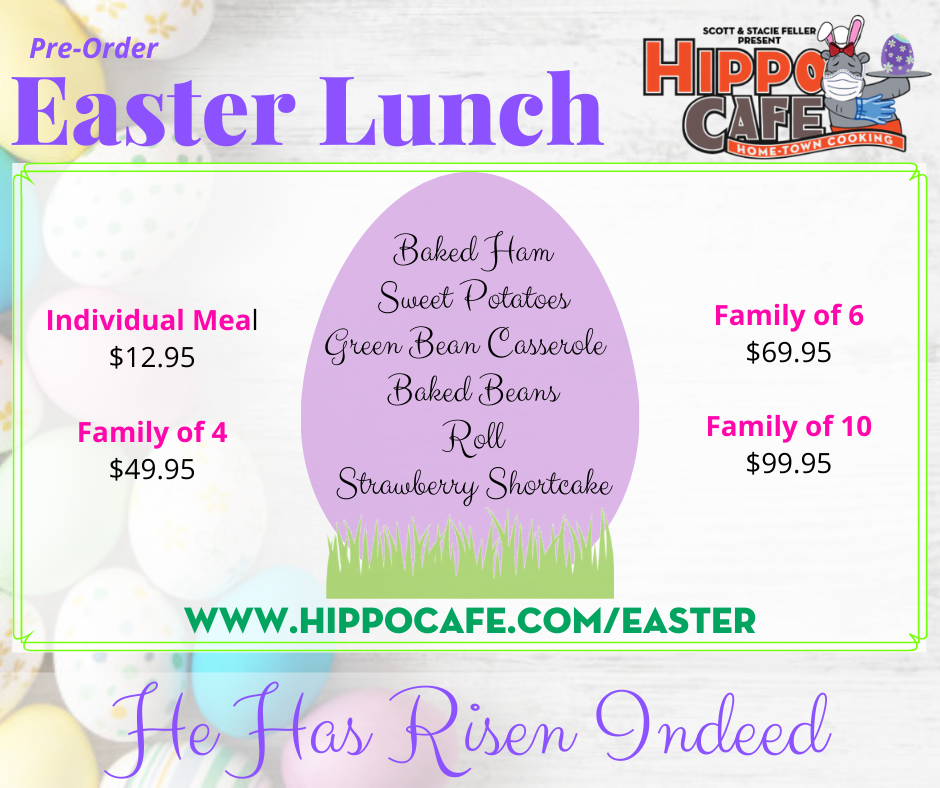 Honey Baked Ham
We want to help you carry on your Easter traditions, while staying safe. Avoid crowds, buy your Honey Baked Ham early (April 3rd – 8th) and receive $10 off. Find the offer here: https://pickup.honeybaked.com/offers-09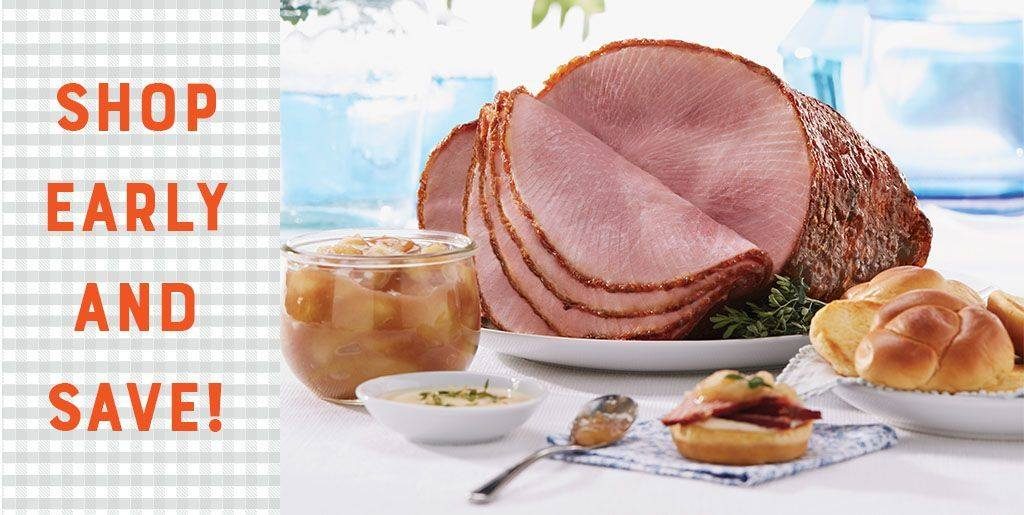 Pok-e-Jo's Smokehouse
Pok-e-Jo's has created an easy to re-heat package for Curbside Pickup at any of our locations. COLD EASTER BRUNCH PACKAGE $75 Makes 6-8 Servings. Deadline to order is Friday, April 10th Orders will be available for pickup from Thursday 4/9 to Sunday 4/12 TO PLACE YOUR ORDER Call (512) 388-7578 or Email [email protected]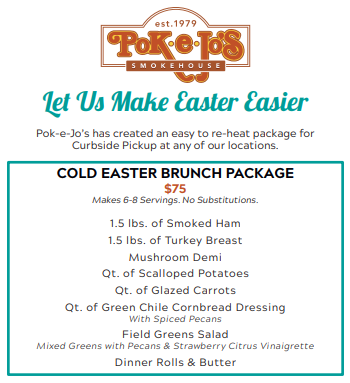 Saltgrass Steak House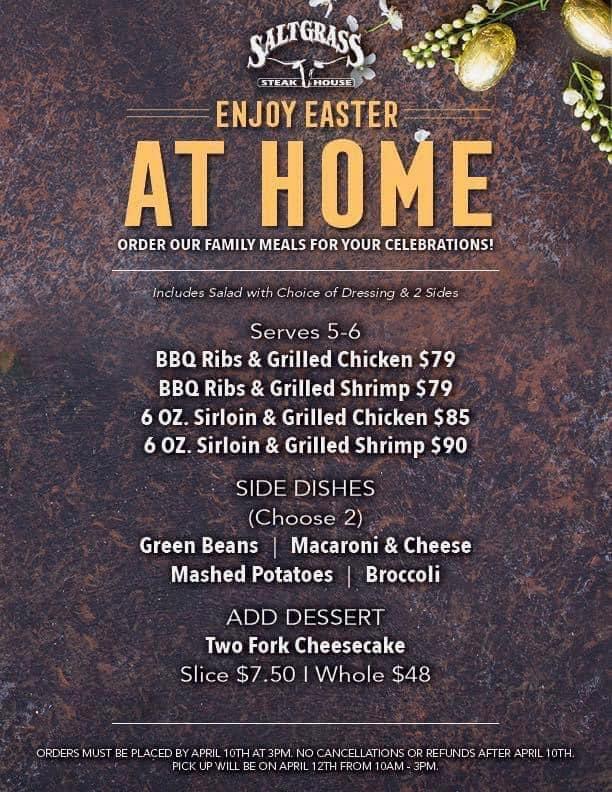 Southfork Curbside
South Fork is offering ham and turkey dinner with sides – Pick up at the Round Rock Farmers Market on Saturday
https://southforkcurbside.square.site/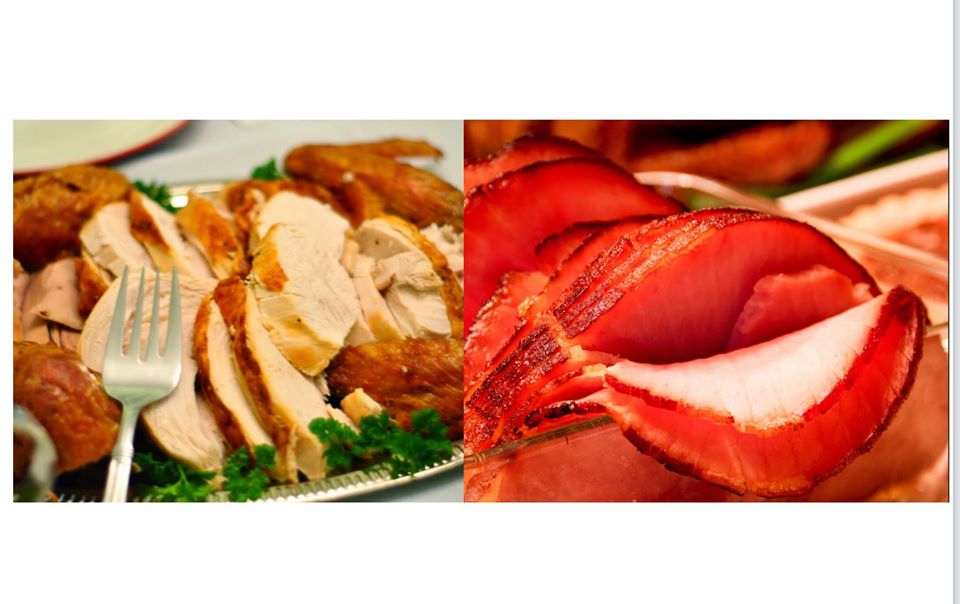 Wiseguys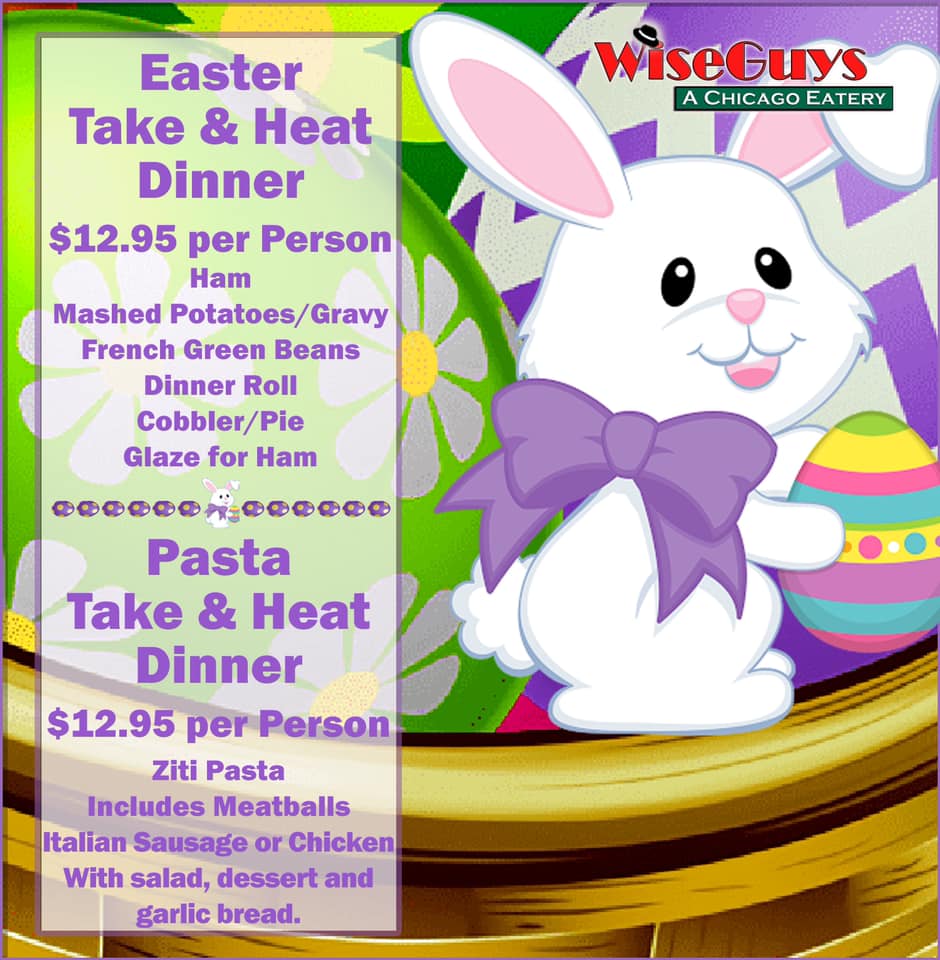 If you find another restaurant with a great Easter Meal to order, please let us know! Email us at [email protected] Thanks!
Other Articles You May Enjoy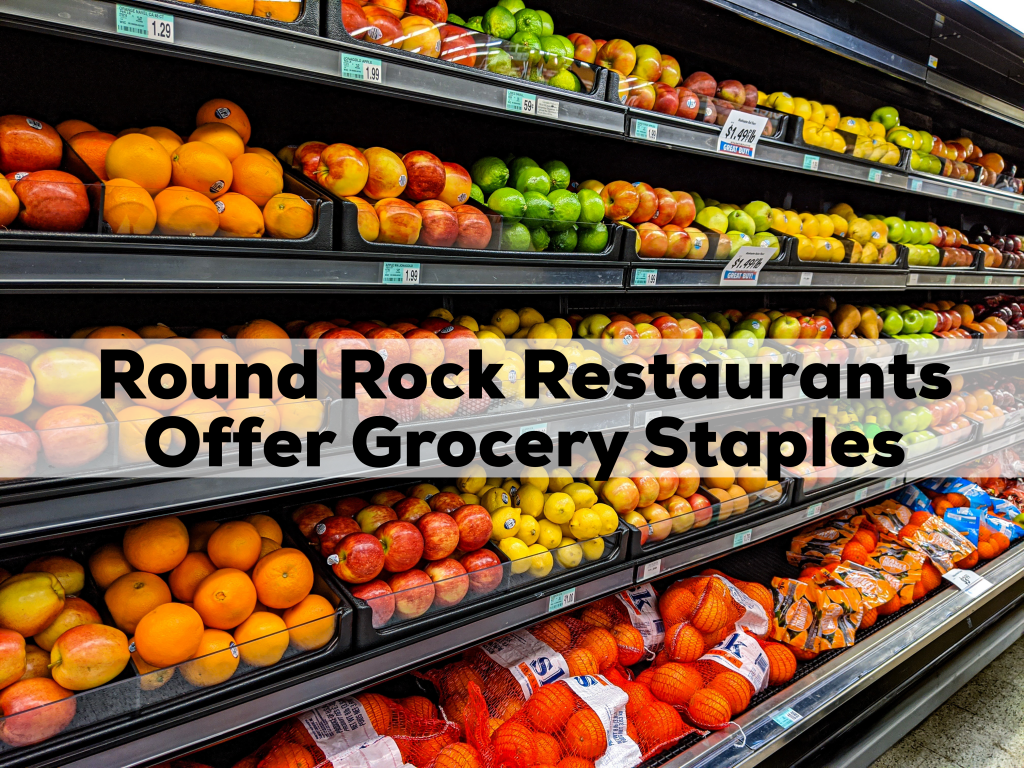 Other Articles You May Enjoy