Barnes & Noble Special Storytime: The Wonderful Things You Will Be

Barnes & Noble hosts a Special Storytime this week.
Saturday, January 23, 2016 at 11:00 am:
From brave and bold to creative and clever, the rhythmic rhyme expresses all the loving things parents think of when they look at their children. With beautiful, and sometimes humorous, illustrations, this is a book grown-ups will love reading over and over to kids. Join us Saturday, January 23 at 11:00AM for a special Storytime featuring The Wonderful Things You Will Be. Activities to follow.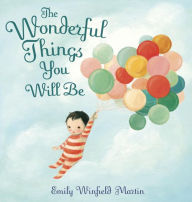 La Frontera Village
2701 Parker Road Bldg A Suite 700
Round Rock, TX 78681
512-600-0088