Start Swim Lessons Early at Emler Swim School: Advice from a Swim Mom
Swimming is the only sport that can save your child's life.
The leading cause of death for children under 5 in Texas is by accidental drowning. Studies show that formal swim lessons can reduce the risk of drowning by as much as 88% among young children.
I've been a swim mom since my first kid took lessons at Emler Swim School in 2005 and fell in love with the sport. Since then I've lived and breathed in the chlorinated air, washed a never-ending stream of beach towels and learned more about the sport than I ever thought possible.  Emler's sweet spot is teaching young kids to be comfortable in the water and teaching water safety. Their setup is nurturing, quiet, warm and safe, all things you want for a first-time swimming experience.
Emler Swim School: It's Never Too Soon
It was important to me that my kids were both safe and comfortable around water. My mom never learned to swim, and to this day, she is nervous and unsure every time she gets near water. I learned to swim when I was little, but just enough to get to the side of the pool and splash around safely. So I made sure that both of my kids could not only swim but legally perform all four strokes in a competition.
Children of any age or ability can learn to swim, and Emler Swim School will start lessons at just two months old. Infants have no fear of water and won't ever develop one if you start early enough. Introduce your child to swimming early on so that they will be safe and have the skill for their whole life.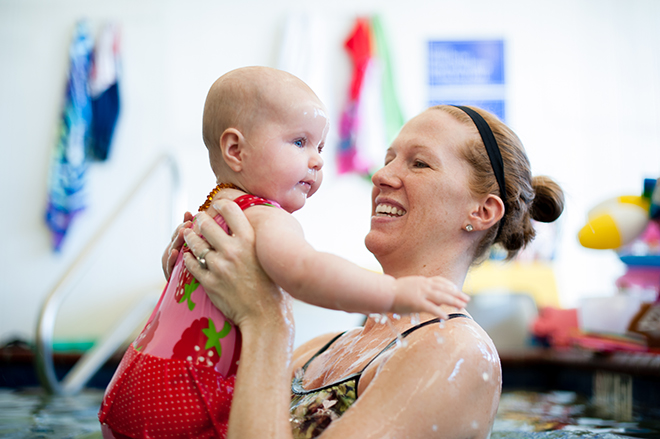 Emler Swim School: Two Weeks in the Summer Won't Cut It
Don't wait for summertime and try to cram in all the skills in two weeks. You wouldn't expect your child to learn any other sport, especially a lifesaving one, in just two weeks. Swimming is best learned and practiced regularly, with short sessions all year-round.
I like Emler's schedule that offers once a week lessons all year round. Your kids need to be comfortable enough to put into practice the rescue drills to get safely to the side of the pool if they fall in or are in trouble. It takes more than a few 30-minute sessions with a teenager each summer being enough to keep them calm in an emergency.
Emler will encourage you to keep your kid in lessons until they can swim 40 feet and get multiple, unassisted breaths (where they are considered "safe"). You can then continue lessons with Emler until your child is proficient in all 4 strokes.  At that point, think about enrolling them on a swim team to keep them healthy and strong for life. There's no better exercise, and it will make them better at any other sport they play.
Emler Swim School: Choose Carefully
Some pools teach lessons in overwhelmingly large, crowded, noisy environments with cold water and chilly air. Emler has a crystal clear saltwater pool that is small and shallow, never exceeding 4-feet deep, which is heated to a balmy 90 degrees. Additionally, they utilize a high-quality UV water purification systems to keep the water clean and pure at all of their facilities, while reducing the need for chlorine and its toxic by-products.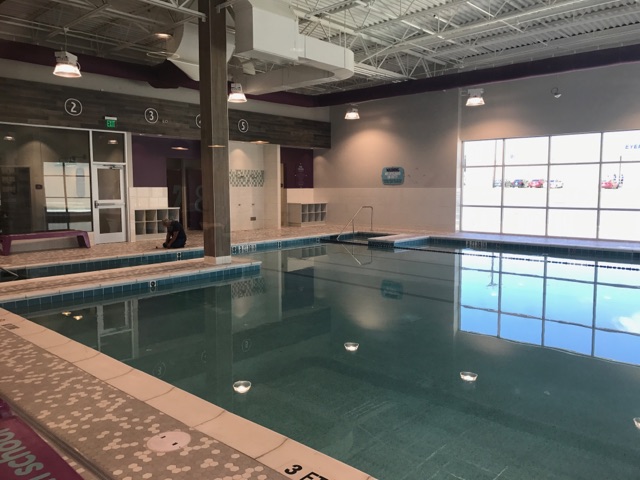 The air temperature in the room at with the pool at Emler is 80 degrees, so the kids aren't on deck shivering when it's time to get out. The air flow and filtration are so thorough that my child, who suffers from asthma in many pools, never even seemed bothered.
Emler separates the humid, warm pool area with a glass wall so parents can sit in air-conditioned comfort. But if your little one is hesitant to have you that far away, you can make arrangements to sit poolside. There are even individual changing rooms, so you don't have to send your son alone into the men's locker room.
Emler Swim School: Emler Instructors know Childhood Development
Emler swim instructors have studied childhood development, and the activities they include are based on the developmental milestones of early childhood. Swimming puts kids in new situations that they might not have ever experienced – being underwater, holding their breath underwater, trying to blow bubbles out of the nose, getting water in their ears – that's a lot of new sensations to overcome.
For the youngest participants, watching and mimicking an activity while engaging muscle groups makes it a whole body learning experience. For toddlers, group dynamics like following instructions in a group and waiting your turn are essential skills that will prepare them for preschool.
Swimming teaches coordination for all age groups. Much like patting your head and rubbing your tummy, swimming requires your limbs to work independently while controlling your breathing and other body movements. These skills prepare kids for a lifetime of situations in a multitude of sports. Children who have had swim lessons excel at a more rapid pace than other children in cognitive skills.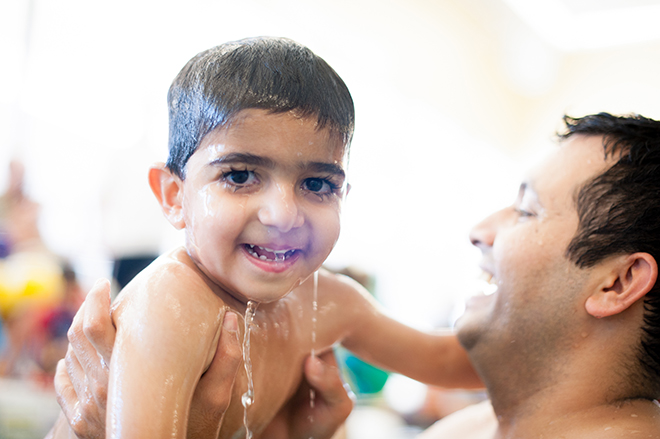 Emler Swim School: Accessibility
Your child will use every one of the body's major muscle groups during a swim lesson at Emler. You'll notice that they sleep better on lesson days and probably eat better, too. Swimming increases flexibility, improves balance and posture, and can positively impact their brains!
Swimming is particularly effective for sensory and vestibular balance issues, and pool therapy is regularly used to help kids on the autism spectrum. In my experience, swimming does more for children with additional needs than almost any other sport.
Emler Swim School: Conveniently Located
Emler Round Rock is new to Williamson County and is in the perfect location on the I-35 corridor for families in Round Rock, Georgetown, Pflugerville, north Austin and Cedar Park. It's where the old Garden Ridge used to be in La Frontera, so it's got plenty of parking and easy access to 35 or Mopac.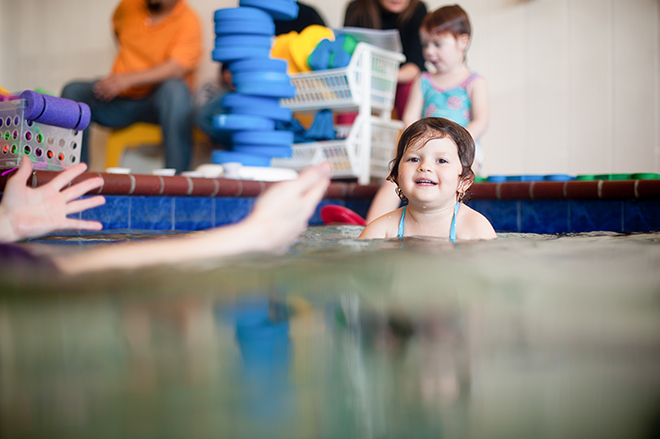 Emler Swim School: Open up the World of Water
There are quite a few sports and activities that your child can only experience if they can swim. Being safe and comfortable in the water opens up snorkeling, scuba diving, triathlons, surfing, kayaking, and canoeing and will make them more comfortable on any area lake or water park.
Don't miss out on your chance to get your child into the water early. Being safe in and around water is crucial in Central Texas, where so many people have backyard pools and access to area lakes. If your young child needs to learn to swim, Emler's environment and instructors are a good place to start.
---
Emler Swim School has classes for all ages.  Check out these offers & give them a call to get started:
Bathtime Babies:
2 months– 5 months old
FREE class for parent and baby
Water acclimation
Bonding
Motor development
Waterbabies Orientation:
FREE trial class
Parent participation
Experience the songs, games and skills your baby will learn in Waterbabies class
Receive a $30 discount on tuition
Waterbabies Class:
6 months – 36 months
No prior water experience required
Parent participation
Develop comfort and independence in the water
Master 10 seconds of breath control
Move 3-5 feet through the water
---
Come visit the Emler Swim School at their Grand Opening Event on Saturday, October 14th from 2:00 – 5:00 pm. 
Emler Swim School
2800 South IH-35, #190
Round Rock, TX 78681
512-759-6900
[email protected]
Disclosure: This is a sponsored article with a partnership with Emler Swim School.  All opinions in the article are our own.