Fall Events at the Williamson Museum on the Chisholm Trail | October 2018
Check out all of the fun family events happening this fall at the Williamson Museum on the Chisholm Trail!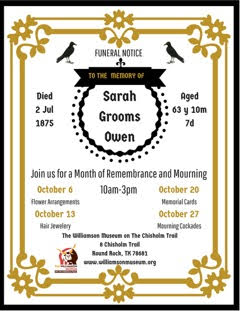 Month of Mourning— Death has befallen the Owen Household. Join us as we discuss the private and social aspects of mourning in Victorian- era America.  Learn about the expectations of dressing properly while grieving, the significance of draping the home and inner decor, etiquette of funerals and death announcements. Mourning will happen every Saturday in October from 10am-3pm.
Oct 6th– Flower Arrangements- Learn about Victorian symbolism and create your own floral arrangement to remember those gone too soon.
Oct 13th– Hair Jewelry- A large part of mourning was creating beautiful art pieces to remember your loved ones. Join us to recreate a uniquely Victorian piece of Jewelry.
Oct 20th– Memorial Cards- Honor the memory of your favorite people by creating a Victorian Memorial Card
Oct 27th– Mourning Cockades—Join us in honoring Mrs. Owens and letting everyone know you are in mourning with a fashionable mourning cockade.