FREE tuneBugz! Classes: Music Classes for Children
tuneBugz! is kicking off a FREE SAMPLE WEEK of Music Together® classes and everyone's invited!
tuneBugz! classes support music development through all ages and stages of early childhood. Owner and teacher Amber Nichols shares all you need to know to join in the fun!
Sing, Dance, Play & Learn with Music Together®
This Winter your family will learn twenty-five beloved Music Together songs and activities that are easy learn and fun to recreate at home. Whether we are playing with an asymmetric meter song like Jim Jam Drumming or celebrating Hispanic culture with the classic lullaby  Arrorró, mi niño – we are building a community of support for your child's musical growth.  
Making music for its own sake is what continues to drive a lifelong music maker. The more joyful it feels, the more connected a child feels while making music – the greater chance they will develop a disposition for music making. How often do we pause all the goals and expectations and just enjoy an activity purely for the happiness it brings? Now just imagine that all the fun and playfulness is supported by 30 years of research in early childhood music education?! This is why Music Together is the amazing program families stay with!   
The Music Together program is research based, fun and children are intrinsically motivated to practice, learn new things, and seek new skills. Parents take a deeper dive as the semester progresses and you will learn how children acquire skills and learn how to support kiddos through each age and stage of development. Everybody learns and participates because everyone is musical! Children are tonally and rhythmically motivated to participate with us in different ways and parents learn how to support each growth area as we pass through each phase of discovery together! 
tuneBugz! will offer the following classes this Winter:
Mixed-age class (0-5) – This parent/child – family style class is terrific for infants, babies, toddlers & pre-schoolers and the grown-ups who love them.  Mixed-age classes are research-based activities through a mixture of guided and free play. Activities, instruments and movement props are fun, developmentally appropriate and children in our classes thrive on hands on experimentation.   Parents and caregivers play a critical role as they sing, dance, play and bond with their child through music.  
Babies Class (Birth to 6 months only) – This one-time intro to Music Together is for infants aged birth through 6 months and their favorite grown up (Mom, Dad, Nanny or Grandparent!)  In this gentle class for babies the music, activities and materials are focused on supporting musicality in babies during the first 6 months of life. This class prepares parents with a deep understanding of the Music Together program and delves deeply into all the developmentally appropriate ways to support your musical child – starting in infancy! This is a very special educational time for parents and a loving and joyful experience for babies.   Parents with babies 6 months and under have 2 choices for music class – you can join the 1-time intro babies class OR jump right into the mixed-age class (both are age appropriate for infants). 
Rhythm Kids™ (ages 4s and 5s only) – This fun music, movement, and drumming class is more challenging and is focused on skills emerging in the 4 and 5 year olds.  Bigger kids delight as we travel the world in rhythm and culture, play musical games, strengthen and reinforce each child's individual growth in music development. Rhythm Kids group classes are offered as parent/child for 4s and 5s. (no prior music experience required)
Don't take our word for it – come try it for free!
The best way to know if the Music Together program is a good fit is to come in during free sample week and try out the mixed-age classes for yourself. Visit our locations, meet our teachers, take the info home and start using the app with 8 free songs!   
Click RSVP to browse schedules/locations and save your seat. 
Winter is our most popular semester and classes fill quickly!
Sunday December 2nd
Monday December 3rd 
Central/Mueller at YAWP! (Paggi Sq) – 9:30am RSVP
Central/Mueller at YAWP! (Paggi Sq) – 11:30am RSVP
Circle C at Lonestar School of Music – 10:30am RSVP
Tuesday December 4th
Central/Mueller at YAWP! (Paggi Sq) – 10:30am RSVP
Wednesday December 5th
South Austin at Balance Dance – 12:00pm RSVP
Round Rock at The Dance Spot – 10:00am RSVP
Leander at the Good Earth Farm School – 9:30am RSVP
Thursday December 6th 
Friday December 7th 
Dripping Springs at Lonestar School of Music – 11:30am RSVP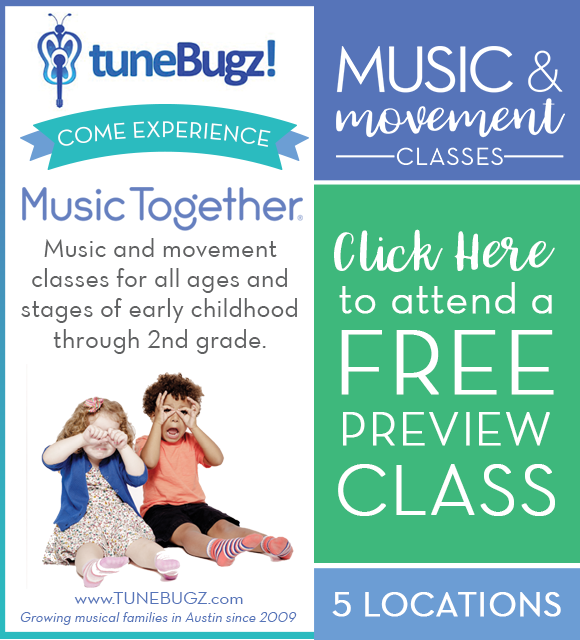 Winter Semester at tuneBugz! will run 10 weeks, from Dec 9th to Feb 28th.  
Winter tuition and fees: $260 (1st child) / $160 (sib), plus $15 non-refundable registration fee for families new to the Music Together program.  
Winter semester will feature the Drum collection of songs for Mixed-ages and Babies class the Tree Frog collection will be featured for Rhythm Kids.
Each semester includes:
Music Together's beautiful and engaging songbook
CD plus download of 25 songs from our collection
Hello Ev'rybody App (iOS and android)
45 mins of musical joy each week for 10 weeks
Support for parents

 

Flexible make-ups at any tuneBugz! location
For more information on classes, schedules & tuition, visit the tuneBugz! website.