Music on Main Street | Every Wednesday | May 2021
The City of Round Rock brings you Music on Main Street, a free music series on the Prete Main Street Plaza stage, 221 E. Main Street. 6:00 to 8:00 p.m. Wednesdays from May 5 – May 26, 2021. Bring a lawn chair or blanket and the entire family! Don't miss Music on Main from May 5-26, 2021.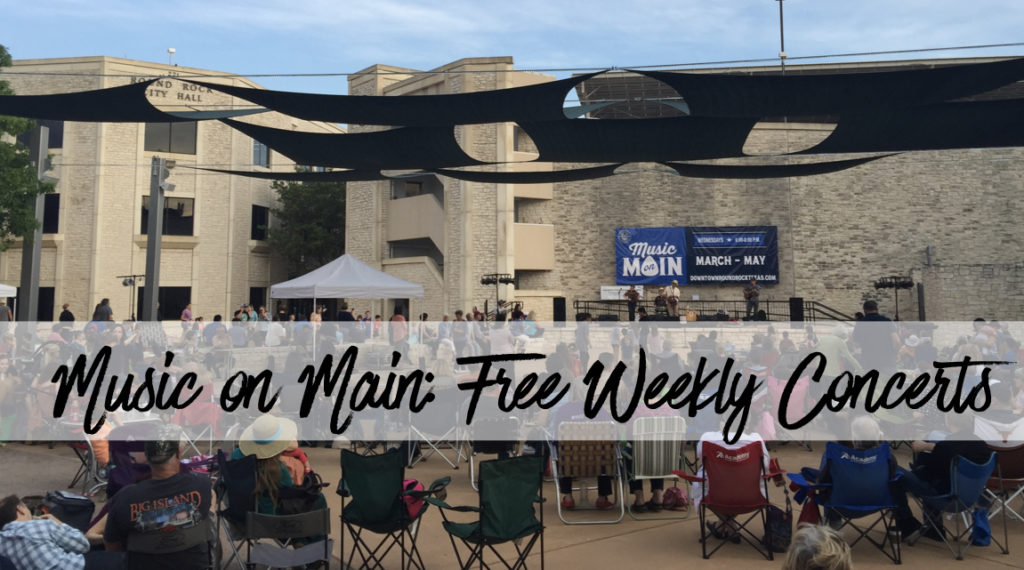 Visit the variety of dining options on Main Street or pack a picnic basket to enjoy the evening of fun and music! Food vendors will be on site.
On a beautiful Spring night, these concerts are especially fun. The kids love to dance to the live music while the parents can sit and visit with friends.  Maybe you'll want to two-step a bit?
This year, Round Rock will be awarded the certification for a Texas Music Friendly Community by the Texas Music Office, Office of the Governor. You can watch the presentation at 6 p.m. on Wednesday, May 5 at Prete Plaza. Chip Adams will present Round Rock Mayor Craig Morgan with the certification. Musician Dale Watson will perform immediately following the ceremony.
Schedule for Wednesday, May 5:
5:45 p.m. Round Rock Ballet Folklorico 
6 p.m. Presentation for Texas Music Friendly Community
6:05 p.m. Mayor Morgan opening remarks for Music on Main in Downtown Round Rock 
6:10 p.m. Dale Watson concert
8:10 p.m. Music on Main concert ends 
Schedule for the remaining Music on Main Events:
The Derailers on Wednesday, May 12
Beat Root Revival on Wednesday, May 19
Del Castillo on Wednesday, May 26
Upcoming Music on Main events all take place at Prete Plaza from 6 to 8 p.m. Music on Main events are free and open to the public. 
Scheduled bands are subject to change. Keep up to date on https://www.facebook.com/downtownrrtx.
Put some of those dates on the calendar and join us for some of the best live music around! We are so excited this event is back and hope to see you at Music on Main this year!
COVID-19 safety recommendations
The virus that causes COVID-19 can be spread to others by infected persons who have few or no symptoms. In other words, even if an infected person is only mildly ill, the people they spread it to may become seriously ill. Because of the hidden nature of this threat, everyone should rigorously follow the practices specified in these recommendations. The virus that causes COVID-19 is still circulating in our communities. Therefore, we should continue to observe practices that protect everyone, including those who are most vulnerable.
Individuals are encouraged to wear a mask. In addition, individuals should, to the extent possible, minimize in-person contact with others not in their household. Minimizing in-person contact includes maintaining 6 feet of separation from individuals. However, when maintaining 6 feet of separation is not feasible, other methods should be utilized to slow the spread of COVID-19. For example, washing or sanitizing hand frequently, and avoiding sharing utensils or other common objects.
In addition, participants are asked to self-screen before attending public events for any signs or symptoms of communicable diseases. For instance, symptoms commonly associated with communicable diseases include:
Shortness of breath or difficulty breathing
Cough (new onset or worsening)
Fever
Headache
Chills
Sore/scratchy throat
New loss of taste or smell
Muscle pain
Nausea/vomiting
Diarrhea
Feverish
Known close contact with a person who is lab confirmed to have COVID-1
Above all, individuals should wash or disinfect hands after any interaction with other individuals or items at the outdoor event. In addition, hand sanitizing stations will be available at the event. Therefore, you should clean and sanitize any items before and after use.
Other Articles You May Be Interested In