Swedish Christmas Feast at Ikea | December 15, 2017
Ikea is hosting a Christmas feast on Friday, December 15, 2017 at 3:30 and 6:00 pm. A Julbord – pronounced 'yuleboard', literally meaning Christmas table – is a feast for the eye and a treat for your taste buds, with its colorful combinations of food that can be either salty, sweet or acidic.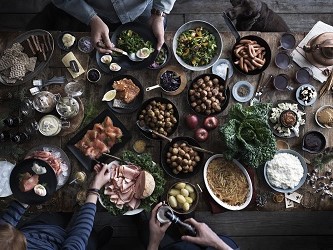 IKEA FAMILY price $12.99, regular price $16.99
Kids 12 and under IKEA FAMILY price $2.99, regular price $4.99
Seating Times:
1st seating: 3:30-5:30pm
2nd seating: 6:00-8:00pmAsk a Restaurant co-worker for details and to purchase tickets. Seating is limited.
IKEA Swedish Christmas Julbord
Friday December 15th 2017
Tickets can be purchased in store at either our restaurant or Bistro areas. Seating is limited, and there are no guarantees that we will still have tickets available the day of the event. The early seating is the last one to sell out.
This is a buffet style event with Swedish entertainment and giveaways for IKEA Food gift certificates.
The menu is as follows;
· Assorted Herring
· Gravad Lax with mustard sauce
· Smoked Salmon with Horseradish sauce
· Poached Salmon
· Hard boiled eggs with shrimp
· Swedish Cucumber Salad
· Red Beet Salad
· Swedish Potato Salad
· Christmas Ham
· Prinskorv Sausages
· Assorted Cheeses
· Meatballs and Lingonberries
· Braised red Cabbage and Apples
· Mashed Potatoes
· Jansson Temptations
· Crispbread, thin bread, and soft bread
· Swedish rice pudding with almonds
· Assorted desserts
· Warm Glogg, Coffee, Tea, and Fountain Beverages