Elfvis & the Kringles – Holiday Light Display in Round Rock
A Round Rock family provides one of the most delightful Holiday Light Displays we have ever seen! Make sure you visit Elfvis & The Kringles this Holiday Season! 
Don't you love fun Home Holiday Light displays?? I am always in awe of those that can create a fabulous light show in their front yard for the general public to come and see. There is something very special about these families, wanting to put in HOURS of work for the enjoyment of kids at Christmas.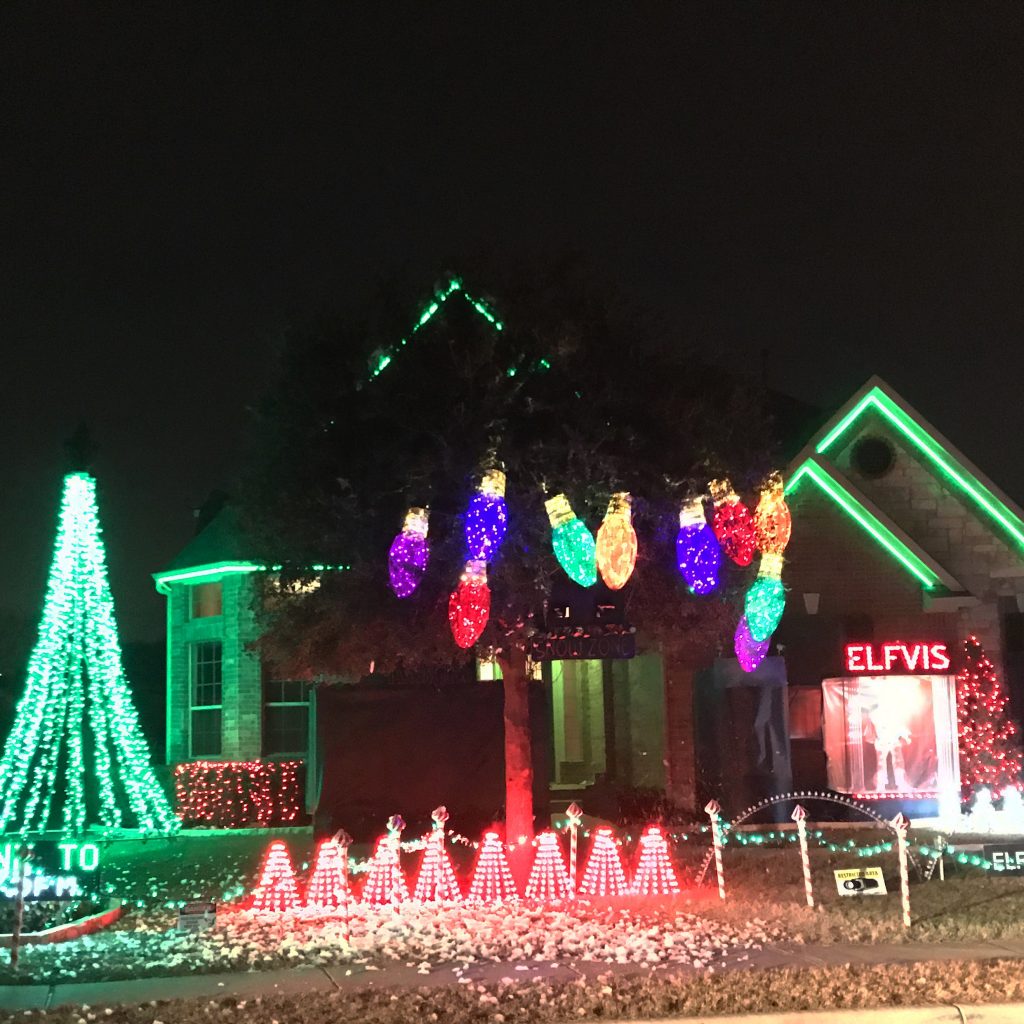 One such house is located right here in Round Rock.  Have you heard of Elfvis & the Kringles house???  Located on the Northwest side of Round Rock, this home boasts FOUR sets of singing and dancing animatronics.  Take a look at who is starring in their show this year:
Last year, I had the honor of meeting the homeowners & thanked them for all the hard work they put into this show.  They were so humble and acted like it was no big deal. No big deal?? Are you kidding me?
Actually, they have an amazing story.  Mark & Michelle were transplanted from Louisiana, as victims of the Hurricane Katrina. They look at their "show" as a way to give back to the community that invited them in.  They are also collecting for the Georgetown Blue Santa and Williamson County Brown Santa.

Elfvis & The Kringles Show Times – STARTS DECEMBER 2
Monday – Thursday: 6:30 pm – 9:00 pm
Friday – Saturday: 6:30 pm – 10:00 pm
Sunday: 6:30 pm – 9:30 pm
Elfvis & The Kringles
3448 Tourmaline Trail
Round Rock, TX
Always check the Elfvis & the Kringles Facebook Page for up-to-date show times & information.
Don't miss all the Fun Happening in Round Rock this Holiday Season!
Elfvis & the Kringles Holiday Light Shows 
Round the Rock Holiday Gift Guide for Women
Round the Rock Holiday Gift Guide for Men
Round the Rock Holiday Gift Guide for Children
Round the Rock Holiday Gift Guide for Teachers & Hostesses