7 Virtual Teacher Appreciation Week Gift Ideas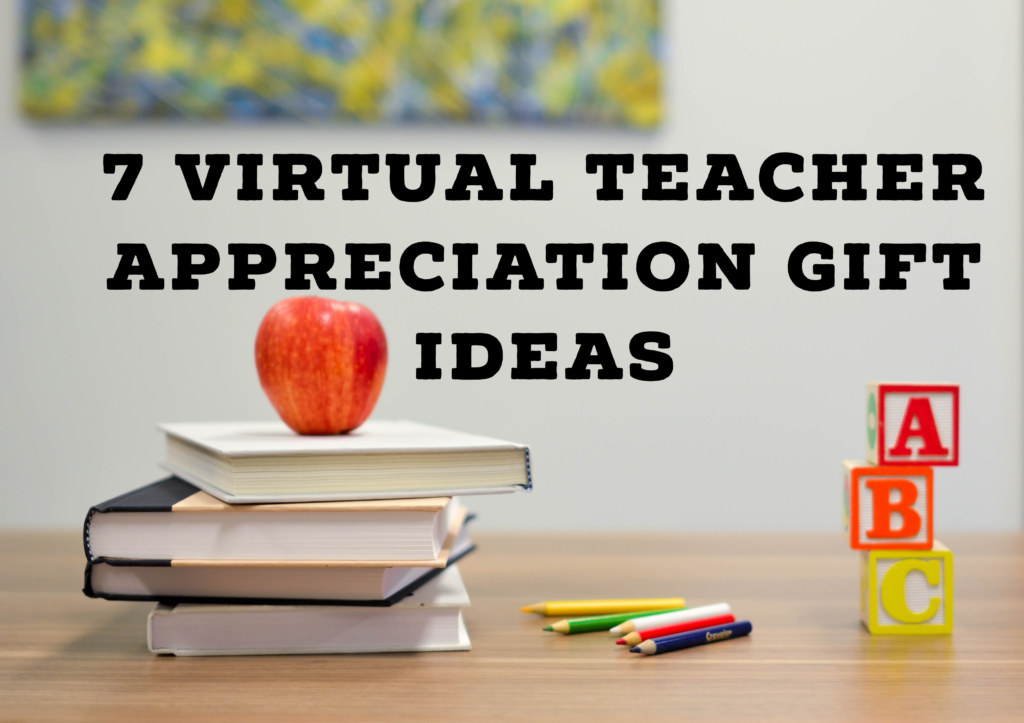 Who is celebrating Teacher Appreciation Week over the next few weeks? I know that school is happening at home still for many of us this year for Teacher Appreciation Week, but that shouldn't stop you from doing these fun ideas to show your teacher appreciation!
So take a look at these fun virtual gift ideas to celebrate Teacher Appreciation Week.
What is Virtual Teacher Appreciation Week?
This year, Teacher Appreciation Week falls on May 3, 2021 – May 7th, 2021.
Teacher Appreciation Week is a week set aside the first week of May to teach & remind our kids how to show their teachers appreciation. Usually the school or the PTA will organize ideas and prompts to help inspire gifts, but with all of us home this year, that might not be happening.
So we have come up with fun ideas to help inspire you to show your teacher appreciation while maintaining a safe social distance.
What do teachers really want?
Several years ago, I asked our Round the Rock: What's Happening Round Rock Facebook Group what teachers REALLY wanted for Teacher Appreciation Week. And did you know, the majority of them want nothing.
Seriously. These teachers are amazing. They just want to know their kids are happy & healthy & loved. Sigh.
Digital Gift Cards for Teacher Appreciation Week
A few did mention that gift cards to their favorite restaurant or book store or coffee shop is always nice too.
I would suggest that in light of what is going on, that we take the opportunity to support LOCAL BUSINESSES and purchase gift cards from them for Teachers.
Think of local restaurants, local coffee shops, local ice cream shops, & local boutiques when purchasing a gift card for Teacher Appreciation Week. Some of our personal favorites include:
Mays Street Boutique
The Yogurt Experience
Summer Moon Coffee
The Mercantile on Main & Haute Boutique
Greenhouse Craft Food
Action Pack Dog Center

Virtual Gift Ideas for Teacher Appreciation Week
Create A Digital Card
Video your child showing their teacher appreciation in a fun way – sing a song, do a dance, hold up drawings or read aloud a story. Your child could simply tell their teacher how much they miss them.
Share it Socially
Share your favorite photos with Teachers and Staff on your school's social media (and your own!).
Chalk it Up
Design a message in chalk in your neighborhood or in front of your school showing your appreciation. Take a photo and email it to your teacher.
Write a Note
It's old-fashioned but I can't help but think that teachers will appreciate the sentiments of a letter getting mailed to them.
Parents' Emails & Notes
Beyond what the children can do, teachers need to see the appreciation from the parents too. Especially now, as you have been working with your kids for the last 4 weeks. Pick up a pen and start writing.
Offer Help
Another simple thing – just offer your assistance. You never know what they might be able to use your help with. Just ask.
A Note from Round the Rock to Teachers
Teachers – we love you. As a mom of 3 kids, I see the hard work that you have put in year after year to make sure our kids learn in a creative and unique way. I see the countless hours you have put in. I see the sacrifice of family time. I see the personal money you put into your classroom. I see the love you give our kids. I see you. And I appreciate you. Thank you.
Other Articles You May Be Interested In: