5 Questions with Penfold Theatre's Ryan Crowder
Happy Friday Round Rock!  In an effort to get to know more about the people who make Round Rock such a great place to live, I am starting a new series called "5 Questions With…." Each week, I will be asking a few questions of interesting people of Round Rock – people who work hard behind the scenes, people who strive to make our city great, people who make fun events & places possible in our city, and just cool folks you need to know! So join us each Friday morning for…..
5 Questions with Ryan Crowder
Ryan Crowder is the co-founder of  Round Rock's Penfold Theatre Company.  You will often see Ryan onstage in one of Penfold's performances and is is also a very talented director.  I chose Ryan for my 5 Questions with series because he is very passionate and vocal about making all forms of the arts easily available to Round Rock.  I personally love the theatre and think Ryan is incredibly talented – we are lucky to have him here in Round Rock!
What brought you to Round Rock?

In 2007, two colleagues invited me to join them in opening a new professional theatre company in the Austin-Round Rock metro area. I was living in Cincinnati at the time. After moving here and getting to the know the area, it became clear that the greatest need and opportunity was in the north. Round Rock, along with the rest of Williamson County, was exploding in population, but there were few professional arts organizations in town at that time and no professional theatres. It was extremely apparent to us that there was a growing demand for Round Rock to have its own arts community: a new master plan had just been adopted to revitalize downtown; the Round Rock Arts Council had just formed; the city's first arts endowment had been established with the Community Foundation, and a professional symphony had just moved into town. We approached city leaders saying we would like to join the community's efforts to grow the arts and were very warmly embraced. We've been here ever since!
What is your favorite memory of Round Rock?
We've made a lot of wonderful memories here! Here's one from very recent history that, to me, exemplifies the spirit of the people here and the kind of impact we would like to make with our work.
It was December, and we were at Old Settlers Hall for a four week run of A Christmas Carol Classic Radiocast. One of our patrons, whom I had not met, contacted us out of the blue by posting on our Facebook page. She told us that our annual holiday radio show had become very special to their family. Their daughter in particular started planning their trip as early as September and would forego other holiday events in order to have the money to attend. She is completely blind, and radio format of the story made it as accessible to her as to everyone else.
Well, another one of our patrons saw the post and made an anonymous donation to pay for the family's tickets. Then our cast got wind of it and stayed after the performance to roll out the red carpet: they took pictures in the lobby, gave her a behind the stage tour – the whole nine yards.
I was extremely proud in that moment: first of all, that the work we were doing had become so special to at least one family; and that I lived and worked in a place filled with such generous people, who leaped at an opportunity to make someone else's experience unforgettable.
What's your favorite meal to eat out in Round Rock?
I'm a downtown food junky! We're there quite a bit, especially during our free summer show at the Round Rock Amphitheater, so our gang rotates among Star Coffee, Brass Tap, Louisianna Longhorn, Juniors, Fire in the Hole, Round Rock Cafe, Scarlet Rabbit, Tio Dan's, Svantes… There's a lot to choose from and new places popping up all the time, so we have fun trying them all out!
What's your favorite role you have played/show you have produced?
There's too many to choose a favorite, but I thoroughly enjoyed directing Shipwrecked!, which we presented as our free summer show in 2013. It tells the story of a Victorian adventurer who is stranded in the Australian outback after a terrible shipwreck and miraculously makes his way back home to England. The adventurer, Louis D'Rougemont, narrates the tale himself, so it has a campfire storytelling feel. All the locations are brought to life with simple-but-creative scenic tricks. All the characters (aside from Louis) are played by just two actors who transform with the addition of a hat here, a pair of glasses there, a switch in dialect, etc.
One of the characters in the story is a big dog, and the actor playing him would wear a hat with two big dog ears on the side. I knew we had nailed it when a little boy came up to us after the show. Wide-eyed and ecstatic, he told us, "When you put on the hat… YOU. BECOME. A. DOG."
What do you like to do to relax?
I love to jog and walk. In fact, I just moved into a new place that's close to the Brushy Creek Trail system, so I'm excited to get out there and explore it!
Ryan Crowder is a co-founder of Penfold, as well as an actor and director. Recent acting and directing credits include shows with Penfold, Hidden Room Theatre, Austin Shakespeare, Austin Playhouse, Cincinnati Playhouse in the Park, Pittsburgh Irish & Classical Theatre and the Monomoy Theatre on Cape Cod. For his work onstage, Ryan has received the Austin Critics Table and B. Iden Payne Awards. He holds an MFA from the Professional Actor Training Program at Ohio University, a BFA from Abilene Christian University and a certificate from the Denver Center of the Performing Arts.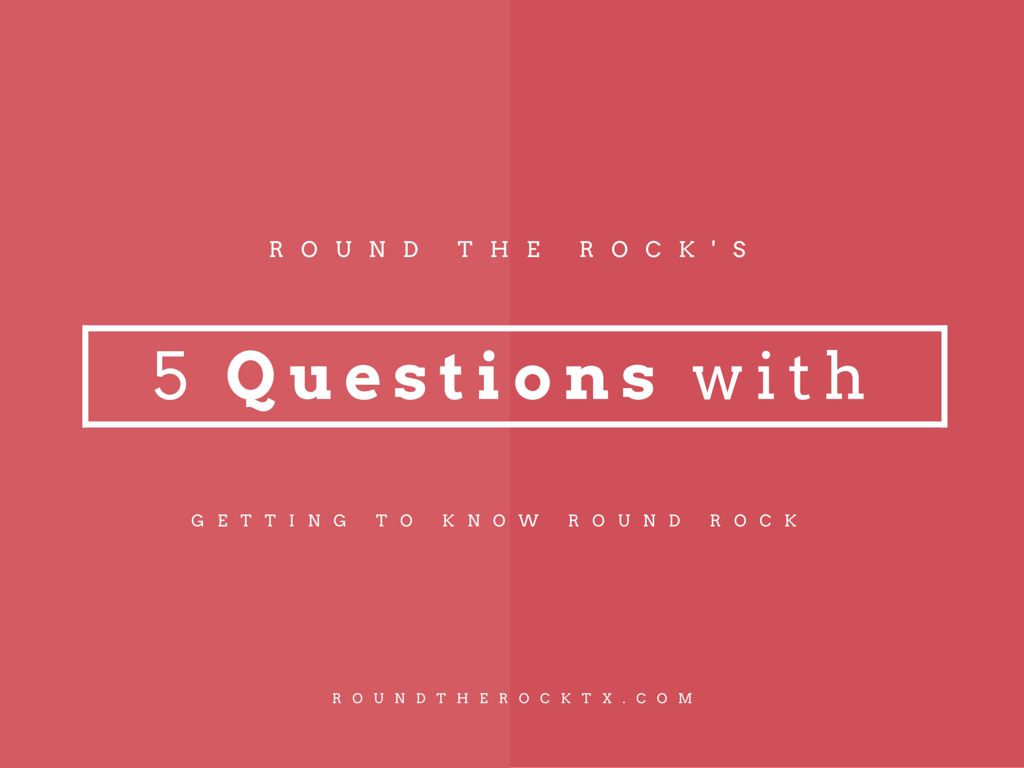 More from our 5 Questions with… series
Mayor Alan McGraw
Mays Street Boutique's Sandy Deli
Round Rock Councilman Will Peckham
Penfold Theatre's Ryan Crowder
Kaleidoscope Toys's Terry Myers
Round Rock Express's Steve Richards
Round Rock Express's Spike
Sweet Love & Sugar Britches' Julia Broadway
Round Rock Express's Laura Fragoso
Trashy Roots' Anna Craig