5 Questions with Mi Mundo Coffeehouse & Roastery's Sabin Shrestha
In an effort to get to know more about the people who make Round Rock such a great place to live, I am resurrecting a series I did years ago called "5 Questions With…." As I did in the past, I will be asking a few questions of interesting people of Round Rock – people who work hard behind the scenes, people who strive to make our city great, people who make fun events & places possible in our city, and just cool folks you need to know.
But I wanted to take it a step further and reach out to as many businesses owners in Round Rock as I can. I want to catch up with them to learn how their business is doing under these conditions. And see if & how we can help keep them in businesses. I think you will be happy to hear some of the unique ways that businesses have adapted to the changes or are making plans to offer new products and services once they do open.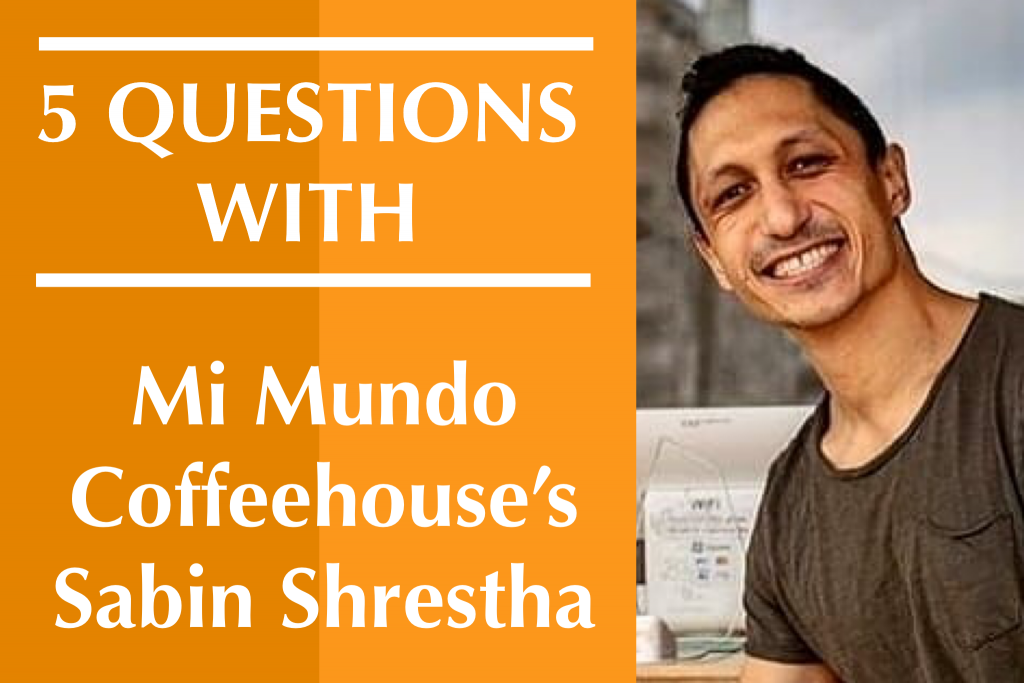 A new coffeeshop opened this past winter in Downtown Round Rock. I decided to meet someone there for coffee and was immediately impressed at how I was greeted with such love & appreciation when I walked in the door. Sabin Shrestha is the creator & owner of Mi Mundo Coffeehouse & Roastery and I watched him greet every customer the same that day.
I love the cozy environment that Mi Mundo has and I ordered the same thing each time I visited – the Honey Lavender Latte. Mi Mundo was really a welcome spot to the Downtown Round Rock scene.
Can you imagine how hard opening your business, only to be told 6 weeks later that you can not have any customers walk thru your doors? Yet, I haven't seen Sabin miss a beat. He moved everything outside and set up shop for customers to still enjoy his coffee. And on top of that, he is offering all first responders & healthcare workers free coffee – still giving back to the community despite the circumstances that have set his grand opening back.
Read on to learn more about Sabin and his resilient new business in Round Rock:
What is Mi Mundo Coffeehouse & Roastery?
Mi Mundo Coffeehouse & Roastery is a locally owned organic roastery and coffeehouse that aims to firstly uphold strong sustainability practices and give back to the community through charitable donations/community involvement while providing an amazing coffeehouse experience.
Opened in February 2020 in Downtown Round Rock, all of our organic fair trade coffee is roasted inhouse in Round Rock, and we give 25% of our profits to charity. We make a variety of coffee and non-coffee drinks and support other local businesses by providing their food/products (such as Paige's Bakery, Tacodeli Tacos, and Tamale Addiction Tamales). Other than our award-winning roasted coffee we are famous for our special lattes and latte artworks!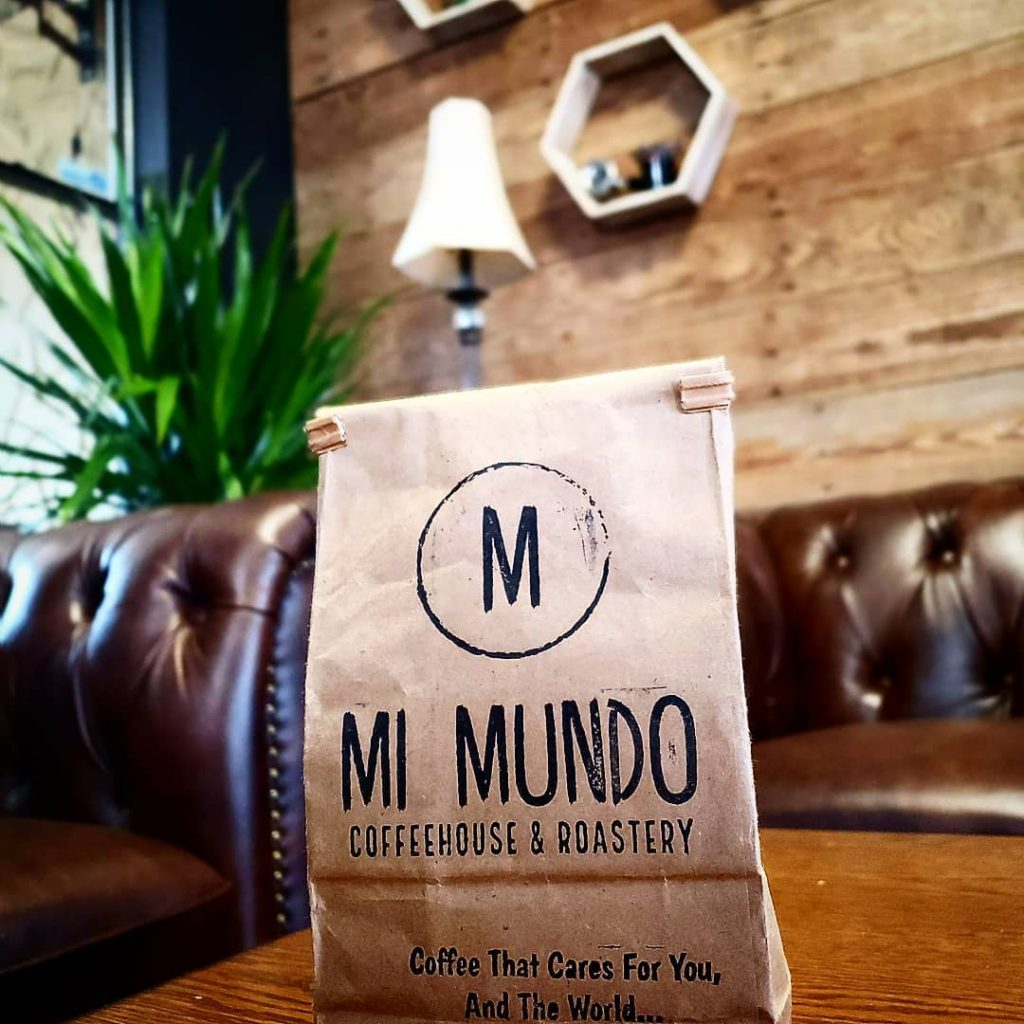 What is the status of your business now?
 We have had to shut down our indoor area to the public and currently have set up an outdoor curbside order/pickup area that allows customers to place orders and interact with the barista/roaster at a safe distance. The outdoor curbside area is decorated to replicate the interior of our beautiful coffeehouse, where we bring out our wood tables, pot plants, menu, and coffee cart to provide an authentic coffeehouse look to the community in a safe environment. In times like these where we all seek a comfortable place to visit we want to still provide this to the community while adhering to CDC guidelines to keep everyone safe.
Unfortunately due to the situation, our sales have dropped significantly but we have had such strong support from the Round Rock community that it has let us keep going and keep pushing our mission of great coffee that cares for the world.
What do you miss most about your business?
What we miss most is our customer community and them being able to come to enjoy the space. We feel that the coffeehouse is the community's coffeehouse, not ours, and the soul of our business is them. Since we started the coffeehouse we have had teachers, firefighters, politicians, local businesses, small families, nurses, senior groups and many more come to our shop, interacting together as one and that's what we miss the most.
We also miss not being able to interact with our customers one on one, getting them involved in the coffee brewing/roasting process and educating the community on how to make great coffee. We have some of the best baristas and roasters in Texas and we miss sharing our knowledge with the community
What are you currently doing with Mi Mundo Coffeehouse & Roastery?
Right now we are doing a small program of supporting our front line responders during the COVID-19 pandemic, providing free coffee in the form of drinks and beans and having customers pay it forward to specific front line groups.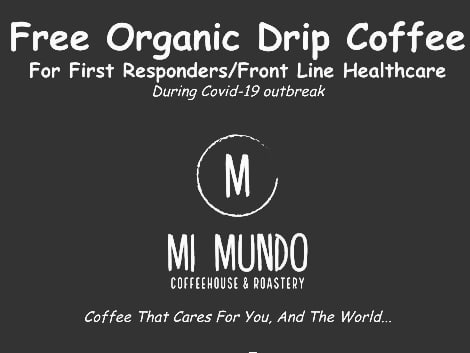 For the shop we are currently taking the time to further build out our back patio area to have it ready for summer, adding astroturf, misters, additional patio furniture and more plants! We are also experimenting with new drink concoctions and developing new roasted coffees. At Mi Mundo, we are always trying to innovate to provide the best organic coffee variety to our customers.
What has been a few of your favorite "at-home" activities during this time?
As an "essential business" I am still at the shop 7 days a week, but since the family has been home more we spend allot more time together when I am not at the shop. Helping my wife on her huge gardening project has been a stay home activity I have enjoyed allot, love to build and create new things. Also spending more time playing with our cats Yumi and Merlin. 
Bonus – what's the first thing you will do once the Stay-at-Home mandate is lifted?  
We are going to have a "re-grand opening" party and give free drinks/prizes to thank the Round Rock community for supporting us through this rough time.
Find Out How Other Round Rock Businesses Are Doing:
The Yogurt Experience's Rebecca Darling
Mays Street Boutique's Ashley Deli
My Party Palace's Michelle Azuara
Mi Mundo Coffeehouse & Roastery's Sabin Shrestha
Tammy Kay's Boutique's Tammy Munguia
Monster Mini Golf's Brian & Amy Smith
The Dance Gallery's Christine Hayes
Huntington Learning Center's Tanuja Deo
Penfold Theatre Company
Craft & Racked Chris & Sara Freeman
Wildflower Orthodontics
Lifetime Vision Care's Dr. Jennifer Khanh
Mathnasium of East RR's Jennifer Faulkner
Paige's Bakehouse – Paige Perry
The Rock/Alcove Cantina/The Flats' Michelle Ly
Round Rock Dental Group's Dr. Eric Hoffman
Love Barre's Kristin Crawford
Hot Dog Marketing's Jessica Scanlon
The Mirror & I's Val Frazee
Renzi's Tutoring & Guitar's CJ & Tammy Renzi
If you are a small business who has been effected by the stay-at-home order, we'd love to hear from you to tell your story! Please email me at [email protected]