5 Questions with Round Rock Dental Group's Dr. Eric Hoffman
In an effort to get to know more about the people who make Round Rock such a great place to live, I am resurrecting a series I did years ago called "5 Questions With…." As I did in the past, I will be asking a few questions of interesting people of Round Rock – people who work hard behind the scenes, people who strive to make our city great, people who make fun events & places possible in our city, and just cool folks you need to know.
But I wanted to take it a step further and reach out to as many businesses owners in Round Rock as I can. I want to catch up with them to learn how their business is doing under these conditions. And see if & how we can help keep them in businesses. I think you will be happy to hear some of the unique ways that businesses have adapted to the changes or are making plans to offer new products and services once they do open.
I've been very impressed with our local medical & dental offices and how quickly they responded to the necessary changes to ensure patient safety. From the very beginning, Dr. Eric Hoffman of Round Rock Dental Group reached out to me to let us know about their tele dental services AND that both he and Dr. Murphy would be available by phone for any dental emergencies – they even gave patients their cell phone numbers. Talk about caring for their patients!
What is Round Rock Dental Group?
Round Rock Dental Group is a family dental practice providing general and specialty care to patients of Central Texas. We have been providing quality services to our community for nearly 40 years!  Dr. Murphy has been a partner of RRDG for 38 years. Dr. Murphy and Dr. Hoffman partnered up 10 years ago and are continuing the tradition of taking great care of patients.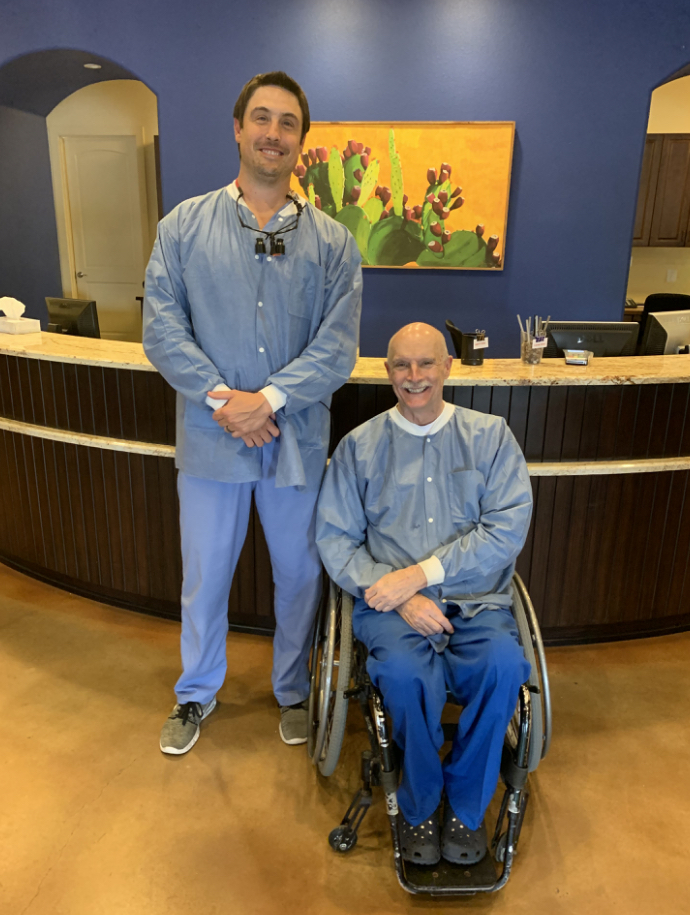 What is the status of your business now?
 RRDG is an essential business during this Covid 19 pandemic. We have put non-essential dental treatment on hold to focus on taking care of dental emergencies. Dr. Murphy and Hoffman have been alternating days to make sure someone is always available to take care of patients experiencing an emergency. Either Dr Murphy or Dr Hoffman are available by phone seven days a week, even after hours. We want to make sure patients don't have to go to emergency rooms to seek care.
We have implemented new protocols to safely treat patients to protect all patients and staff. All patients are greeted by a member of our team in their car to check their temperature and ask screening questions before entering the office. We have reserved a separate entrance and treatment area for high risk patients. In addition to our already stringent infection control protocols, we are wearing disposable gowns and N95 masks and requiring all staff to have temperature taken before entering building.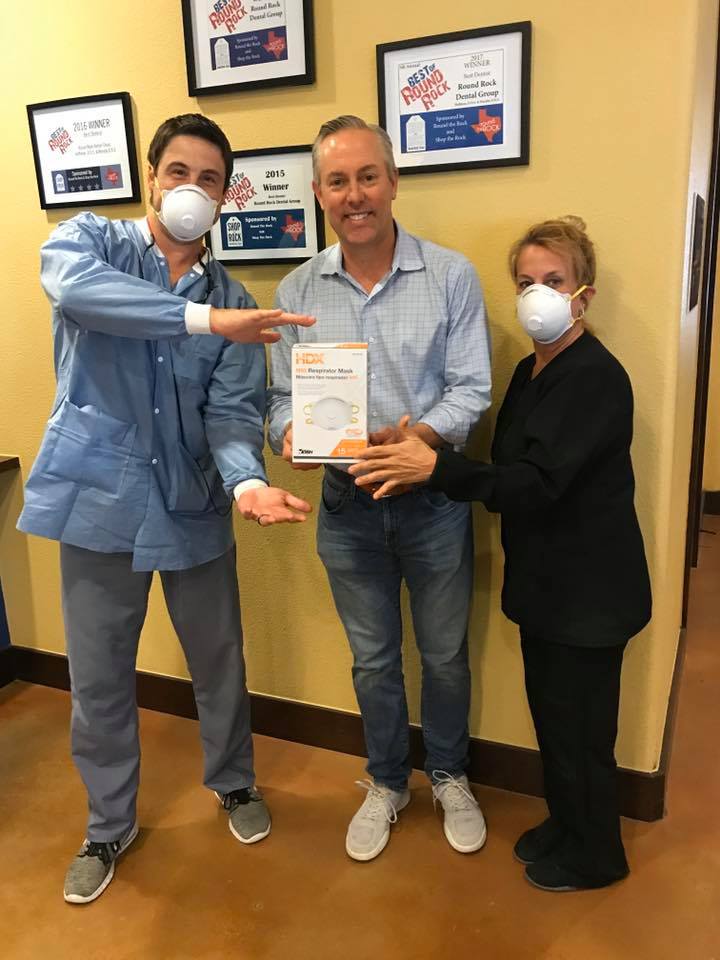 What do you miss most about your business or the way things used to be?
This is an easy question to answer. We miss our patients and coworkers, our dental family, that we love so much!  On March 18th we were forced to temporarily furlough most of our staff and doctors as we shifted to emergency care only. This was one of the most difficult decisions we have ever had to make. We went from seeing 100 patients a day to only 8-12. We can't wait for the day we can bring back the rest of our team!!
What are the plans for the future for Round Rock Dental Group?
We are staying in tune to federal, state and local leaders to plan opening fully soon!  We will resume dental cleanings, exams and non-emergency procedures with added measures to protect our patients and staff mentioned earlier. We feel there will be a need for extended hours, including weekends, to handle the rapid changes and people's busy schedules as we slowly transition to our new normal. In addition, we hope to do everything possible to bring the small businesses in our community back on line.
What has been a few of your favorite "at-home" activities during this time?
Dr. Hoffman has enjoyed the quality time with his wife Daisa and 3 boys Christian, Hudson, and Hayes. We have been focusing on our health by spending a lot of time outdoors playing football and going for hikes around our neighborhood.
Dr Murphy has enjoyed date night with wife Karen catching up on series we've wanted to watch, including Ozark and Songland. Facetime has allowed Dr Murphy to share the new episodes of Elena of Avalor with his five year old granddaughter Jamie.
Nikki, a member of our dental family for 27 years, is spoiling her new granddaughter Londin, born April 13, 2020. She can't wait to make her next nail appointment when this is all over!
Suzi, like most, misses shopping and pedicures, but is enjoying chasing her energetic two year old grandson Marshall.
Roni helps her elderly neighbors with errands and cooking meals. She also takes long walks in the park with her rescue furbaby Norman.
This is our quarantine team. 
Find Out How Others Round Rock Businesses Are Doing:
The Yogurt Experience's Rebecca Darling
Mays Street Boutique's Ashley Deli
My Party Palace's Michelle Azuara
Mi Mundo Coffeehouse & Roastery's Sabin Shrestha
Tammy Kay's Boutique's Tammy Munguia
Monster Mini Golf's Brian & Amy Smith
The Dance Gallery's Christine Hayes
Huntington Learning Center's Tanuja Deo
Penfold Theatre Company
Craft & Racked Chris & Sara Freeman
Wildflower Orthodontics
Lifetime Vision Care's Dr. Jennifer Khanh
Mathnasium of East RR's Jennifer Faulkner
Paige's Bakehouse – Paige Perry
The Rock/Alcove Cantina/The Flats' Michelle Ly
Round Rock Dental Group's Dr. Eric Hoffman
Love Barre's Kristin Crawford
Hot Dog Marketing's Jessica Scanlon
The Mirror & I's Val Frazee
Renzi's Tutoring & Guitar's CJ & Tammy Renzi
If you are a small business who has been effected by the stay-at-home order, we'd love to hear from you to tell your story! Please email me at [email protected]